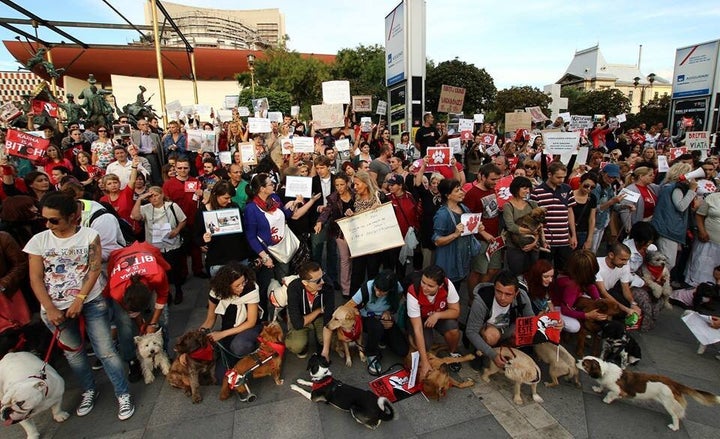 Much of Europe has erupted into protest against the law, while social networks are buzzing with petitions and letters. #Romaniastopanimalabuse was trending on Twitter. In the meantime, rescuers have struggled frantically to find safe havens for their dogs.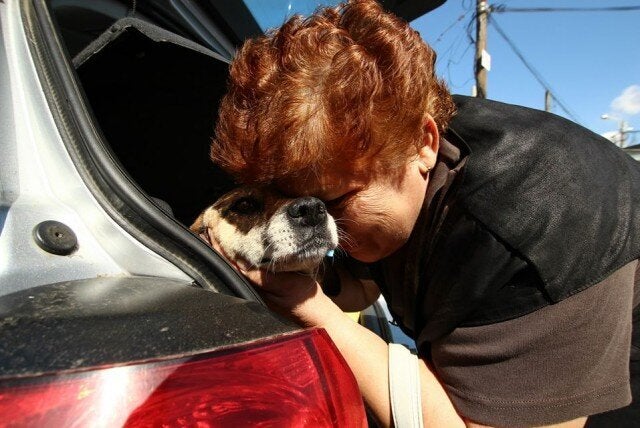 "WSPA is currently pressing relevant parties to act, working with other organisations on a coordinated response to stop the culling before it begins".
In the meantime, the glitterati dispatched letters to the President of Romania and the European Union; long-time animal rights campaigner, Brigitte Bardot, said:
"In 2000, Basescu thwarted our program of sterilization of dogs in Bucharest, it is now responsible for the proliferation of dogs and accidents that result. This tyrant thinks only kill and condemn the dictatorial policy, unbecoming a member of the European Union. We have no moral right to let this animal genocide perpetrated before our eyes, it's like back under Ceausescu" [ Full Letter can be read here]
"With our 2 voices representing millions of others, we speak in behalf of the international public opinion shocked by the unprecedented animal genocide announced in Romania"
"You have committed the greatest crime in the history of animals". She continued, "Romania proves once again that it is a civilized country and has no moral maturity required to be a member of the European Union. With respect, killing dogs supposed to behave like uneducated people of the Middle Ages, who can not take responsibility for their own actions. stray dogs are not guilty because they are condemned to live a life of suffering on the streets of Romania. fault lies with the people who abandon them and throw them in the street, those who do not sterilize their dogs and who do not care about them".
Meanwhile, local Romanian hero and former senator, Marius Marinescu, currently President of the Federation for the Protection of Animals and the Environment, announced immediately after the law was enacted that he will do everything he can to stop its implementation. Now, aided by lawyer Paula Iacob, he has appealed to the Constitutional Court of Romania against the new law, after successfully obtaining the signatures of 25 senators and 50 members of the Chamber of Deputies that are required to begin the process.
The state news agency, Agerpres, quoted Haralambie Vochitoiu, on of the legislators, as saying, "We have to avoid reacting en-masse through collective killing ... we don't want to see tens of thousands of corpses".[ Reuters]
However, even though it is, for now, unlawful to end dogs' lives, there have been reports of premature culling, a refusal to allow adoptions and a maximised drive to catch dogs. Other reports of obstruction in care have been featured elsewhere in the local media.
In solidarity with campaigners, veterinarians in Timisoara have decided not to assist the municipality in killing of dogs that are not adopted within 14 days. The local paper wrote
"Veterinarians are extremely upset that lawmakers have not considered their opinion. More specifically, they argue that the law was passed too quickly, without the defense of animal rights organizations to react. Same doctors say they will not earn money from euthanasia, which they see as crimes".
The area most affected by alleged premature dog culling is Ploiesti . In June 2013, the town was filled with the bodies of poisoned dogs, as reported by the local media . Its mayor Mr Badescu has been severely criticised by the public via petitions and reports.
While real heroes like Ms Bagdat Oz and her associates in the UK and in Romania work tirelessly until all hours of the night to rescue as many dogs as they can, the biggest problem for private shelters and rescuers is financial. Funding is scarce and therefore all donations are welcome. Click here for a list who would welcome assistance. The situation is quite desperate, as vulnerable dogs need to be rescued before they are taken to public shelters, where the standards of care are extremely poor.
A well co-ordinated, evidence based campaign has been conducted by Occupy For Animals who have kept the pressure up and kept everyone informed of progress. They have mobilised one of the biggest online and offline campaigns to raise the awareness of strays in Romania. People all over Europe have stood in solidarity in this cause.
While heroic attempts have been made to rescue dogs from all around the world, Romanians have turned up in their droves to adopt dogs from public shelters. The Greeks announced they were not going to accept the President's decision, decided to pack their bags and head down to Romania to help rescuers there rescue dogs.
Ironically, the new law may have come about through a disastrous misunderstanding. Latest news alleges that DNA tests have been unable to connect any of the stray dogs blamed for the death of a four year old boy to the incident. Had the government waited for scientific evidence instead of seeking opportunistic popularity, they may not now be the object of national and international derision.