Perhaps you've seen #SaveIdeasTap trending on Twitter. Or maybe this actor or playwright you know has suddenly flooded Facebook with links and petitions. What is IdeasTap, and why is it worth saving?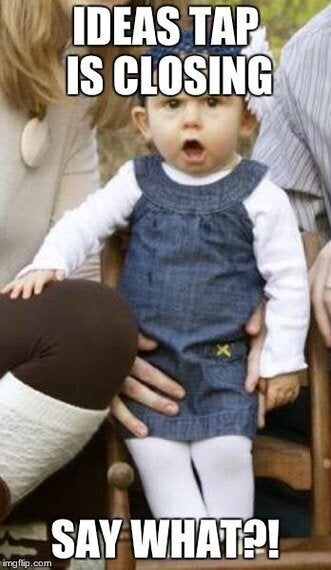 When, on a Monday morning, I saw the news of IdeasTap closing, I called work and cancelled. There was no chance in hell I would have been able to concentrate on customer service, and I didn't want to try. Instead, I hunkered down with my laptop, watching Twitter explode and trying to contact people who knew what happened.
Having read the sad, thoughtful letter by the founder, principal funder and Chairman of IdeasTap, Peter de Haan, I found myself wondering what was going to become of all young artists I have met in the course of my membership. Today I am writing to you as a part of #SaveIdeasTap campaign - because I hope that we can reverse this situation, that someone will wake up and offer help.
IdeasTap is a charity that provides funding and training opportunities for artists. It offers free events and workshops (first-come, first-serve basis) and competitive funding for pretty much every artistic discipline. They also interview successful art practitioners and publish articles with hints and how-to explanations (i.e. "how to write a good script") in IdeasMag; find and promote jobs for artists on their Jobs page; encourage effective fundraising with their commission-free crowdfunding page, Accelerator.
If that wasn't enough, they are also a community and social network, encouraging people to form creative groups and apply for projects as a team. A profile page on Ideas Tap enables you to publish a creative portfolio and artistic CV. Basically, Ideas Tap provides all you need to become an artist: education, funding, community and networking, inspiration and job opportunities. There is no organization that provides so many things in such an accessible, user-friendly way, encouraging creatives to learn how to present themselves, pitch ideas and be resourceful in the current art market.
It is worth mentioning that Ideas Tap is one of the few organizations that provide opportunity for artists past age 25. This is crucially important, as people turn to creative work at any age, and building a career in your chosen discipline can take years... Especially if you can't afford arts education (and many can't, these days).
Over 6 years of existence, IdeasTap amassed just under 200,000 members in the UK. They teamed up with best and biggest arts organizations in the UK, including National Theatre, BFI, mac birmingham, Royal Exchange, The Lowry, Magnum Photos, National Youth Theatre, Sky Academy, FORMAT Festival (and more), giving away over £2.3million in funding to 62,000 beneficiaries.
We live in the times when increased tuition fees are coupled with arts cuts; times when lack of working class actors in top roles is becoming increasingly obvious. Judi Dench, Julie Walters, and David Morrissey (to name a few) all feel they wouldn't have been able to build a career, had they grown up in current climate - and Jimmy McGovern points out that the lack of working class voice affects the artistic content.
There is a huge number of creative people that make important, thought-provoking art - on a shoestring, in the back of the pub, after their full-time job, you name it. But art market is competitive and with the advance of Internet - ever changing. We cannot allow creativity and art to become a pursuit solely for financially privileged. As Sabrina Mahfouz wrote for the Guardian: "I had no contacts or money, but IdeasTap helped launch my career as a writer. Other young people who wouldn't normally stand a chance should be able to benefit, too."
A vibrant, artistic community, that enables people to pursue and share their artistic dreams, creates value for all: artists, society and - yes, in the long term, tangible economic returns. However, to quote James Hopkirk, IdeasTap Editor, "Competition is fierce, and there's a smaller and smaller pot of money to distribute - so it's tough for all arts organizations". If we let IdeasTap slip from our grasp now, chances are that nothing else will take its place - depriving thousands of young people of a chance to learn how to make a living from their passion and talent.
You can get involved via www.saveideastap.com, our Facebook Page, or our Twitter @SaveIdeasTap. You'll find a supporter pack here.