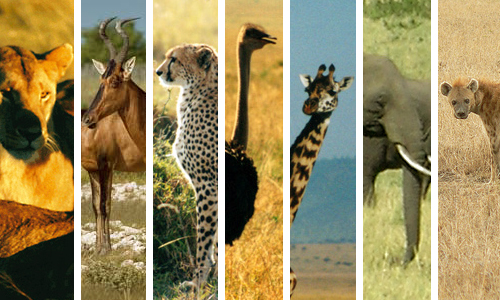 If there were only a course or qualification entitled "How to Get The Most out Of Life" - and, by golly, shouldn't there be? - then who better, I earnestly enquire, to act as mentor or role-model than Sir David Frederick Attenborough, OM, CH, CVO, CBE, FRS?
Not content with his outstanding work fronting the BBC's recent series "Africa", I heard on the radio today that Sir David had just returned from China, where he's been looking at fossils (they've got some great fossils in China, feathered dinosaurs, wonderful stuff). Still globe-trotting at the age of 86, it's fair to say with only a slight risk of being accused of generalising, that he's been everywhere, and done everything, most of it more than once. He's our "Man For All Seasons"; certainly he's produced stunning wildlife documentaries in every conceivable climate and environment, and he does it all with that gentle, "favourite uncle" air of calm and informative authority.
Attenborough was born in London, but grew up in the Midlands, younger brother of Richard, the world famous actor. He was fascinated by fossils from an early age, and became a passionate collector. An adoptive sister gave him a piece of amber, and half a century later, it formed the basis of his documentary "The Amber Time Machine", focusing on the prehistoric life preserved within the fossilised tree resin. In the interim period, he gained a degree in natural sciences at Cambridge, and served in the Royal Navy as a national serviceman.
Although he's renowned for being highly active in the area of wildlife documentary, Sir David also served a stint as Controller of BBC2, during which time he commissioned a wide variety of programming in an effort to make the then fledgling channel's output more diverse. He took advantage of BBC2's pioneering of colour transmission to introduce coverage of Snooker and also had a hand in the airing of such widely-ranging offerings as Monty Python's Flying Circus, The Old Grey Whistle Test, and The Money Programme.
But it is as a wildlife presenter that he is best known, and his gentle, perhaps quirky personality seems to lend itself to this field in a uniquely watchable, entertaining and informative way. His distinctive voice, too, resonates with the empathy he feels towards the subjects of his many and varied documentaries. You listen to him, and you can feel how much he cares for the well-being of all the species he has encountered, how acutely aware he is of being a member of that species - Man - most inimical to the interests of our fellow travellers on Spaceship Earth, and how passionate he is about conservation and the need to keep ecosystems ticking over. Not in the least squeamish, he acknowledges and defends the role of the predator in the food chain, and manages to present the plight of hunter and hunted with equal sympathy.
Quite apart from all of his achievements though - and they are many - what a life this man has led, and continues to lead. A computation of all the miles he has travelled, covering the globe, ascending peaks and diving depths, would produce a very big number indeed. He's witnessed most facets of life, from the intricate behaviour of micro-organisms, to the mighty progress of the blue whale, and just about everything in between. To see him completely accepted by apes in their natural habitat, having painstakingly gained their trust over a long period - just that we might see them go about their daily routines through the camera's eye - is to see a consummate professional at work. And he'd certainly be the first to acknowledge that he is in fact a pro among pros; the worth of the team behind the cameras is acknowledged at the end of each programme in the "Africa" series. But there's no doubt who the star is (apart from the animals themselves, of course) - and thankfully, there's not the remotest sign that his powers are as yet on the wane.
Presenters come, and presenters go, and the general trend is for the quality of wildlife programming output to improve in leaps and bounds as the cameras and TV's become more sophisticated. But you need an exceptional human being behind all that technology (and in front of it, too) - and as has been proved time and again over a career exceeding sixty years, Sir David Attenborough is simply the best.