A hair of the dog, a roll and bacon, and bottle of that trusty Scottish favourite Irn-Bru are just some of the hangover 'cures' I've been told about and if you were like me in my youth; you've had ample opportunity to try them all many times over!
For those of you who know me, I'm an avid fan of Twitter and try to keep myself up to date with the latest crazes and trends online and it was during one of my better days that I stumbled across a product called Phizz. This new product was promoted, reviewed and shared by customers on Twitter and Amazon as an effervescent rehydration product with a blend of vitamins and minerals to promote well-being and increase energy; with my M.E, Crohn's and other chronic conditions, this sounded right up my street. I was put in touch with the team at Phizz who sent me a five dose (10 tablets) 'Petite' pack to try.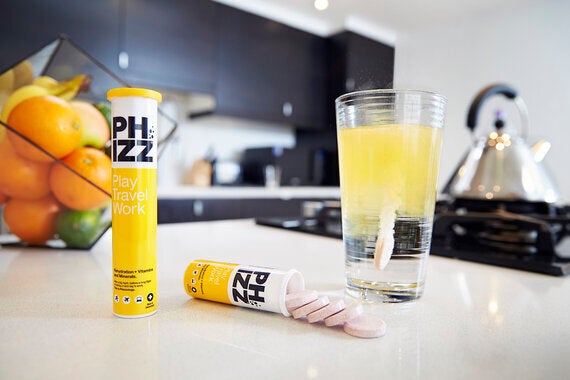 The shiny, bright white and yellow tube arrived in the post within a couple of days and I was despirate to get started and try the product myself. A half glass of water and two Phizz tablets was all it took to get started and as the tablets danced around the glass, a fresh and fruity odour was released; the test was on!
While Phizz is advertised as a dual hydration formula with added vitamins and minerals; I wasn't expecting the sweet and salty combination and it did take a few minutes to acclimatise to the unexpected taste and finish drinking it. I should add that traditional rehydration therapies are salty and as someone with Crohn's I've drunk my fair share of these over the years; I just wasn't expecting the sweet and salty combination to taste quite so strange. The effects of the Phizz tablets didn't hit me instantly but built up gradually within an hour of drinking the concoction. After the hour passed I was very aware of improved focus and energy and found I wasn't as sluggish as usual. The noticeable benefits faded after around four to five hours and this was a common outcome in the five days I tried the product. Phizz advises that a maximum of four tablets should be consumed in any 24 hour period but I stuck to two tablets each day over a five-day period.
The Phizz website and literature state that their formulation contains a World Health Organisation inspired rehydration formula and includes B-Group vitamins, Vitamins A, C and E, Calcium, Copper, Magnesium, Potassium, Selenium and Zinc, and is the first of its kind in the UK.
Hangovers and its associated headaches and fatigue are made worse as a result of dehydration caused by consuming alcohol. Phizz is definitely worth a try for periods of exertion and those busy mornings after those late nights spent dancing around your handbags.
[Image Copyright of Phizz (permission granted to use in review)]