Our bodies, those lush round lumpy things we have to cart about from the cradle to the grave are a collection of the most important objects we'll ever own. It's an eco system, constantly repairing and rejuvenating itself through a complex system of cells and other fancy science things, all of which I dare not try to pretend to know anything further than appreciating the majesty.
Every seven years the body conducts this cycle. Seven years ago in theory, you and I, our bodies were different. What they are now though are mere copies of the original blueprint, kept locked away in the confines of our DNA. That explains the seven year itch!
An interesting subject and one that is tackled head on in the fringe run of the play Every Seven Years written by and starring Ben Fensome and Charlotte Baker. The play examines the theory with that of a relationship between two people, Pam from the North East of England and Ralph from the South West. At first they struggle to understand each other, this is cleverly weaved into the subtext as the audience is invited back to their life at seven year intervals.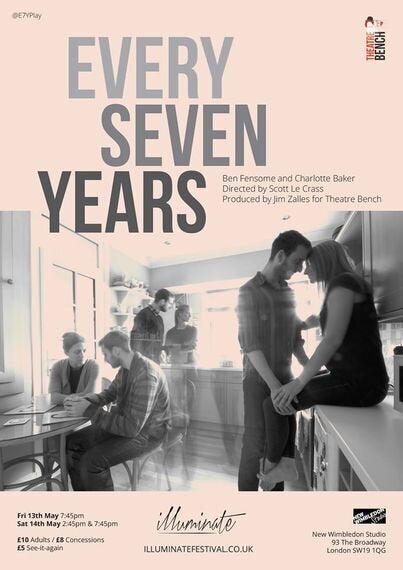 We meet the pair after their first lustful night together at university at the age of 21 and are finally left with them sat around the kitchen table at the ripe old age of 84. This journey is executed masterfully from the stage direction of Scott Le Crass where Pam and Ralph deal with the turmoil and beauty of sharing a life together.
Ben Fensome delivers a comical buffoon in Ralph, a man at the mercy of second place in the relationship power struggle. Aware of this, Ralph's character struggles throughout the play to enact dominance over his co­-star Pam (Charlotte Baker) with heaps of hilarity. This comes to breaking point and between the two characters, allowances and sacrifices are made.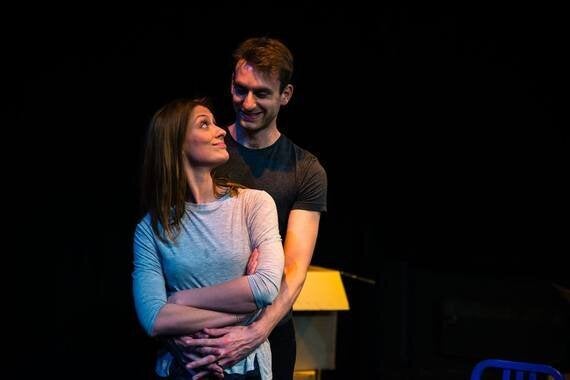 Charlotte Baker's metamorphosis of girl turning into a woman and beyond is both humbling and intelligent. The older aged Pam is executed so convincingly by Baker, that I found myself feeling compelled to hand her my own chair! It is clear that both actors have paid close attention and studied the generations below and above them. Having both known each other for over 10 years and studied Drama together, their chemistry oozes from the stage in a fresh and natural abundance of care and unity. It's a short play that covers a gulf of years that's clever, funny, emotional and hypnotic.