About 12 months ago I became mildly fixated with people's use of the word 'ugly'. I began hearing it far too much, used not when describing buildings or cars, but other people. To me, if you describe anyone as ugly, you are the ugly one, cos you're ugly in your soul...
Having repeatedly been called ugly by a housemate many years ago, I know it's far from pleasant. I just thought of her as increasingly nasty every time she would leave notes on my bedroom door in which she would address me as 'F'ugly Rob'. I don't think it damaged me, her cruellness only served to convince me that I wanted to challenge anyone using the word when describing a person. Which I have done ever since. As a rule.
Being a portrait painter I am constantly inspecting the faces of strangers, looking for a feature or characteristic that sets them apart. Being a northern gobshite I often approach them to ask if I can paint them......and people being people they often think I'm just a headcase for doing so.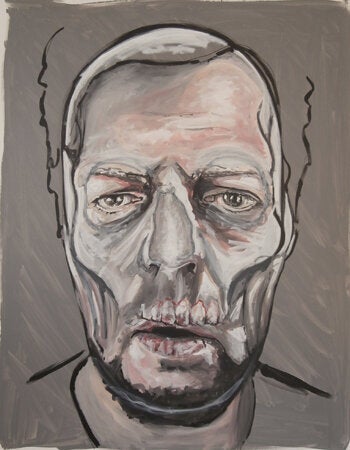 Above-Self portrait, amended to look like a heroin addict (included in 'CLOCKS' exhibition)
Obsession with vanity and constantly wanting to look more attractive or younger baffles and fascinates me in equal measures. I had a debate with a friend of a friend. She was talking about having Botox done, as she had lines appearing on her forehead. She works in an industry where being pretty ensures work. She rarely had anything to say that wasn't on the subject of her and her appearance. I put her intentions down to that, plus reading too many vacuous celebrity magazines.
Fast forward 24 hours and I am on day one of a month long adventure round southern India. I bought jetlag busting chai behind a bus station and sat on a stool next to a fella wrapped in a sheet, we started talking. He had no hands, feet, penis, nose or teeth. He was a leper. I asked him his age, he was born the same year as the Botox obsessive I was with the night before. I preferred his company. Maybe because, despite his unimaginable run of bad luck, his frown was less pronounced than the 'lipgloss whingebag'. Therefore cosmetics was the last thing on his mind.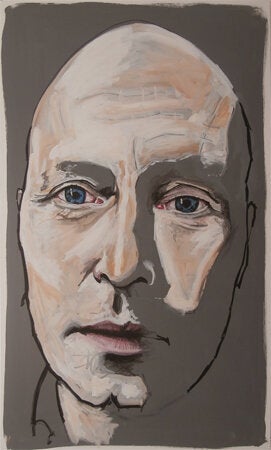 Above- Jonny (included in 'CLOCKS' exhibition)
Even with education, experience and empathy it seems vanity can creep up on people. I had to have serious words with an ex-girlfriend when she started saving for an operation to shorten one of here toes?! Yes you heard it right. The second toe on her right foot was longer than the same one on her left, she said it looked odd and made her unconfident (she was a very 'fortunate' specimen in every other way and had a brain to match). I had to remind her that she was working for a charity that took care of children in intensive care wards, and that one of their shining patients was a 15 year old girl who had to sit in a bucket full of maggots for two hours each day while they ate the dead flesh from her buttocks, a situation brought on by infections due to complications of meningitis. I doubted whether she would ever be complaining about one of her toes not being perfectly symmetrical.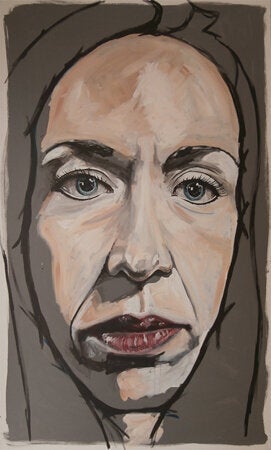 Above- Sarah (included in 'CLOCKS' exhibition)
When working on the portraits for my imminent exhibition 'CLOCKS' I deliberately painted my sitters with no regard to their vanity. I wanted to express their character, not whether or not they could be considered 'pretty'. Luckily all nine were happy to leave their ego at home. When I ran out of sitters I painted myself, but went one step further. I amended my own image to include profound misfortune: An untreated hare lip, the ravishing of heroin addiction, and dog attack were included, they are not pretty, but pretty is pretty boring if you ask me.
The opening night of Robin's latest exhibition 'CLOCKS' is on Tuesday 5 March 2013 at Tapestry Gallery, 51 Frith St, Soho, London W1D 5SH. He will be introducing the work at 18.30. All are welcome. www.robinleeart.co.uk.