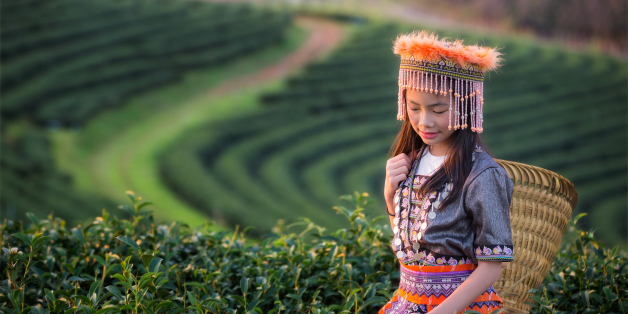 Copyright Anek via Getty Images
Assuming you're a tea drinker I think it's a safe bet to say that you'll know if you take milk, or how many sugars you want. You might even have a strong opinion on whether it's the tea bag or the milk that goes in first.
But when you're brewing up your morning cup, maybe hurrying to get ready for the day ahead, I'd take a guess that you've never given a thought as to how the tea leaf made it into your cup.
Likewise, Joseph Kamau Wanhoji, a tea farmer in Kenya who supplies Traidcraft with leaves for our fair trade teas, has little knowledge of who it is that benefits from the fruits of his hard work.
Joseph said: "To me tea is life. For my family that is the only source of income I have, so it is actually life. Almost everything I have goes into tea.
"I'm informed of where my tea goes, I'm told it's taken abroad to be consumed by people from other countries, but it's just talk. It's not that I've been there."
It's estimated that, like Joseph, more than 20 million families worldwide rely on tea for their livelihood. The UK is one of the world's biggest tea importers - we drink more than 160 million cups of tea each day - and Traidcraft is at the forefront of the drive to ensure those who grow the tea we drink get a fair price for the work they do.
Traidcraft's fair trade tea, first produced more than 30 years ago, was a first in the UK and helped shape what has now become a Fairtrade model.
Over the years we've built our range to 12 varieties, working with hundreds of farmers in developing countries in the process. But despite all of our progress there are still major problems in the industry, with many tea growers and workers exploited and experiencing extremely poor living conditions.
At Traidcraft we focus our efforts on smallholder growers in both Asia and Africa, monitoring the welfare of the growers, who are often the most vulnerable in the global supply chain.
While farmers like Joseph who are working with Traidcraft earn a fair wage and learn better cultivation techniques eventually enabling them to grow more, life is still hard.
Joseph, who inherited his tea bushes from his grandfather and his father, with many dating back to the late 1960s and 1970s, added: "In this area there is nothing else that can grow. But the income from tea just barely maintains the basic life we lead. It is not the life I want for my children."
With Traidcraft's support Joseph should be able to help fund his two children through school, giving them options beyond the family tea trade.
So when you're enjoying your next cup of tea, it might be worth sparing a minute to think about the person who picked the leaves that go into your brew. By opting for fair trade you can be safe in the knowledge that tea growers are getting a fair price, and that your cuppa is creating a difference in the world.
Traidcraft's Let It Grow campaign is supporting farmers like Joseph to grow more, earn more and eat more.
During this Fairtrade Fortnight (February 27th to March 12th), Traidcraft are encouraging the UK's tea drinkers to host their own Big Brew in aid of the Let It Grow campaign. Find out more at http://www.traidcraft.co.uk/big-brew-event