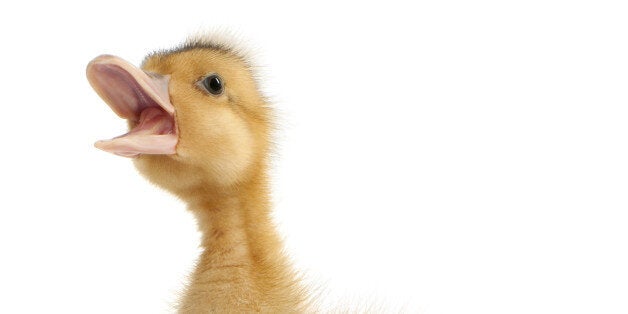 It's 4.55pm in Orlando, and the Peabody Hotel's lobby is full.
Not just with business types in town for a conference, but folks like myself and my wife who have dropped in for one reason: ducks.
Disneyworld a few miles away may be synonymous with one irascible cartoon duck, but after almost a decade of hearing about a hotel's feathered residents, I decided to see what all the fuss was about.
Peabody Hotels have been marching ducks to and from their fountains since 1939, six years after a bunch of duck hunters accidentally started one of the most unique traditions in any hotel's history.
"They dropped them in the fountain as kind of a prank and the next morning when they came to get the ducks there was a crowd there and a tradition was born. They just kept ducks in there ever since," explains the Peabody Orlando's duck master, Donald. (Yes, his real name).
Donald, with the aid of a young apprentice chosen that afternoon, has just rolled out the red carpet, placed steps at the side of the fountain and at 5pm he and his new sidekick guide the marching ducks back to the lift and return them to their penthouse.
It's a wonderfully surreal sight, and the best thing is it's free.
And in an age when we're enduring the worst economic downturn in decades, watching every cent in the Sunshine State is crucial to get the most out of your Floridian holiday.
Pound for pound it's still remarkably cheap to stay in Orlando, and for those who don't fancy tackling the freeways and driving on the 'wrong side of the road', then rest assured there's plenty of ways to get from A to B via public transport.
For newcomers, the main tourist artery running through the city is International Drive. Lining it are more hotels, motels, diners, thrift shops, and tourist attractions than you can shake a stick at.
Staying at one of the many hotels on or just off this main road is a great starting point, and with the aforementioned Peabody as a landmark, you'll rarely get lost.
Most UK holidaymakers will naturally gravitate toward Disney (and its assorted parks) and Universal's two parks - Islands of Adventure and the main site, Universal Studios.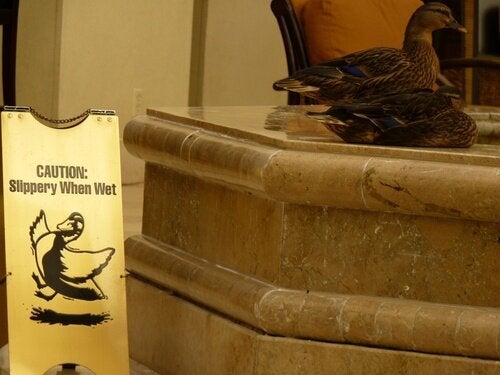 If you're staying on International Drive, there's a chance your hotel will run a shuttle bus to Universal. If not a Lynx bus can get you there, and you can pick one up at any number of stops along the I-Drive. You could pay with dollars every time, but it's better to save a few quid/dollars by getting a week's pass (or longer).
If you're staying near Don Pablo's Mexican Restaurant, nip into the Tourist Information centre a few doors down. Get your Lynx bus tickets and also a week's I-Trolley pass. For a combined price of around £20, you can visit all the major theme parks, at least three major malls, Seaworld, Aquatica and a lot more.
Bearing in mind parking at a theme park can be around £10-£15 a day, you'll be saving cash in no time.
So, what's best to see in Orlando at the moment?
Well, in terms of theme parks at least three attractions stand out: Harry Potter and the Forbidden Journey set within Hogwarts at Universal, and Star Tours 3D and ToyMania at Disney's Hollywood Studios.
They are also three of the most popular, so here's a few tips for getting the most for your money.
For Universal, get a two-day ticket for both parks, then on day one do Harry Potter. Get there first thing, and follow signs for this huge attraction; don't be distracted by the other candy coloured goodies on offer; do those later.
The queue, even first thing, can be as epic as any of the movies, so go prepared with cheap waterproofs in case of a deluge, mp3 player, good book and patience. It'll be worth it because the meticulous attention to detail as you queue for the ride - a mix of rollercoaster and animatronic show - is breathtaking.
On day two at Universal, again go first thing and head for The Simpsons Ride.
However, if you can get Express Pass tickets for your favourite rides then do so, but be warned: it can be costly for a family of four.
As for Disney, getting there from International Drive takes longer. You'll need a Lynx bus which will take you to Disney's Transportation Centre, then get a free connecting bus to Hollywood Studios.
Once at the latter, having passed through security, head for Toymania and get a Fast Pass ticket - that will get you on the ride later that day, then head back to Star Tours 3D and start queuing.
As with Harry Potter, this Star Wars flight simulator will be heaving with geeks (like myself), but the state-of-the-art effects have brought George Lucas's original 1985 ride up to date with an experience that is out of this world.
That done, head for Toymania when your time to ride is due and experience one of the best 3D games in town.
If you only do one water park, my money is on Aquatica. (Get a multiday ticket that also takes in Seaworld and other key parks to get the most for your money).
An I-Trolley ride will get you there in around half an hour. Aim to catch the bus around half an hour before it opens.
Once through the gates, grab loungers with umbrellas near the wave pool, then find a locker for valuables.
Naturally there are countless other attractions, diners and things to see and do, but a final word of advice. If you like a restaurant, don't feel guilty about going back several times. There's a chance it may not be there when you return.
For the latest bus information: