When you travel 200 miles to see a stage version of one of your favourite films, the cost of transport, theatre tickets and hotel soon adds up. Thankfully £21 (restricted view) was a bargain for any birthday treat. And the fact Groundhog Day not only recrafts Bill Murray's best film for the stage but enhances the source material was a present I never expected.
Danny Rubin's book, based on his own screenplay, gives us more depth about peripheral characters, such as Debbie, the beautiful blonde bedded by self centred weatherman Phil Connors as he repeatedly reports on the February 2 celebrations in Punxatawney PA.
Ned Ryerson, the insurance salesman, is also given more of a touching backstory, while Phil is turned into a more rounded character than the Murray classic allowed in 1993.
Half the fun with the stage show is seeing how moments such as Phil's weather van becoming stuck in a storm and having to turn back to Punxatawney would be executed, or the chase in which Connors and his fellow drunks attempt to outrun the cops. Some simple but effective stage moments - a model truck having snow shovelled onto it by a groundhog was laugh out loud funny.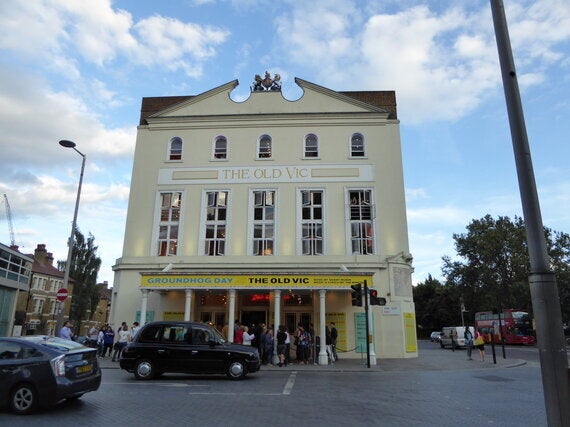 Groundhog Day at The Old Vic, London. Photo: Roger Crow
Tim Minchin has been my favourite composer for the past five years and the union of his music and lyrics was too good to resist. There's no real stand out track, though I'd need to listen to the soundtrack a few more times to give a proper opinion, but while his sidebar polemic about faith healers does little to add to the show, it's a fun diversion.
The star of course is the man chosen to fill the mighty shoes of Bill Murray, an actor who had to sing, dance, act, make the audience laugh and cry was a tall order, but Andy Karl managed it beautifully.
Less Murray and more Nathan Fillion channelling Steve Martin, he nailed the self centred protagonist who despised his quaint B and B in a small American town and was only interested in self gain once caught in the time loop.
The beauty of the movie was said plot device was never dissected and was a stronger film for it, especially in a Hollywood production where such things are usually explained away in the third act.
I'm not surprised the film has resonated with many faiths the world over. It's a simple tale that touches universal chords: part Twilight Zone, part Saturday Night Live sketch, it's as relevant in the selfish selfie generation as it was in 1993.
I want all films and stage shows to have a sucker punch moments when I'm reduced to tears or humbled by simple acts, and GD took the best moments of the movie and gave it as much of an emotional punch at The Old Vic.
Yes it was too hot on that summer's evening, the legroom was too little and the elevated punters behind me felt it was okay to talk through the production and put their feet on my chair, but thanks to a Paddington hard stare they refrained and normality was soon restored.
While elements of the movie are missing (no soundtrack classics I've Got You Babe or Pennsylvania Polka), it scarcely mattered. The transition from screen to stage is so rewarding I'm hoping this beta test version will be given a chance to shine on a bigger stage either in the West End or Broadway.