When your last movie makes more than $1b, two things are certain: getting a green light for the follow up is easy and few people will question whether it needs a bit of work.
So when Shane Black co wrote and directed The Nice Guys, he must have been buoyant from the success of Iron Man 3 and thought Russell Crowe and Ryan Gosling would be perfect as the 1970s detectives trying to crack the mystery of a dead porn star.
While both are formidable talents, neither have great comic timing, and both are sold short by the calibre of the script. Yes, there are some great one liners and the whole thing ticks over, but they fail to gel. It's like Black had some great ingredients for a loaf of bread but didn't add enough yeast.
The old adage 'If it bends it's funny, if it breaks it's not' is shattered pretty early along with Gosling's arm by Crowe's chunky detective.
One of the funniest scenes is Gosling trying to threaten Crowe in a toilet cubicle. Not so easy with RG's trousers round his ankles and an arm in plaster.
It's moments such as this that hint at what a great movie TNG could have been.
But Black milks the moment of Gosling discovering a dead body, gasping for comic effect but failing to raise a titter.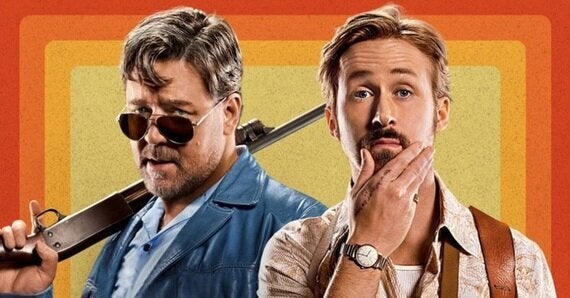 The director works well with child actors as he proved with IM3; the dynamic between Robert Downey Jnr and Ty Simpkins was great, so little wonder he got the Jurassic World actor back for the opening scene.
Gosling's screen daughter, Angourie Rice, also works well here, 13 going on 33 like Natalie Portman in Leon.
I suspect Black had penned the script years ago, popped it in a drawer and then dusted it down when given a green light to do whatever he liked. Though cut from the same cloth as his mid noughties cracker Kiss Kiss Bang Bang, Crowe and Gosling fail to spark like Downey Jnr and Val Kilmer in that movie.
By the third act I was pretty bored; there was too much going on and I didn't really care about any of the characters.
By the epilogue, the whole thing fizzled out like Black had just given up. It's a long time since I'd felt that underwhelmed by a movie finale... until I saw Warcraft a couple of hours later.
But that's another story.
Eight years after playing huge online game Warcraft, I finally got an answer to whether or not a movie version would work. It doesn't.
Given the amount of time, effort and money spent on Warcraft: The Beginning, I was wishing for good things. In the hands of Duncan Jones, I was hoping he could bring emotional heft to the project.
And while it looks terrific, for the most part, it also looks annoyingly designed at times, like a Warhammer... yes Warhammer calendar turned into a live action feature.
The Orcs look pretty good, large Hulk like creatures with tribal markings, garments, banners, boots, gauntlets, headdresses. You get the picture. The human warriors look like all of their costumes have either been bought off the peg or crafted by cosplayers, while many of the castle interiors also have a fake quality. Compared to Game of Thrones, all of which works on its own terms and feels real, Warcraft feels like it was produced on a 3D printer.
The plot is okay with Arthurian touches, including a Merlin-style wizard who looks like a cross between a young Michael Douglas and a miffed Tim Minchin; the old staple of light versus darkness and a lot of exposition. Very necessary considering the huge geography and assorted characters.
Perhaps the most annoying thing is the lack of closure. Yes, there's no coincidence it's called Warcraft The Beginning, though half way through I was desperate for The End, and didn't really get it.
I was impressed that there were a couple of unexpected demises, but unlike the first chapter of Lord of the Rings I wasn't desperate for more. This was more like The Hobbit, except shorter. With a touch of Hawk the Slayer and Willow thrown in. In short: disappointing.
There was the odd humorous touch but a bit too much chest beating to be truly effective. I won't be counting the days for part two.