The other week I was lucky enough to attend the Empire awards.
A galaxy of stars were present, as you might imagine, and some of my favourite actors and film makers got the plaudits they richly deserved.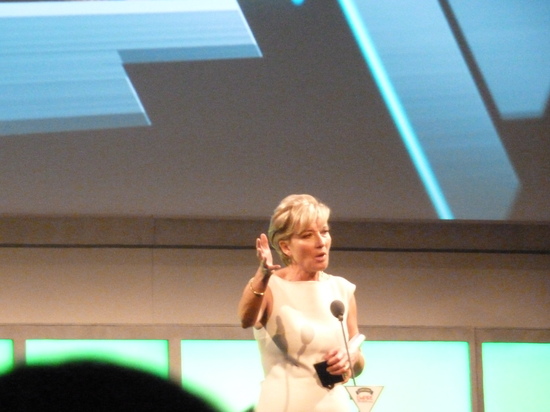 Emma Thompson winning a gong for Saving Mr Banks at the Empire Awards 2014

photo: Roger Crow
Having dinner on the next table to Emma Thompson and Stephen Fry would have been amazing enough, but there were so many highs on that evening, it's hard to pick the favourite moment.
James Nesbitt's opening number was superb; Simon Pegg humble speech was emotional; Arnold Schwarzenegger was genuinely hilarious as he popped in, picked up an award and cleared off, and I was thrilled to see James McAvoy pick up a gong for his superb work on the movie Filth.
And then I met Tom Cruise.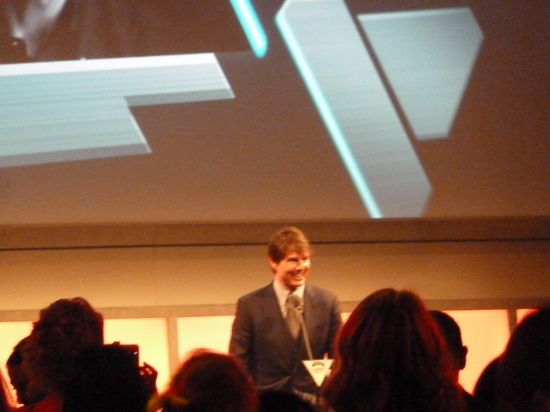 Tom Cruise at the Empire Awards 2014; photo: Roger Crow
Rather aptly, Professor Brian Cox was on stage to award to a gong for Gravity, but I would have been fascinated to see what he thought of the Cruise effect.
There are stars, there are super novas (which burn twice as bright and last half as long), and then there is the black hole that is Tom.
Toward the end of the night I watched from a distance as what seemed like whole room gravitated towards him, desperate to have their photo taken with the man himself.
Personally, I just wanted to shake his hand, and say thanks for a lifetime worth of blockbuster movies.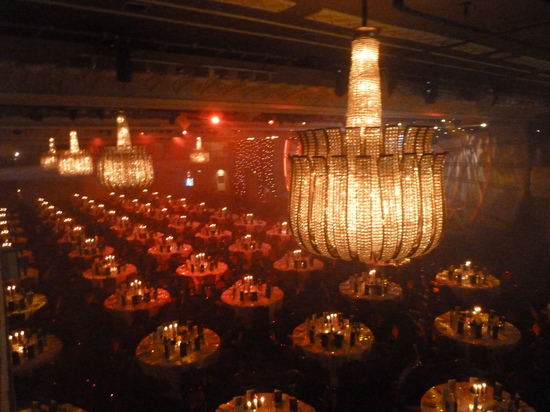 The Kubrickian setting for the Empire Awards 2014; photo: Roger Crow
If there's one movie billing that summed him up, it would be: Tom Cruise: Legend.
That Ridley Scott fantasy may have been a rare flop, but it seems to have pre-empted Tom's success.
So, as he filed past, I half expected he'd ignore me. Thankfully, Cruise is not one of those blokes.
As you'll have seen from his many hours spent signing autographs, taking phone calls and having photos taken outside movie premieres, he's all about the fans.
I reached out a hand behind a line of security guards and fully expected he'd look the other way.
After all, I was just another nameless journalist who just happened to have spent 30 years being thrilled and entertained by his movies.
I was the guy who was so excited about Legend, I made myself ill on that opening night (and saw it twice in a week).
I was the guy who was there on the opening night of Top Gun at my local flea pit, when a mate and his girlfriend fell out and left 10 minutes in.
And then I landed a job writing about films, and was still paying to see Mission: Impossible, Interview with the Vampire (twice), Eyes Wide Shut, Mission: Impossible 2 (twice), Magnolia and all those other amazing, occasionally disappointing movies like Rock of Ages.
I spent years interviewing his colleagues, such as Joe Pantoliano (Risky Business) and Simon Pegg, asking about whether Tom was as cool as he seemed or if he had a secret plan for world domination.
No, he really was that cool.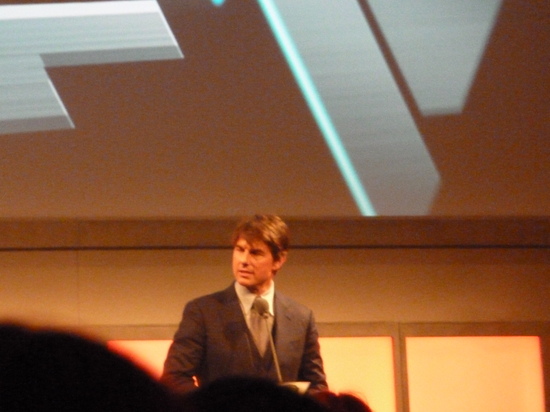 Tom Cruise at the Empire Awards 2014; photo: Roger Crow
Being a journalist it's seen as uncool to express too much emotion towards stars, but a degree of professional, mutual respect is fine.
So I kept my cool... and then Tom shook my hand.
It wasn't one of those 'Oh another random handshake, I wonder what's for dinner, mind on other things' handshake.
Cruise was interested, committed to the moment 100 per cent, and when I babbled "Cheers Tom" he was genuinely grateful.
For those five seconds, as he reported to a minority, I was the most important person in the room, and that is Cruise's greatest skill.
To take a genuine interest in a stranger, albeit for a few seconds, is impressive.
There are great actors who may be awkward if you chat to them, and then there are megastars who earn every penny.
No prizes for guessing which camp Tom falls into.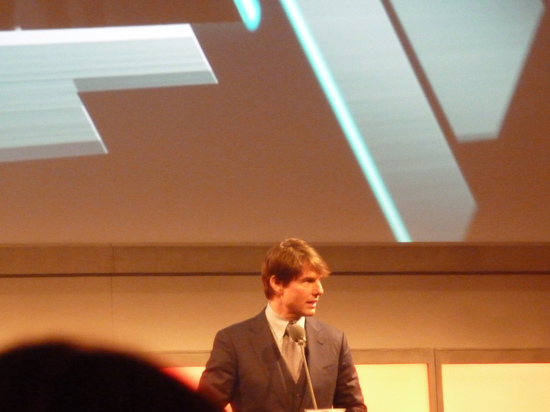 Tom Cruise at the Empire Awards 2014; photo: Roger Crow
Enough gushing. I know it's not cool to like Tom in some circles. He's a bit too successful for some Brits. We like to keep stars in check, build them up when they're on the rise to stardom and then melt their Icarus wings if they get too close to the blazing sun of white hot stardom.
Each to their own. But think of all the great films left in oblivion because of that belief.
So, 30 years of watching Cruise on screen, 23 years writing about him condensed into five seconds of thanks in one hand shake.
Dozens of people in that room had a similar experience, and no doubt hundreds more will when new sci-fi epic Edge of Tomorrow opens in the coming weeks and Cruise does the meet and greet thing once more.
I for one can't wait.
Cheers Tom.