We - the one million silenced voices, the one million people who this December were planning to march on Paris to call for climate justice - have a request, to the world media. For once. For this last portion of 2015. For these two December weeks...
Kindly, try to zoom all your cameras out from the Middle East and the wider world's involvement with that region - and finally take, for all of us to see, a good shot of our whole, shared perspective: muslims, christians, atheists, jews, buddhists, quakers, bakers, candlestick makers, dolphins, butterflies, spiders, tadpoles, plants and grass and rocks. Earth.

Thank you. It is about time.
COP21, the United Nations Climate Change Conference of November 30 to December 12/13 in Paris, was to become the largest gathering of climate-concerned world citizens ever. Over a million people were expected for the two large climate marches, one at the start and the other during the final weekend of the summit.
Last week I learned that both these marches will be prohibited following the recent terrorist attacks. The climate summit itself will continue, but now fully behind closed doors. You can protect politicians in a conference centre - but you cannot protect an international crowd of idealists, the very crowd that calls for protection and respect for all of life on this planet.
To remind all the 195 parties at the 'negotiating table' that you don't negotiate about Earth, you don't negotiate about nature, you don't negotiate about humanity. You care for it. Making a 'deal' is very, very simple.
Just think of our children.
Just think of that tadpole that you yourself saw when you were still a child. Then recall this, much much more than anything else, is about life - a liveable planet and our one shared single most important task for this entire century: preventing the cascading decline of Earth's life - preventing the Holocene Mass Extinction.
Just two of those voices
Last (globally hottest ever measured!) summer my girlfriend and I took two weeks off to go hitchhiking across France. We met 43 people who were as kind as to pick us up, carry us through their countryside, and share their stories with us. We saw the vineyards of Burgundy, the silent volcanoes of Auvergne and the last patches of eternal snow on the north slopes of the highest peaks of the Hautes-Pyrénées - the last summer snows of an entire mountain range, slowly melting away as the European climate warms further.

On our way back we ended up in Paris. And not by chance. We wanted to sense the city. Connect. Because six month ago we were already focused on December 2015 - we were already focused on that one thing: The Paris climate summit.
We walked across the Île de la Cité, and along the shores of the Seine. And because the French cuisine is perfect but for a tiny pinch of mockery, we decided to settle for dinner at an Italian restaurant.
My girlfriend and I can probably both be described as 'climate campaigners', as we both work for (Dutch) environmental NGOs. But then and there, in that Italian restaurant, in the centre of Paris, at the end of our two weeks off from work, we finally managed to get to the very core of why we do this.
Climate change is a choice. Unabated it is universal destruction. But if you turn around and walk away from that destruction it is one thing that is in all of life: Love for our mother - and the mother in ourselves.
Then and there we both realised this in a way is no longer an issue for campaigning groups. Even we, as campaigners, need to step out of our role. We are not connected to this story as climate campaigners, but only - only - as human beings.
This is an issue for all of us. Including those we may think of as our enemies. Including those we forget to see as our friends. Like that tadpole. And if there is one thing the world needs now, it is to come together and learn to cooperate. If we manage to solve the climate crisis, we literally have everything to win; peace, tolerance, each other, a future. Earth.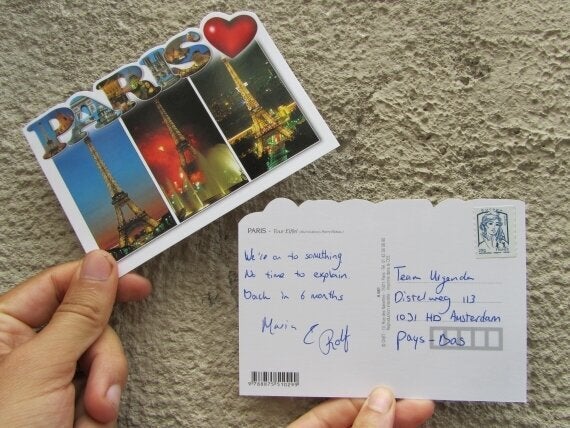 So in our shaken world we now request a moment of peace and quiet. We request you, dear world media, to zoom out and show our shared perspective. We ask you to transmit our one shared voice - so that those of us who this December in the streets of Paris wanted to call on behalf of all of us will not be silenced, not by terror, not by politics.
This, more than anything else, is the story of us all. There is no need to negotiate about anything. There is every reason to agree.