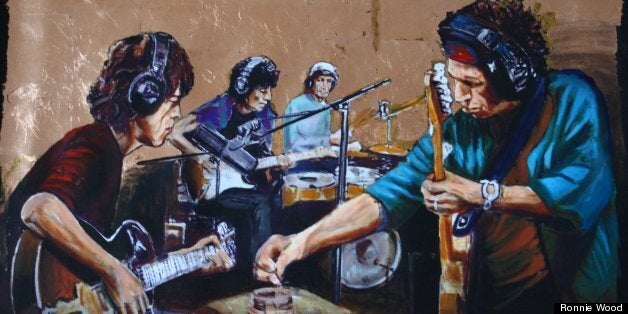 Thursday 11 April was the opening of my new art exhibition at an art gallery in Mayfair. I'm not sure if many people know that I paint as, understandably, everyone wants to talk about the Stones, Glastonbury and the tour right now. But yes, it's a little known fact that I actually started painting before I even picked up a guitar.
I think people are 'just creative' and this can be expressed in a number of ways. Bob Dylan and David Bowie create both music and art. Michelangelo could paint and sculpt. For me, it's just another way of expressing myself.
One of the things I like most is starting something that is entirely yours, conceptually and artistically, and seeing it through to the end, with no input from anyone else; an entirely different dynamic to being in a band, which is a melting pot of opinions and influences.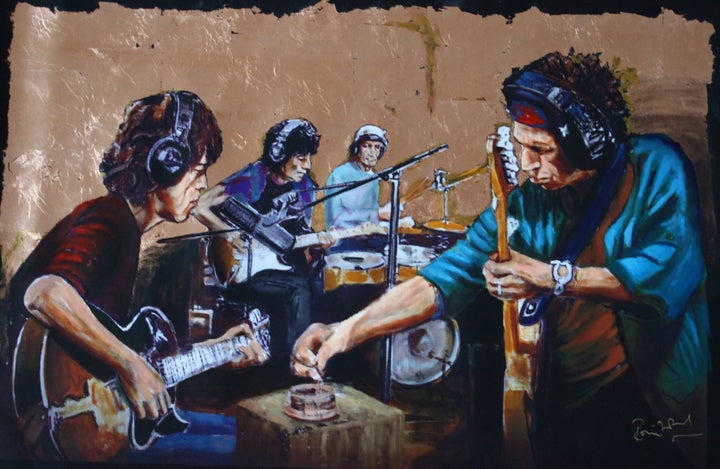 One of the artists I admire most is Caravaggio. I saw some of his recently discovered treasures, where he had used oil paint which left exposed raw, unfinished panels of chalk drawing. I tried to recreate something similar for a piece in my recent exhibition, but I'm not sure I've quite done him justice!
He was quite a volatile character, like many creative people, he teetered on the edge of lunacy and genius, I find this fascinating and through some of his work you can see how dark a place he was often in.
On the flip side, I also like less 'heavy' stuff, sometimes I move away from the oils and like to draw or sketch, uncomplicated portraiture - somewhere between Henri Matisse and Egon Schiele I think; distorted and twisted body shapes from Schiele and the simplistic lines of Matisse.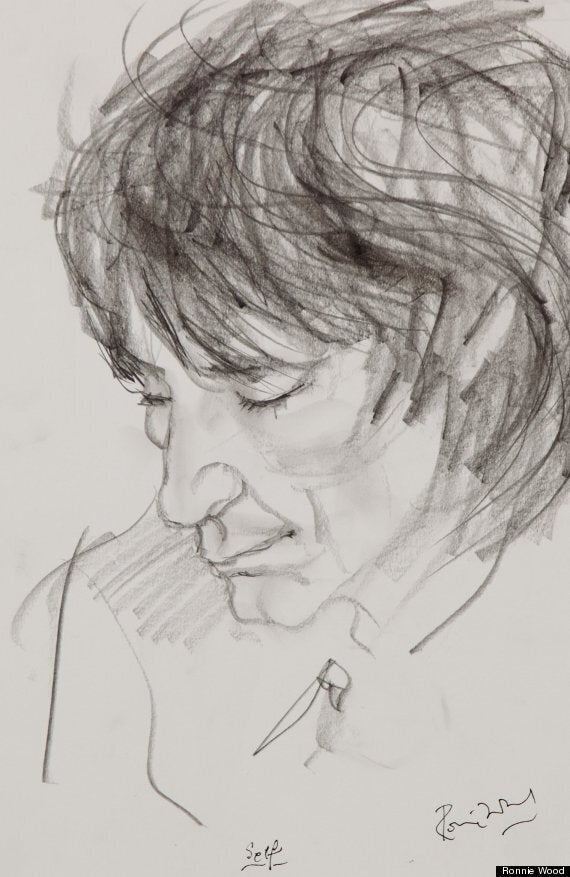 I've created a lot of drawings of the guys too, sometimes, in between sets I'll grab a sketch pad and just start frantically drawing Charlie or Mick.
Getting them to keep still is a bit of a challenge, but it's a wonderful release for me in the frenetic energy of a gig or the intensity of a tour.
I'm sure I'll get some unique inspiration after playing at Glastonbury this year.
Ronnie Wood: Raw Instinct at Castle Fine Art in Mayfair, showcasing over 100 original pieces including six never before seen paintings. All pieces in the collection are available to view until August and available for purchase. Castle Fine Art, 24 Bruton Street, London W1J 6QQ castlegalleries.com