With the glitz and the glamour of the entertainment business, the awards ceremonies and A- Lister hangouts, it is no wonder Los Angeles has adopted the nickname 'La-La-Land'. By definition, being 'la-la' means you are out of touch with reality but in this case is it just an obvious pun due to Los Angeles' initials? Or is it really surprising us Angelenos live in so called 'La-La-Land' when the city itself is called 'City of Angels' and the Terminator even ran the state for seven years as Governor?
Every day, hundreds of people grace the LA streets from Hollywood Boulevard to the beaches, dressed up as film and television characters. There is even a terrifying witches house, Spadena, in Beverly Hills built for film purposes, you can only imagine how much fun its residents have on Halloween. You can't really deny that everyone you talk to from LA are either in 'the business' themselves or know someone in it to some degree. Even if you've been an extra on a show once and your scene didn't make the cut...according to Angelenos, you're in the business. Find that liberating or infuriating, your call. As an anthropologist then, it is safe to assume that people of Los Angeles are in a tribe or species of their own, Hollywood Sapiens, with their 'in the business' jargon, behaviours, eating habits, ways of making alliances and networking and exclusiveness with the A-Listers being clan chiefs and famed older directors, producers, writers, camera men etc as the elders.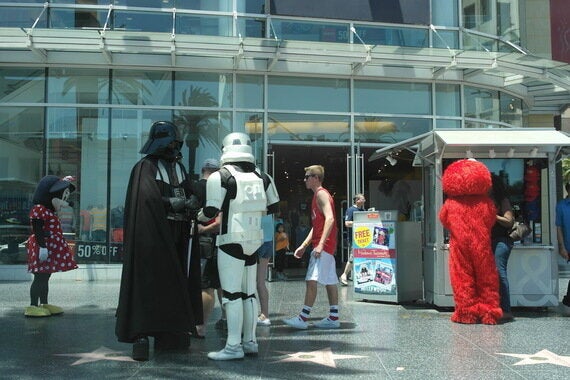 Characters on Hollywood Blvd.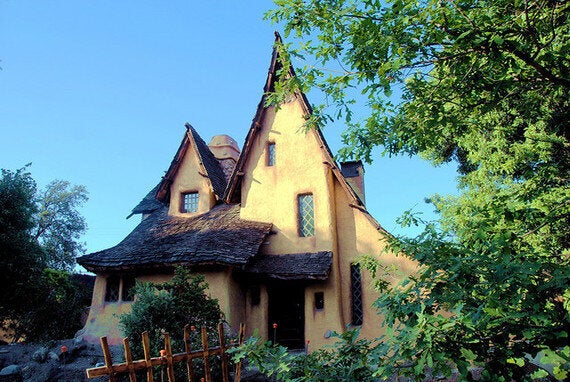 Spadena House, Beverly Hills. (Photo Credit: http://farm4.staticflickr.com/3328/3562717541_705daf96ca_z.jpg?zz=1 )
So what if LA is out of touch with reality, isn't it just a form of escapism? Tourists still flock to LA for the Hollywood scene regardless of the gang violence prevalent in the city. Perhaps if LA didn't have the appeal of the entertainment industry tourists wouldn't visit the city at such an enthusiastic rate when compared to other places with similar levels of gang violence such as other American States or some Mexican cities.
Los Angeles would not be complete without the classic Hollywood attractions and as everyone and their aunt twice removed and not even born yet knows what these are, there is no point in mentioning them again other than to say the list comprises of studios, theatres and theme parks.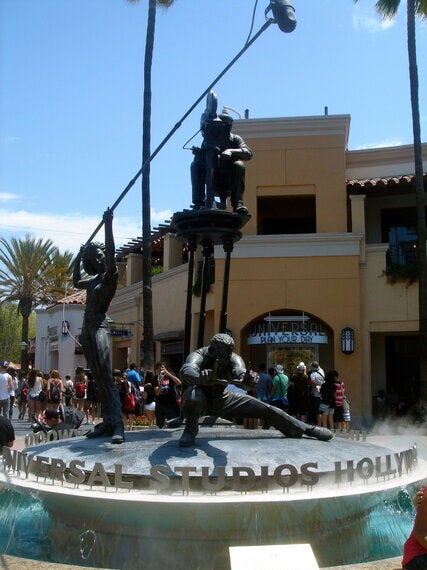 What about other forms of arts and culture. LA has so much more to give than just film and television culture and boasts so many great museums often forgotten about due to Hollywood and overshadowed by their museum competitors elsewhere in the States like New York. Unlike New York museums however, many LA ones are free and so are the perfect refuge for when the weather is just simply too hot and you cannot put yourself through the uncomfortable effort of staying out in the sun any longer just for the hope of a Cali tan.
Being in the land of glitz, glamour and sun, the architecture and grounds of the museums themselves are of course beautiful. Take the Huntington Museum of Art for example, not only does it possess, among other collections, an extensive collection of eighteenth to nineteenth century European art but also one-hundred and twenty acres of botanical gardens. If you're fed up of the sand and the ocean, then spend time here, strolling around the gallery and then relaxing in the sun with the welcome element of shade in the Huntington's Japanese Garden, Rose Garden, Jungle Garden just to name a few.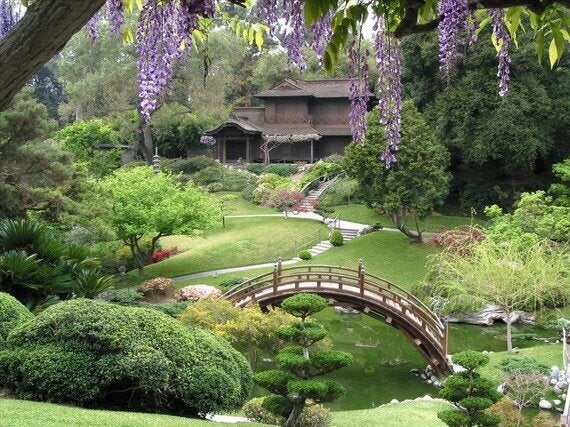 Japanese Garden at the Huntington. (Photo credit: http://i.images.cdn.fotopedia.com/flickr-3881160467-hd/Los_Angeles/Museums/The_Huntington_Library/Huntington_Library_Art_Collections_and_Botanical_Gardens.jpg )
Equally as beautiful as the Huntington is the Getty Centre, located in the centre of the city, and the Getty Villa located in Pacific Palisades. The Getty Centre is very similar to the Huntington in the sense that it houses a grand collection of art and offers a matching outdoor scene with breath taking views over Los Angeles as well as an impeccably designed museum building and central garden.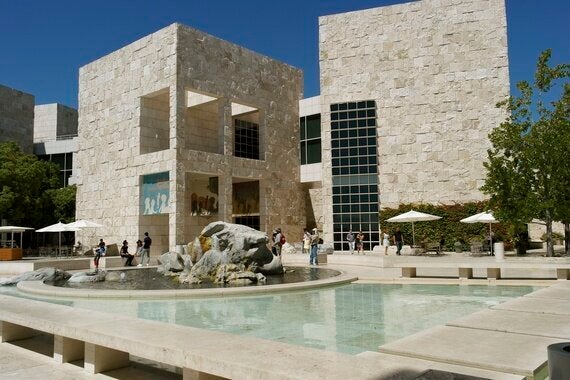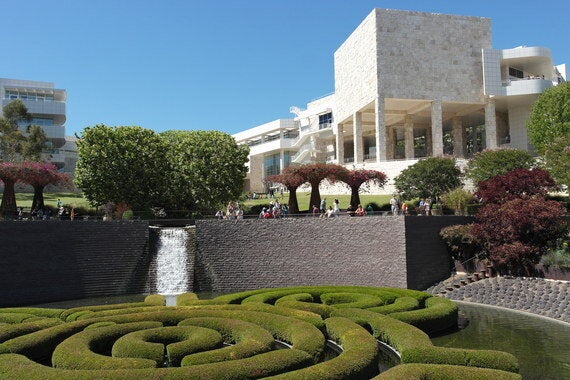 Pictures of the Getty Centre.
The Getty Villa however takes you out of the LA scene and into Italy, as it is a recreation of a first-century Roman house in Herculaneum, the Villa dei Papiri. The museum even comes complete with an outdoor Romanesque amphitheater. Unlike the Getty Centre, the Getty Villa is home to J. Paul Getty's Roman and Greek antiquities collection, approximately 44,000 pieces, dating from 6,500 B.C. to A.D. 400. Not to be outdone by the Huntington or Getty Centre's gardens, in true Italian style the Getty Villa offers fountains and pools, bronze sculptures, and herb gardens, it really is a perfectly tranquil setting in the LA sun.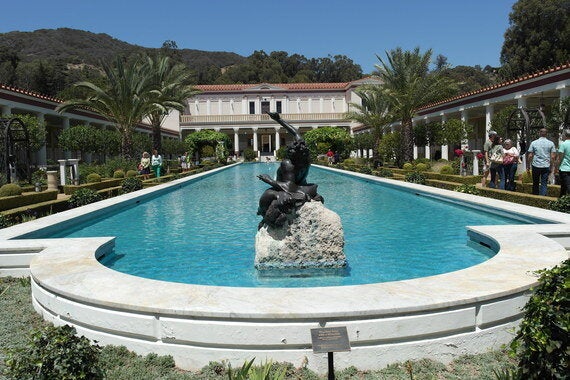 When the pretension of Rodeo Drive gets too much, LACMA and the La Brea Tar Pits and Page Museum are close by and are a must-see. LACMA houses an impressive collection of over 150,000 pieces of art from ancient antiquities to modern works and holds weekly evening events such as Jazz Fridays, Latin Saturdays and Classical Sundays as well as a long list of film showings.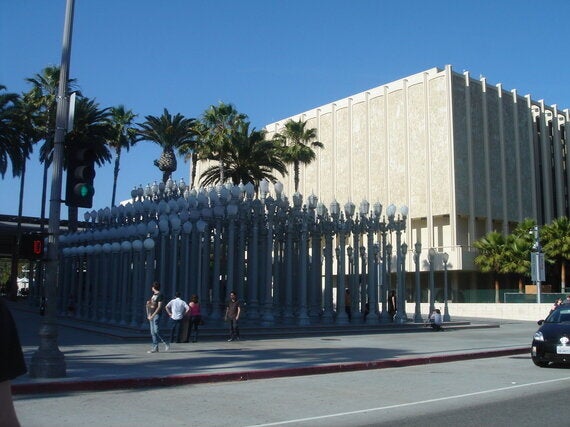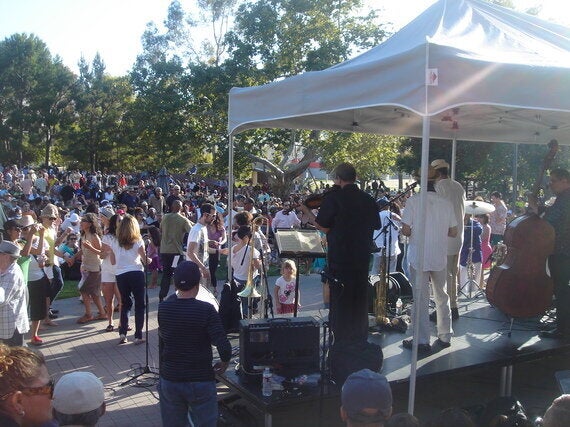 The La Brea Tar Pits are probably the last thing you would imagine to see in Los Angeles, but sure enough they are there with the Page Museum on site housing the fossils excavated from the tar. There are even some aptly placed dying mammoths in the tar for authenticity purposes, you really can't miss it.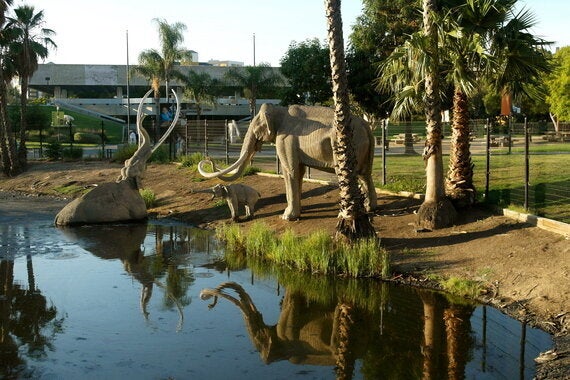 Other LA museums more than worthy of a visit include the Natural History Museum, the Norton Simon, MOCA, Annenberg Space for Photography and the Griffiths Observatory just to name a few but, if you're all 'museum-ed out' and itching to get back into the Hollywood scene then a quick trip to The Grammy Museum, a museum devoted to winners of the prestigious award, and The Gene Autry Museum won't hurt. Not only does the Gene Autry Museum display many Native American artifacts but also of course plenty of cowboy and western objects to get you back into the Hollywood mood via the Wild Wild West, you can even pan for gold whilst you're there.
LA isn't just one huge neighbourhood of Hollywood...or museums. Los Angeles has many ethnic neighborhoods such as a China Town, Korea Town and Little Tokyo and with 48% (2012 statistic) of Angelenos being Hispanic or Latino it is unsurprising that there is a thriving Hispanic community. The Mexican Olvera Street known as 'the birthplace of Los Angeles' consists of old style street vendors selling traditional Mexican objects and cafes selling delicious Mexican food. Olvera Street also has Avila Adobe, the oldest still standing house in Los Angeles and is worth a visit despite only being built in 1818.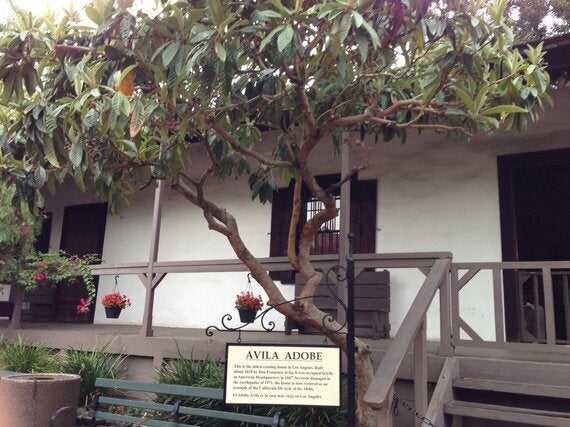 Other neighbourhoods well worth a visit are the quirky districts of Abbot Kinney and Highland Park, shopping districts such as Rodeo and Beverly Drive, Melrose and Montana Avenues, Santa Monica 3rd Street Promenade, The Grove and of course, Santee Alley, one of the most popular shopping areas in the LA fashion district.
Call this great city what you will, 'La-La-Land', or as some people say, 'Loose Angeles' or 'Hollyweird', when visiting LA it is undeniably hard not to be excited and enthralled by the pull of Hollywood...its in the air, it might even be something in the water. Yet as LA has so much more to offer, I'm sure many Angelenos aren't too put out by their homes new nickname. I'm personally not and would rather live somewhere known for as being 'La-La-Land' than somewhere known for being boring, and you never know what celebrities you might see as you turn into a new aisle at Whole-Foods.