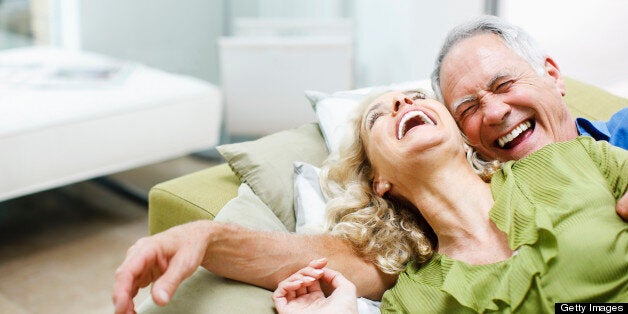 The population of the UK is ageing. By 2025, half the population will be over 50. Our media and politicians are warning us of the consequences of this for our public services and national debt. What very few people are talking about is one of the ways we can tackle this looming crisis: our personal relationships.
That might be unsurprising, coming from the CEO of Relate, the UK's leading relationship support organisation. The idea that the most important thing in later life is personal relationships, however, is based in evidence. Earlier this year, Relate commissioned Ipsos MORI to conduct research with 1,390 over 50s to find out their priorities for a happy retirement.
What we found may not sound surprising. 91% of people in couples said their relationship with their partner was the most important thing for a happy retirement. 75% said that it was their partner or spouse that they would turn to in times of need. 83% overall said that strong personal relationships were very important in determining their happiness. Does this mean that we all understand how important our relationships are, and we're all looking forward to growing old together? Or does it reflect that without these relationships, older age might look very bleak indeed? We could have a perfect pension plan in place, we might be running marathons into our eighties - but if we have no one to share these things with, later life becomes lonely and unfulfilling.
One in five of those we surveyed said they lacked confidence in forming new relationships or friendships. When we take that in context of the whole population over 50, we are talking about Four million people. Four million people who, if their partner dies, won't know how to meet someone new. Four million people who, when they leave work, and find their social circle dramatically diminished, won't have the confidence to make new friends. 4 million people who, if they are not surrounded by family, could spend the next 30 years alone.
There are a few more changes that are happening with this age group. Divorce rates are going up. In the 2012 ONS Divorce Statistics, divorce rates went down across all age groups, apart from the over 60s, where it increased. This also masks another problem - of those who are still together but unhappy, and those who are separated, but cannot afford to live apart. At Relate, we know how common it is for couples to struggle at this point in their lives. They've spent so long working and caring for children, and suddenly, the kids leave home, work ends and the couple can't remember what it was that originally brought them together. As life expectancy increases, 65 year olds are now looking at an average 22 years of retirement. Increasingly, they're deciding that's just too long to stay in a less than perfect relationship.
When this happens, many people look for new relationships and find new sexual partners. Research from Kings College Hospital shows that sexually transmitted disease infection rates have more than doubled for this age group in the last decade. Sexually active - almost certainly, although you wouldn't know it from public health campaigns which focus on the young.
It's clear that we have an increasingly serious problem. Personal relationships can play a real part in the solution. If our relationships are good, many of these issues are lessened. If we prepare our relationships before we hit this crunch point, we are more likely to enjoy growing old together. If we strengthen our relationships with family members, we build a network of people who can care for us. It is often family members who will care for us as we age - but only if those relationships are good. If we learn throughout life how to start and maintain happy relationships, we all stand a much better chance of a healthier, more productive later life. If our sexual education is something which continues throughout life, rather than being confined to a somewhat embarrassing schoolroom, we can be safer, happier and more fulfilled.
A simple solution then? The state doesn't need to fret, because our friends and family will take care of us. Not quite. This will only work if our relationships are supported. Organisations like Relate can play a part in this with relationship education, and raising awareness, like our new site, www.retirementtogether.org.uk. But we need recognition from society and Government that our personal relationships are not something that should succeed or fail in private only.
That's why our report, Who will love me, when I'm 64? calls for a Minister of State for Ageing Society. Currently, there is no coherent strategy. Responsibility for ageing is shared between the Department for Work and Pensions and Department of Health, with relationship support sitting within the Department for Education. No one holds overall responsibility for driving a consistent strategy, and policy has tended to focus on pensions or social care alone.
There are three pillars to a successful old age: good health, financial security and good quality relationships. We need to stop treating the latter as something 'nice to have'. Without it, the other two mean very little.