A new photography festival opened in Tuscany on Saturday, where the prestigious World Press Photo exhibition vies for attention with an innovative project exploring European identity.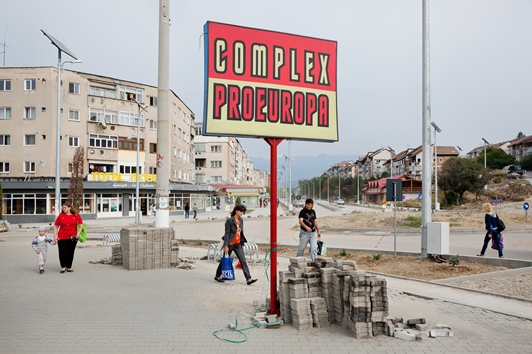 The Lumina International Photography and VideoArt Festival will run until 16 December in Lucca, a walled city close to Pisa and Florence. The programme includes talks and workshops with editors and photographers covering everything from ethics to printing.
While the travelling World Press Photo exhibition boasts the most striking images from events around the world, as the economic crisis continues to put untold stress on society it is the European Photo Exhibition Award (epea) which gives the festival its distinct character.
Twelve photographers were picked by curators from the Körber-Stiftung in Germany, Fondazione Banca del Monte di Lucca in Italy, the Fritt Ord Foundation in Norway and Portugal's Fundação Calouste Gulbenkian and tasked with creating photo essays on social themes.
Displayed in the newly-converted church buildings owned by the Italian foundation, the essays are diverse not only in their subject but also in the photographer's approach to the topic. Large prints and heavy frames have been chosen for Italian photographer Gabriele Croppi's black and white images of the continent's metropolises, for example, while Swedish photographer Hannah Modigh has created a more intimate essay by pinning her shots of teen life to boards around a single bed.
Journeys play a repeated part, telling of a common character among Europeans who are prone to crossing borders. While Davide Monteleone followed migrants from North Africa on their dangerous passage to Europe, fellow Italian Pietro Masturzo's portrayal of his trip to Odessa, Ukraine, is a fascinating, personal tale. Clutching a letter written by his grandmother in 1937, Masturzo goes in search of his heritage and completes the work with a montage of images which read like a graphic novel.
Another country on the periphery of Europe, Romania, is the subject of German photographer Frederic Lezmi's essay. Lezmi shoots familiar scenes - the seaside, a market stall, people chatting outside an apartment block - to give an insight into a country far from the minds of its European neighbours.
A couple miss the mark, such as Linn Schröder's work on the reality behind clichés of the US seen in Europe. The German photographer's shots are technically excellent, yet add little to the complex debate on European identities. Images of plain objects in the bathhouses of Istanbul, by Portuguese photographer Catarina Botelho, may be better suited to a modern art gallery than the epea project.
Another photographer with an artistic rather than documentary style is Isabelle Wenzel, from Germany, who has taken to the studio to shoot portraits based on Greek columns. Here the result is playful and imaginative, with female figures contorted to create statues for a contemporary Europe.
The diversity of the essays succeed in encouraging contemplation and moving thoughts away from budgets and Brussels to the people of Europe. Just a few streets away, in the 16th-century Villa Bottini, the World Press Photo exhibition has a more forceful impact. The images retell a year in photojournalism and at times appear too brutal to print, depicting the extent of human suffering from events such as the tsunami which struck Japan in March 2011 and the Arab Spring.
Although distinct in purpose and content, the two exhibitions and their photographers come together through Lumina's series of events across the city.
The epea exhibition is open from 3.00pm until 7.30pm from Monday to Friday and from 10.00am until 7.30pm at weekends, at Piazza S. Martino 7, until 6 January. Free entrance.
World Press Photo is open daily from 10.00am until 7.30pm until 16 December, at Via Elisa 9. Tickets cost €6 or €3.50 for students under 25, schools, groups of 15 or more and people over 65.
More information on the festival can be found at: www.luminafestival.it