I trundled into my home for the next four months of my Year Abroad, bidding my understandably confused Spanish taxi driver 'au revoir et muchas gracias'. Having mumbled in shaky French for the last five months, I was pleasantly surprised at how it had seemingly stuck. Two weeks of mumbling in Spanish later, it has come unstuck, but this is no great shock, and if it means that I can communicate as opposed to smiling, using dramatic hand gestures and nervous humming, I think I'm OK with it.
Through a company called Madrid Easy, I found accommodation in the centre of town, Malasaña (Nearest metros Tribunal, Noviciado, San Bernardo) which I share with fourteen housemates. 'Housemates' seems an appropriate term, after my mother hastily likened the place to the Big Brother House. If you are a student looking for accommodation on your year abroad in Madrid, this is definitely the best option. You pay slightly more, but as my landlord put it, you literally pay for instant friends/Madrid tour guides (it sounded just as odd in Spanish). True to his word, a few days in, the whole house gathered round to watch El Clásico (a football match between Real Madrid and FC Barcelona), communicating mostly in Spanglish. Bars aplenty, with a rich cultural history, (the Movida Madrileña, an explosion of creativity after the death of Franco has its roots in Malasaña) the 'Soho of Madrid' is perfect for students.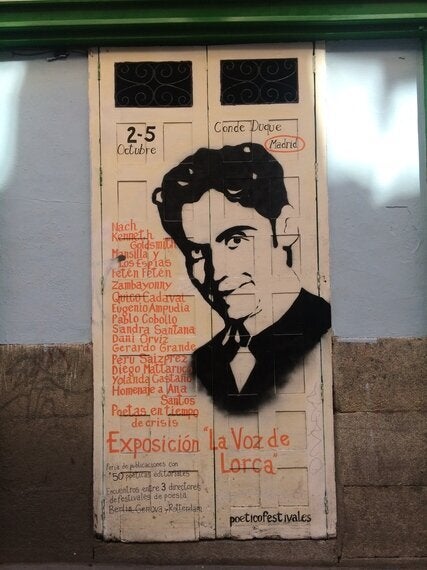 The Spanish are overwhelmingly friendly, living up to their positive stereotype. On my first day at work I was introduced to a thousand people, who all looked genuinely content at the prospect of working with a hindrance of a foreign intern. However, it's not all siestas and fiestas; the Spanish work hard. Sure, on Fridays we finish at 2pm and sure, bank holidays are in abundance, but work productivity is high, people are motivated and tasks are executed instantly and with great enthusiasm. Positive stereotypes aside, when it comes to the weather, I was unaware that it actually rained in Spain. I arrived in March without a coat (much to the amusement of my colleagues), a true weather-confused inglesa.
As charming and hard-working as the Spanish have proved, the admin side of things can be horrific. Getting a metro pass (abono) was easy and prompted excessive false hope for my future administrative endeavours. Head down to your local tobacconists, and most (if in doubt, go to the tobacconist outside of Tribunal metro) will be able to give you it there and then. However, if you are working in Spain, you need to get your NIE (permiso de residencia), along with your social security number. For your NIE, you need to book an appointment online (you can do this before you get to Madrid), where you will then be offered a choice of three unimaginably inconvenient times, that all fall within the working day in the distant, distant future. Once you have your NIE, you can get your social security number. For both appointments, they recommend taking as many important documents as you can carry (photocopy of passport, proof of residence in Madrid, proof of Erasmus, proof of work etc).
Despite the woes of Spanish admin, I like it here. I like how taxi drivers laugh and smile when I say we need to make two walls instead of two stops (paradas=stops, paredes=walls). I like how sugar is sold in juice cartons. I like my housemates and my Big Brother House. I like how 'la tarde' (afternoon) extends to 8pm. I like how waiters keep pouring spirits until you tell them to stop. And I really like how the Spanish meet me halfway, despite my initial butchering of their language.