In 2000 Bangladesh gained test status. In 2017 they play their hundredth match in the format.
From gaining test status when I was a teenager, to winning their first test when I was at university to taking days off my current job to watch them bat - I have literally grown up alongside Bangladesh's test journey.
There are going to be plenty of articles looking at the highs and lows since Bangladesh gained test status in 2000, but I wanted to write something more personal. I've chosen five matches that were significant, perhaps self-indulgently, in the world of a nerdy cricket fan watching scores update on Ceefax over five thousand miles away.
Bangladesh v India
Only Test, 10 - 13 November 2000, Dhaka
India won by 9 wickets
I was 13 when I first learnt that Bangladesh had a cricket team. They were in England for the 1999 Cricket World Cup and some of my dad's friends had been to see them play a warm up match in Gants Hill. I've no idea who they were playing and Google has never provided any answer as to what they were doing in East London that day.
A World Cup and an ICC meeting later and we were at our first ever test match. I'd always had a weird fascination with Bangladesh's performances in world sports. Before cricket this mainly involved checking where the national football team currently stood in the latest FIFA world rankings (usually around 150th) - but now we had an international team that was in the Top 10 of something. And this was huge!
But for me this was a massive learning curve. I knew test cricket existed - but only really on Channel 4 in summer holidays. This was the match where I'd learn everything from scratch.
I learnt that page 340 on Ceefax would be my friend and I learnt what a scorecard looked like. I learnt all the abbreviations, the fielding positions and how a test match actually worked.
Perhaps most significantly though - I learnt who the team were. It was a bit like playing Football Manager and taking on a German Division 3 side that you'd never heard of. The team were just names on a scorecard. No context, no history, no idea what they looked like. Aminul Islam became the first name I forced myself to remember - seemed logical given he scored a century, thus temporarily becoming Bangladesh's best ever test batsman.
When Bangladesh scored 400 in the first innings I thought this was the norm. In a weird way, it's ironic that I didn't learn what a follow on or an innings defeat was in this first match, because those two phrases would become staples in the years to come. I learnt what a collapse was though - we were bundled out for 91 in the second innings and lost by nine wickets - but that wasn't the point. The point was that we were off the ground and I had a new team to support.
Bangladesh v Sri Lanka
Second Test, 3 - 6 January 2009, Chittagong
Sri Lanka won by 465 runs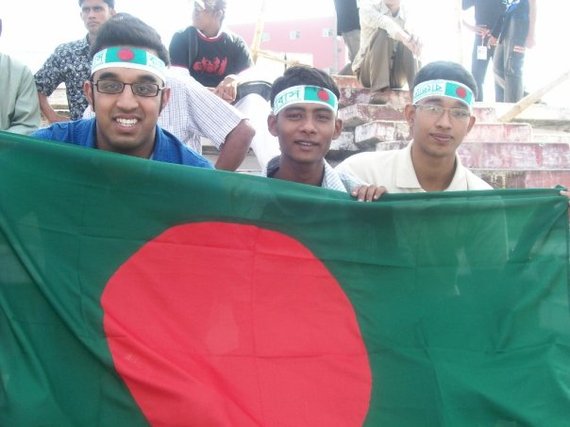 I appear to have skipped forward nearly a decade. In that time Bangladesh had their first test win, discovered a number of talented players and made huge advancements as a one day side. So why have I picked an insignificant test match from the winter of 2009? Because this was the first time I watched Bangladesh play live.
The second test was held in Chittagong, the city my family are originally from and so I went with a few of my cousins who live out there (pictured above, getting quite carried away with the merchandise). We arrived during the lunch break. Sri Lanka were four wickets down and so we were optimistic of a good performance and great atmosphere. But then, with Dilshan at the crease, Sri Lanka batted for nearly 25 overs. As the partnership built the atmosphere in the concrete bowl of a stadium slowly subdued and I wondered whether cricket was a game better enjoyed through occasional online updates (by now I'd discovered cricinfo and I'd check it as often as Facebook and twitter).
And then we took a wicket. Mohammed Ashraful had Warnapura trapped lbw in the fifty-second over and the ground erupted. I have never heard anything like it. My own celebrations were an out of body experience - but every emotion I'd ever felt for that cricket team came to life in that moment.
We bought fried snacks during the tea break. They made me feel ill so we left an hour later, shortly after Dilshan had brought up his century.
West Indies v Bangladesh
Second Test, 17 -19 July 2009, St George's
Bangladesh won by 4 wickets
When journalists write about this win they always feel the need to explain that this was a severely depleted West Indian side - a contract dispute meant they were missing their entire starting eleven. I'm really not bothered by that. It's like when teams rest players against Bangladesh. It's fine if you want to do that, just don't use it as an excuse if you lose.
This game meant a lot though. It was amazing to see Bangladesh in control, confident and playing with their chins up. Often against the ropes or playing for pride - this was different because we were playing to win. And even though it was a weakened West Indies side, after a decade of heavy losses it was a new set of emotions to go through and ones I enjoyed experiencing.
And something else happened. Off the back of this series a Bangladeshi became the world's number one all-rounder, because of his match winning performances in the series. He's stayed in the Top 3 across all formats of the game since and because of him Bangladesh finally had a superstar.
Yes, people had vaguely heard of Ashraful and Bashar - but this was different. People knew who he was, knew he could walk into any team and knew he was the best in the world. In sport you need heroes. India had Tendulkar, West Indies had Lara and now Bangladesh had Shakib Al Hassan.
England v Bangladesh
Second Test, 27 -31 July 2010, Lord's
England won by 8 wickets
I often get asked why I support Bangladesh over England and the honest answer is I don't know. England were on my TV screens long before I knew Bangladesh existed, but I never took an interest. I sort of fell for Bangladesh, their story, their underdog status. The older generations in my family, who moved over to the UK always had a fear of losing or forgetting their heritage and in a way cricket helped bridge that gap into my generation. This is all subject matter for another blog - but ultimately you can't create passion out of obligation.
As a Bangladesh fan who lives in England there is always a huge sense of occasion when the two teams play. I'm not sure what it is. Split loyalty perhaps? The fact I can have proper cricket conversations with England fans? Or maybe just the fact that for a month the Bangladesh cricket team get coverage in all the mainstream UK media outlets.
In 2005 Bangladesh had toured England for the first time - that tour is largely remembered for a historic win against Australia in a tri-series. The test matches were largely forgettable; we crossed the 200 runs mark just once, lost both matches by an innings and the old fuddy-duddies who thought Bangladesh shouldn't be a test side had a field day.
But this was different. We had a young team who'd stunned at the 2007 World Cup, won in the West Indies and had played against England just a few months before (England toured Bangladesh earlier in the year, winning both the test and ODI series).
We still lost this match - but my life was made by Tamim Iqbal's batting performance in the second innings. Earlier in the game Shahadat Hossain had become the first Bangladeshi to go on the Lord's Honours Board after he taking five wickets in England's first innings. Asked to follow on after conceding a 223 run first innings deficit Tamim was determined to join him. He batted like a man possessed and smashed his hundred off jus 94 balls (only Ben Stokes and Mohammaed Azharuddin have done it faster at Lord's).
It genuinely is one of my favourite batting performances ever and I still get teary watching his celebration, running towards the Bangladeshi dressing room, gesturing for them to write his name on the board. Later that summer I booked myself and my cousin onto a tour of Lord's to see the Honours Boards. I said it was for his birthday, but I had my own sporting pilgrimage to make.
Bangladesh v England
Second Test, 28 - 30 October 2016, Dhaka
Bangladesh won by 108 runs
Clashes between Bangladesh and England have been some of the best cricket matches in recent history and amongst them, this. The time Bangladesh beat England in a test match in three days.
This was a tour that nearly didn't go ahead because of security concerns. There was a mixture of relief and tense nervousness when England arrived and everyone was keen to let the cricket do the talking. And my God it did. We could have won the one day series, we didn't. We could have won the first test, we didn't. But we played well throughout and it genuinely was some of the most compelling cricket I have ever watched. Throw in some over celebration, sledging and angry tweets - and we have my favourite test series ever.
First Tamim scored a century, and then Mehedi took six wickets, and then we set a competitive total, and then we looked like we were going to lose. But this time we didn't crumble like we had in the past. Something amazing happened. England lost ten wickets for 64 runs, Mehedi taking another six and Shakib taking the other four.
We'd beaten England. In a test match. Properly. I watched the game at home, before going into work. Such was my excitement at the result that the Guardian's double page match report is now framed and hanging on my wall at home. It felt like the tide had turned and suddenly we were ready to take on the world.
As Bangladesh reach their hundredth test I feel like I need to end this blog with something profound and thought provoking, but there isn't a lot to say. I have literally grown up alongside the Bangladesh test team, with wicket alerts and scorecards joining me at every major milestone in my life. I feel that passion and relationship will only continue and when I say I'm genuinely excited about the future - I mean that as much about Bangladesh's as I do my own.