Toronto is a friendly destination with an electric energy and has one of the most ethnically diverse populations in North America. This fun and vibrant city is bursting with great bars and top quality cuisine plus plenty to see and do to make it a worthwhile city break.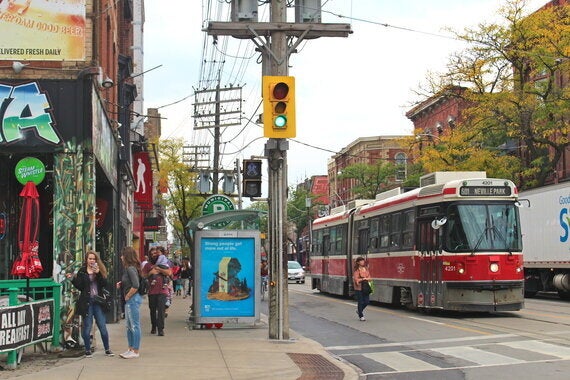 Photo credit: Roxii Hoare-Smith
So here's 11 things you must make time for during your visit to Canada's largest city - all of which are walkable within downtown Toronto.
Wonderful street art can be spotted throughout the city but Toronto's Graffiti Alley - a colourful explosion of art work by talented artists - is well worth a visit.
The city's most celebrated area for art can be discovered between Queen St. and Richmond St. This hidden gem is a must-visit for art enthusiasts.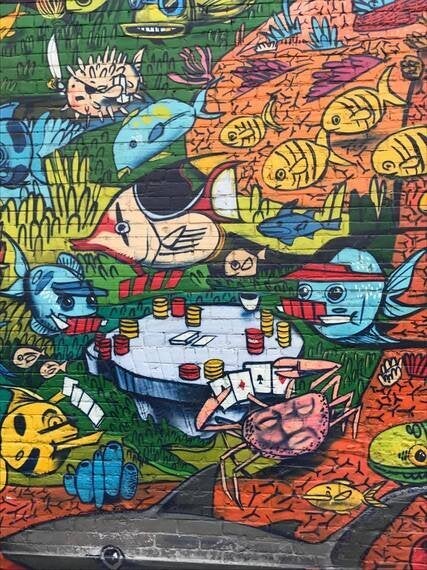 Photo credit: Roxii Hoare-Smith
Escape the hustle and bustle of the city and take the ferry across to Toronto Islands to experience the breath-taking skyline views.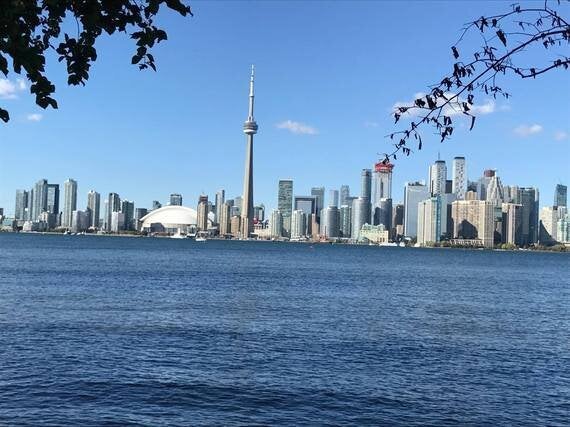 Photo credit: Roxii Hoare-Smith
Start at Centre Island and snap that picture perfect shot of the city, admire the city's impressive architecture (including the CN Tower which was once the world's tallest tower) and watch the planes landing at Billy Bishop airport.
The islands offer beaches, gardens, an amusement park and a petting zoo. It is free to enter the island however the ferry is priced at $7.25 CAD for adults and $3.50 CAD for children.
For beer lovers, Toronto boasts a fantastic selection of local brewhouses.
Visit Amsterdam Brewhouse on the lake for bargain beer offers and a great selection of flights and cocktails - you can even enjoy a beer cocktail!
Local Steam Whistle Brewery is located within a historic brick railway roundhouse just below the CN Tower. Steam Whistle brewery offers authentically crafted pilsner and tours for under $10 which include tastings.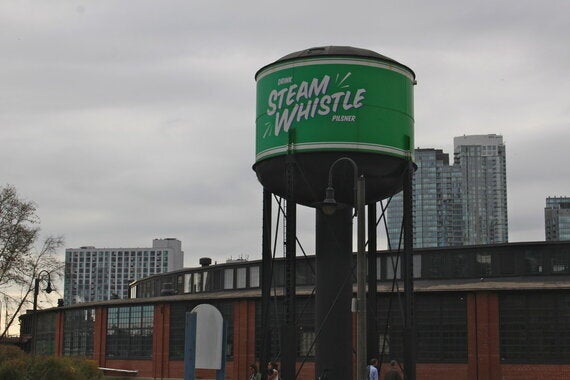 Photo credit: Roxii Hoare-Smith
For a taste of Toronto's buzzing nightlife, make sure to stop by King Street West and check out the cities best bars and clubs.
When you think Toronto, chocolate isn't the first thing that comes to mind. But Toronto is home to a variety of top quality chocolatiers, bakers and gelato creators.
Chocoholics should go on the Tasty Tours chocolate tour around the city - this is the ultimate chocolate lover's dream. Learn about the art of chocolate tasting and sample chocolate from bean to bar (you will actually get to taste chocolate from when it starts as a raw cacao bean right to a chocolate bar!) Watch a chocolate demonstration by an award-winning chocolatier and learn why chocolate really is a fruit. You'll get to sample interesting sweet treats including Smoked bourbon chocolate gelato, Parmesan chocolate, and Green tea Kitkats.
Each guest on the tour will also get to try the Toffle™, aka the Toronto Truffle. This new dessert was invented by Tasty Tours to celebrate Canada's 150th birthday and is known as the love child of a chocolate truffle and a maple butter tart.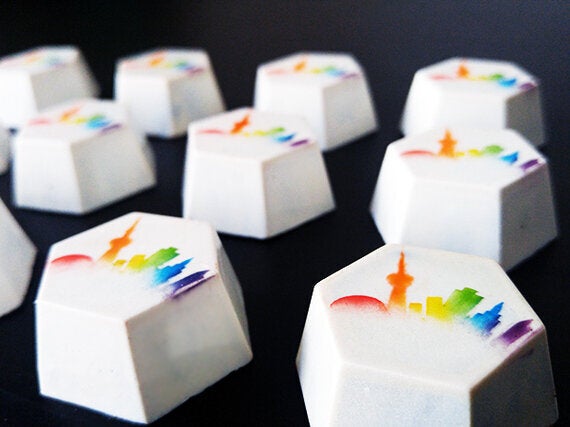 Above: The Toffle™ Photo credit: Tasty Tours
Don't get this confused with London's Kensington - the two places couldn't be more different. However if London's Camden Town and Shoreditch were to have a lovechild, Toronto's Kensington Market would be the product.
Kensington Market is an art clad neighbourhood and melting pot of European and Asian restaurants, vintage shops, record stores, speakeasies and culture spaces and galleries. This area is the perfect place to grab a bite to eat (whatever you fancy, it'll be there!) and also for a spot of shopping for items you won't find elsewhere.
Head to Toronto's historic Old Town and pop into St Lawrence Market for traditional Canadian fare. This old school style market, which is over 200 years old, is a foodies heaven offering artisan goods and high quality food from over 120 vendors.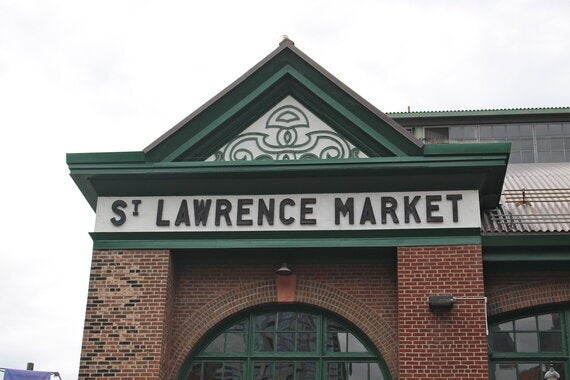 Photo credit: Roxii Hoare-Smith
You can also pick up Toronto and maple themed souvenirs for a much lower price than elsewhere in the city.
Toronto has a wide variety of brunch spots, but nothing beats a relaxing Sunday Soul Brunch at Drake One Fifty.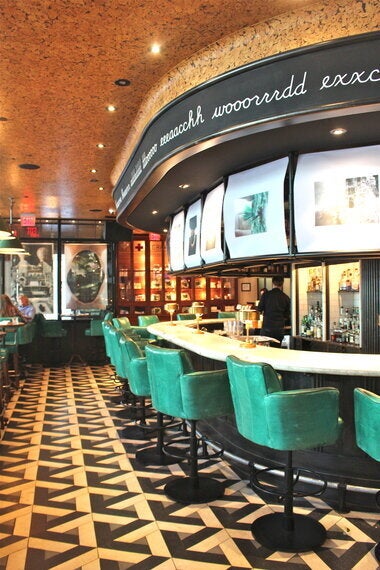 Photo credit: Roxii Hoare-Smith
Chow down on French Toast with strawberries and pistachio cream, a delicious Turkey melt or the restaurant's signature One Fifty burger. All washed down with innovative cocktails or spiked sangria's - the white wine sangria is mixed with tequila if you looking for that extra kick.
To top it off, award-winning quartet The Mercenaries put the funk into this brunch with the sounds of Ray Charles and Aretha Franklin.
This arty venue is located on the corner of the intersection of York Street and Adelaide Street West.
Make your way to Spadina Avenue and Dundas Street West for Toronto's Chinatown. This vibrant hub is one of the largest Chinatowns in North America.
This captivating neighbourhood offers a huge variety of cuisines including Chinese, Thai, Japanese and Vietnamese so you'll be totally spoilt for choice.
Toronto is known for it's icy winters so make sure you keep warm by exploring the city underground via The Path. See different parts of the city without venturing outside as you navigate your way around this underground world. There's plenty of stores and places to stop for a bite to eat and to keep you busy as you venture from A to B.
Niagara Falls is one of Earth's natural wonders and a must-see when in Toronto as it is located just two hours away. Book a guided tour or make your own way there with Megabus or Greyhound to Niagara bus terminal - which is a short bus or taxi journey from the falls.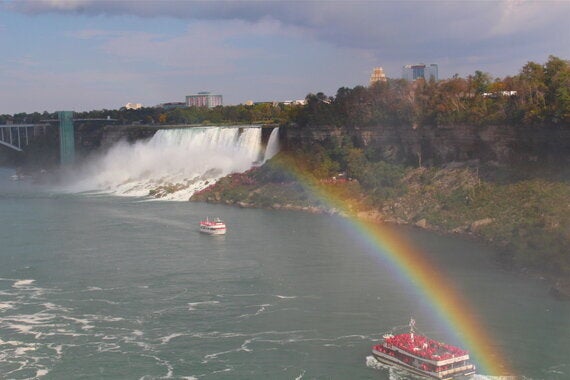 Photo credit: Roxii Hoare-Smith
You can get close to the falls on the Hornblower Boat cruise, and gamble in Niagara Casinos. Make sure to check out Clifton Hill which is located just a short walk from the falls. With its bright décor and flashing lights, it may feel like you've entered a theme park and not Niagara Falls, but this area is a top destination for restaurants and entertainment. The Niagara Sky wheel, a towering 175 feet, is located in Clifton Hill and offers fantastic views of the falls.
A visit to Canada is not complete without trying poutine!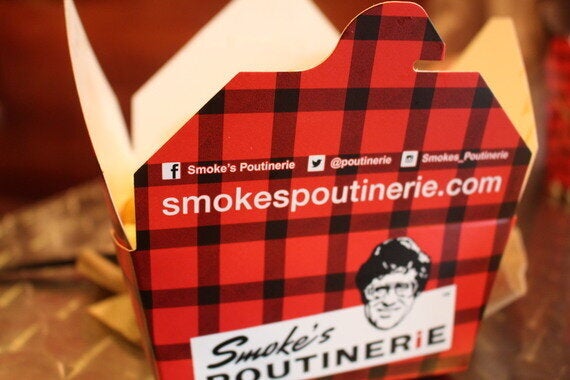 Photo credit: Roxii Hoare-Smith
Traditional poutine is a hearty dish of fries smothered in gravy and cheese curds. Poutine is available all over the city and there's even fast food joints dedicated to the delicacy including Smoke's Poutinerie.