The great advantage of the British Virgin Islands is that they're all clustered together, so moving between them, on excellent ferry services, really does give you a taste for sailing the Caribbean.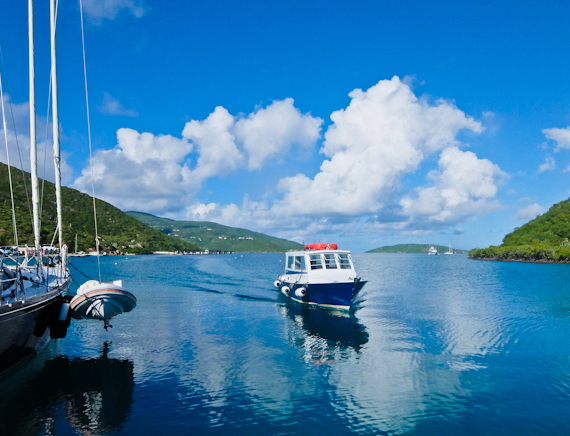 I'm on my way to the British Virgin Islands, BVI for short, East of Puerto Rico, part of an archipelago which also includes the US and Spanish Virgin Islands. It's a British Overseas Territory and consists of the main islands of Tortola, Virgin Gorda, Anegada, and Jost Van Dyke, plus 50 other smaller islands and cays. Many of these are private and offer exclusive up-market luxury. It's no accident that Richard Branson owns a couple of them, including the famously expensive Necker Island.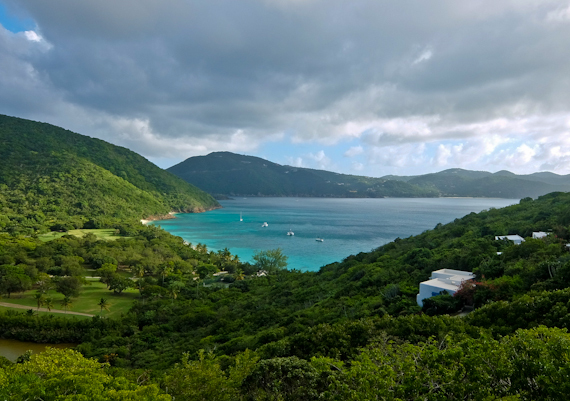 I fly direct to Antigua, then transfer to a small twin prop plane. After an hour's flight I land on Beef Island, connected to Tortola, where the BVI's main airport is located. My taxi driver switches to skipper, when he gets to his boat and helms me to Guana, a private island where I'm staying. This is a boutique property with just 15 rooms and 3 chalets and everyone has a magnificent view. None of the rooms have locks and you're encouraged to mingle and eat your meals communally although that's not obligatory. Javier, the chef, is from Barcelona and it shows - his food utilises the best local ingredients and is imaginatively cooked.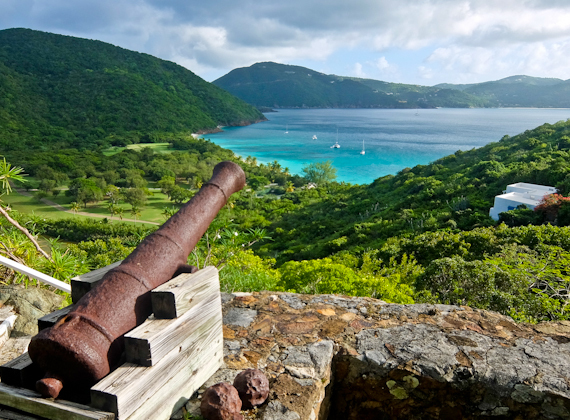 The island is completely private, with 7 pristine white sand beaches, and people from passing yachts moored in the bay are not welcome. There's a 12 mile network of trails leading from the house and I take a leisurely hike to Monkey Point. It's a shady walk, passing the remains of the house of one of the original Quaker families who came here in the 18th century, and finally ending up with a cool swim at the Point. Henry and Gloria Jarecki bought Guana in 1975 with the intention of protecting the island's flora and fauna, and also bringing back native species. They've established a cultivated area, known as the Orchard, full of tropical fruits and herbs, and they're planning to grow vegetables for the restaurant and rear free-range chickens.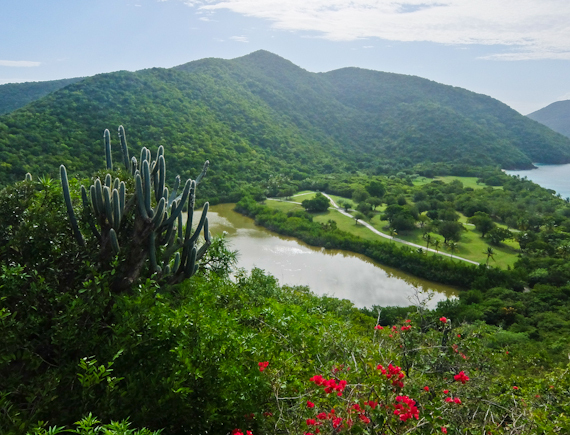 I'm sad to leave but there are other islands to explore and I'm bound for Virgin Gorda, the BVI's 3rd largest island, on a high speed ferry via Beef Island. It only takes an hour and I arrive at Bitter End in North Sound, an attractive piece of water dotted with yachts at anchor. A 10 minute smaller boat ride takes me to Biras Creek Resort, where my chalet is right on the Atlantic Ocean. Each is equipped with its own bicycle as the resort is quite spread out, and I make my way to the beach for a cooking class. Chef Jermain Abrams has already lit the charcoal grill and together we cook fresh Mahi-mahi and grill vegetables. He shows me how to make a red pepper salsa dressing and I sit by the beach, eating the fruits of my labour, sipping a beer as the sun sets.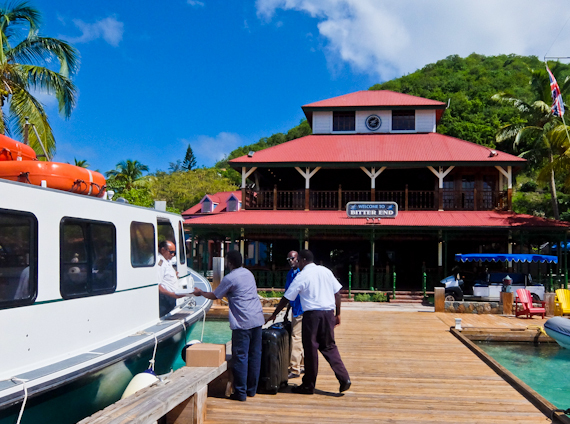 The sound of the crashing surf is a pleasant way to drift off to sleep and next morning, I'm kitted out with snorkel gear and set out for a boat trip. The coral is surprisingly intact and multi coloured fish flit around the fronds - I spot a turtle and the boys from the boat catch a couple of spiny lobster. I'm dropped off at Oil Nut Bay, home to a spanking new resort, with a novel concept. Unlike Biras Creek which rents rooms, their luxury villas are for sale and the 300 acre site has a limit of just 88 units. The ones I visit are stunning, all with pools and views of the sea, and the restaurant's pretty good as well.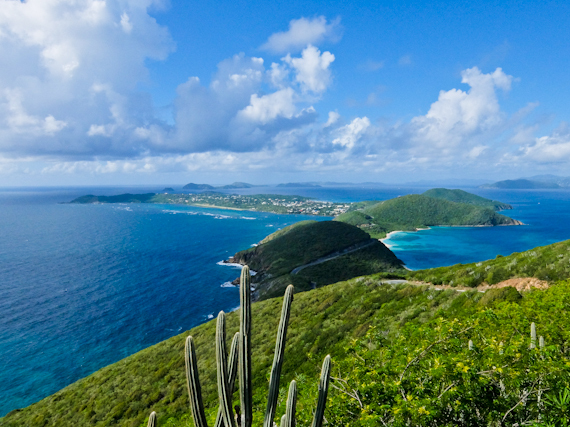 Virgin Gorda is lizard shaped, about 8 square miles and you travel round on narrow roads clinging to the side of the hills. In the north there's a national park, containing the forested extinct volcanic peak, and the south has Spanish Town, the capital. Everything is low rise here and I enjoy a typical Caribbean breakfast of fried fish with Johnny Cakes at the rustic Sugar Apple Restaurant. Fruit comes from the garden and I eat the freshest Papaya and yellow Water Melon.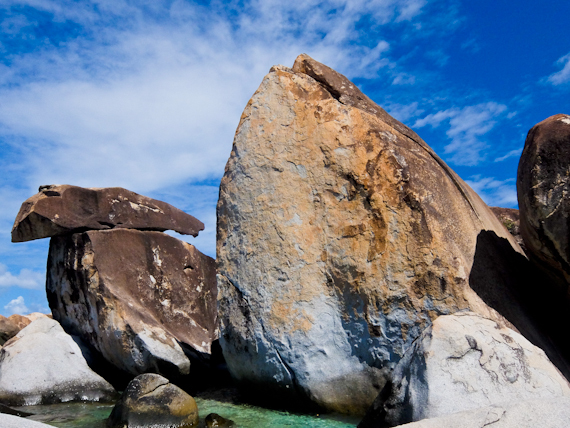 The tourist attraction at this end of the island is an area known as the Baths, also a national park. Huge boulders lean precariously against each other, at the edge of the sea, and you're encouraged to take a 40 minute clamber through to Devil's Bay beyond. Just a few 100 metres inland, nestling among the boulders, Guavaberry Spring Bay Vacation Homes is a pleasant place to stay, and all rooms are equipped with kitchens so you can do your own thing.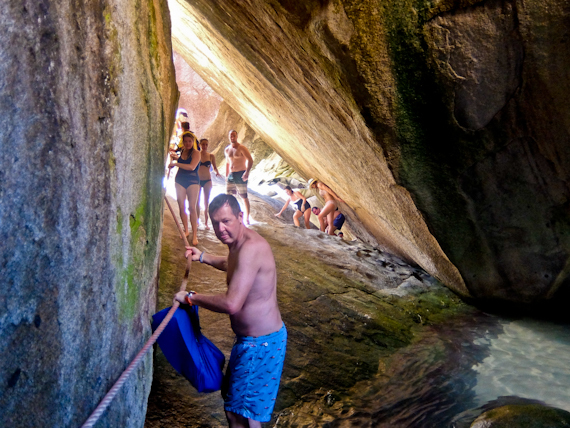 I'm fancying some soul food so I retrace my steps to the North of the Island and stop for lunch at Hog Heaven. As you'd expect they're famous for their barbecued pork ribs, but I settle for a dish of butter fried Conch and a couple of beers. The view from here over North Sound is spectacular and on a clear day you can see Anegada, the most distant island of the BVI.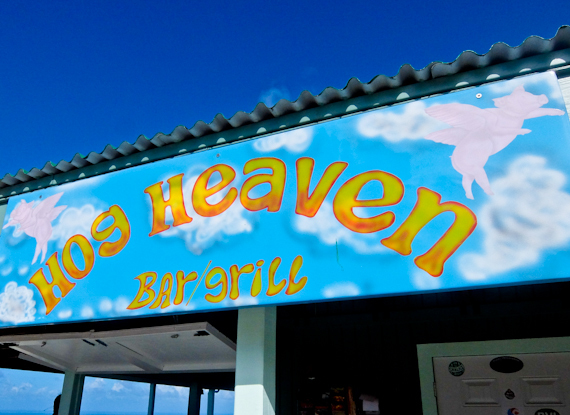 I'm getting used to this island hopping and, before I leave Biras Creek, I call the boatman to take me to Saba Rock, just large enough to hold an 8 bedroom hotel, 10 slip marina, gift shop, gardens, restaurant and sun deck. It's less than 10 minutes from Biras, but I really do begin to feel like a Caribbean yachtsman as I drift past luxury boats, all lit up like Christmas. The restaurant is packed with captains and crew, all enjoying rum and lobster, before sailing off to other Caribbean islands.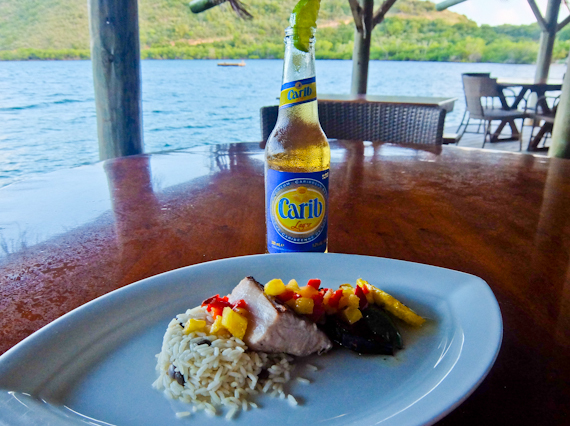 Next day I'm back on Tortola, the largest island, and have a quick tour, visiting the Glassworks, Callwood Rum Distillery, Myett's Restaurant and Road Town, the BVI capital. Although tiny, it seems like a vast metropolis after what I've been used to, so catch yet another boat to Peter Island, yes another private island. This time my luxurious villa is right on the Caribbean so I take advantage and have a quick dip. Luckily today is their weekly wine and food pairing dinner and the theme is France. About 20 of us gather round a large table for an excellent meal, learning about wines from the knowledgeable food and beverage manager.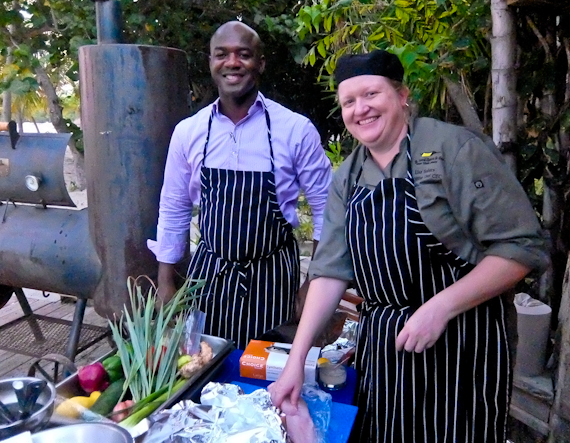 Of course their big selling point is their spa treatments and they deliver one of the best massages I can remember. I can't leave without another cookery lesson and I'm in good hands with Executive Chef Lisa Sellars. She teaches me how to make various rubs, both wet and dry, and marinades for her selection of pork, beef, tuna, crab claws and lobster. Some go directly on the grill, others are wrapped in foil and we wait for them to cook. Fortunately I don't have to eat all this myself and I'm joined by a select few for a perfect meal, served under the stars, by the sea. It doesn't get much better than this.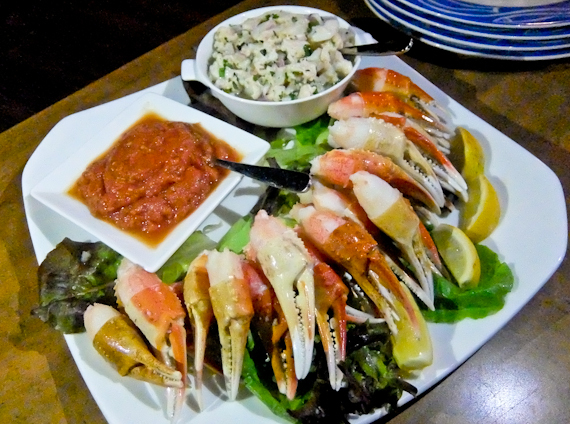 British Virgin Islands has information about the region.
ITC Luxury Travel offers inclusive packages to the British Virgin Islands staying at Guana Island, Biras Creek, Oil Nut Bay and Peter Island and includes the VI Airlink Charter flight from Antigua.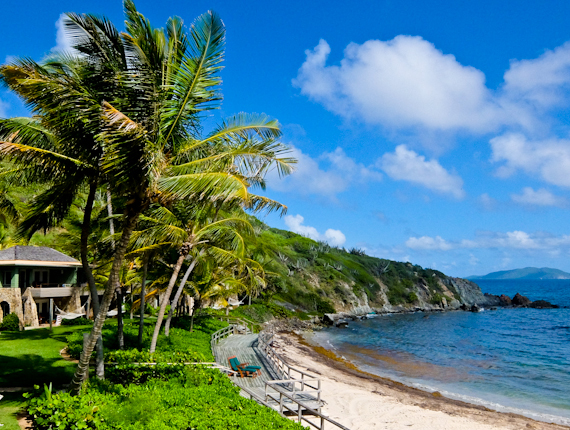 Both Virgin Atlantic and British Airways fly direct from Gatwick to Antigua. There's a fast connection with VI Airlink to Tortola.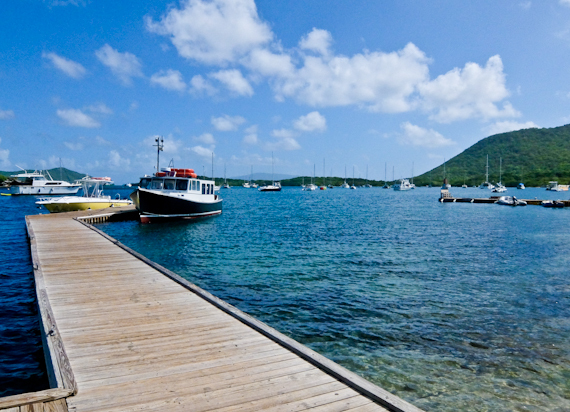 All pictures copyright Rupert Parker.