Colombia has been off the international travel map for some time, but recent political developments mean it's now safe to travel and ripe for discovery.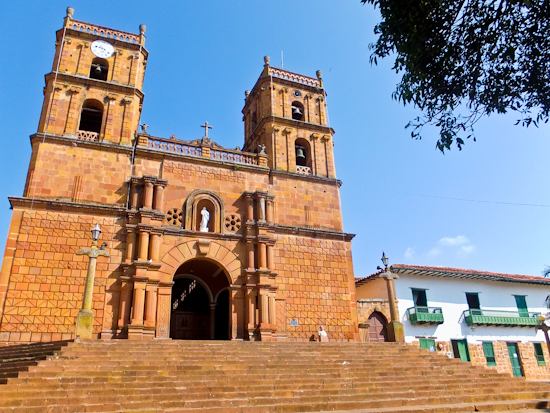 I'm standing in the Plaza de Bolivar in Bogota and there are hundreds of riot police armed with shields - round the corner I see armoured cars and there are horses tethered in the side streets. The last and only time I was tear gassed was in Ecuador and it was not a pleasant experience so I'm not keen to repeat it. The crowds are friendly and there's music from the stage, even the tame Llamas seem to be entering into the fun. I ask what's going on and it turns out it's a protest supporting the Mayor of Bogota. What about the police? Oh they always gather just in case there's an incident, but don't worry. I spend a few hours here but scurry off before dark, just in case...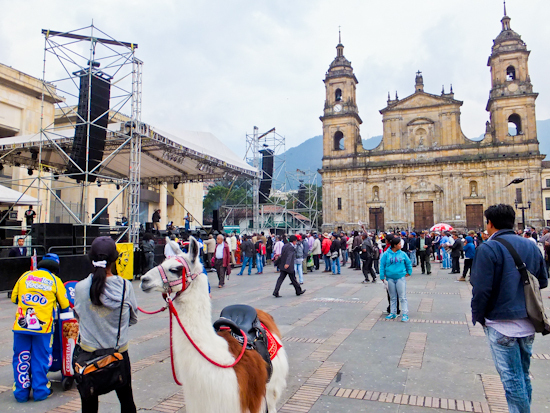 Bogota
As it runs out all was peaceful and this sort of reaction is a hangover from the days when drug cartels ran the regions and FARC guerrilla attacks and kidnappings were an everyday occurrence. I've just come in from Cartagena where all was tranquil and Bogota seems no different. This is a city of over 8 million people but I'm warned that there are some Barrios where it's not wise to be after dark. Where I'm staying is the affluent Zona Rosa district in the North, perfectly safe, bustling with bars and restaurants. It's a half hour ride on the Transmilenio bus system to downtown and, once I realise you have to buy a ticket outside the station, I'm ready to go.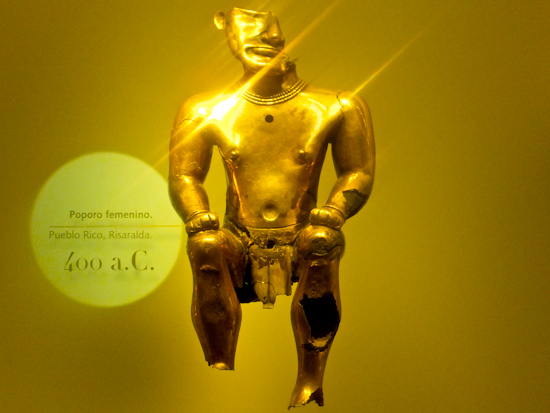 La Candelaria, the historic centre, seems dwarfed by the immensity of the city, but it's worth wandering around to see the colonial buildings. The big highlight is the Gold museum, modern and informative, although don't go expecting huge pieces, rather small decorative filigree jewellery from pre-Colombian times. My favourite place is the Botero Museum with almost 3,000 paintings including Dali, Picasso, Monet and Renoir. This is the private collection of Colombian artist Fernando Botero and, as you'd expect, most of the pictures are by him. His style is known as "Boterismo" and he paints everything fat - people, musical instruments, even fruit. I start to see Colombians in a different way after this, particularly when I get out of town.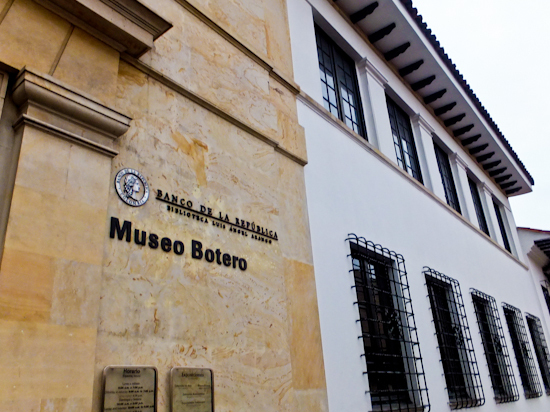 Another interesting way of seeing Bogota is by bike and I sign up for a morning's cycling around the Northern suburbs with Urban Adventures. It's just me and Luis the guide and we combine bike lanes, pavements, bridges and main roads, in a trip definitely not for the faint hearted. Cars disregard rules of the road, buses pull out in front of us and there's the altitude to consider as Bogota is at 2,600m. On the plus side it's largely flat and we do stop halfway for a refreshing glass of fresh fruit topped with cream and cheese. Cycling is beginning to take off in the city and, on Sundays, from 7 am until 2 pm, more than 100kms of roads are closed to traffic and there's a bike free for all.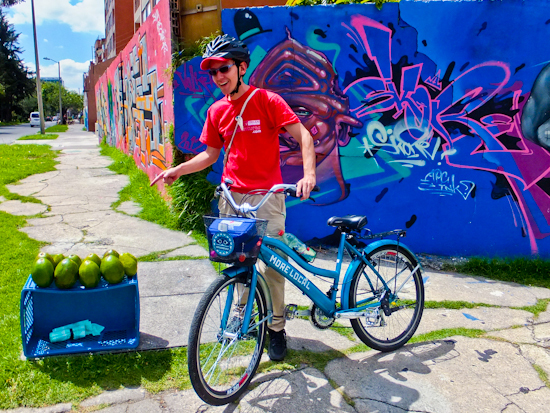 Villa de Leyva
Once again the trusty Transmilenio takes me to the northern bus station and I set off for the province of Boyacá and the colonial town of Villa de Leyva. It's surprising how quickly the city sprawl turns to green fields crammed with grazing cattle and we travel through rolling hills before descending to the town. It was founded in 1572 by Hernán Suarez de Villalobos and the centrepiece is a huge cobbled square dominated by the imposing church.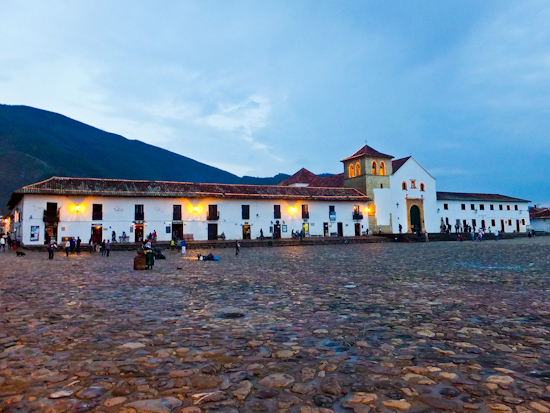 It's Saturday and there are many trippers in from Bogota but I've noticed a bustling market crammed with sausage and black pudding stalls. Of course I order a huge plateful of potatoes, chorizo and morcilla and top it off with some chopped up spleen and a dollop of blood. Boys rush round selling bottles of beer and I'm made welcome by the other diners. This is the great charm of Colombia - everybody is always willing to help and there's never any sense of danger.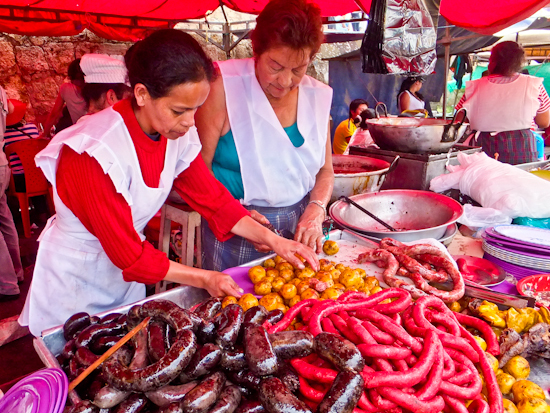 Barichara
Travelling further northwards, I enter the province of Santander where the landscape becomes more parched and it becomes warmer. Barichara is another colonial gem, much smaller than Villa de Leyva, but charmingly self-contained. Above the town there are views of the surrounding landscape and people gather for sun downers.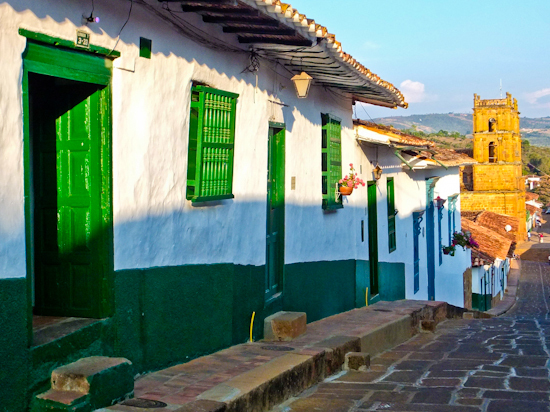 Next day I walk to the tiny village of Guane, on an ancient paved road, seeing nobody and braving the morning heat. Whitewashed houses cluster round a compact square and nobody seems to want to move, apart from the flies.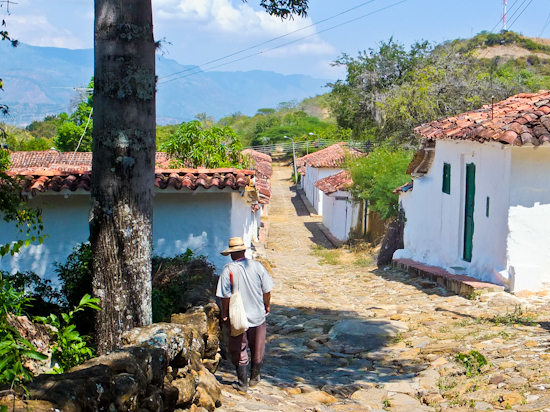 San Gil
My way back to Bogota takes me through the bustling town of San Gil. It's built on the banks of a river and has a marvellous market. I spend my last night in the main square, the centre of all activity - people lounge around with bottles of beers, buy from stalls selling kebabs and potatoes and bands of musicians entertain. It's warm enough to sit around until after midnight so I do. This part of Colombia never closes.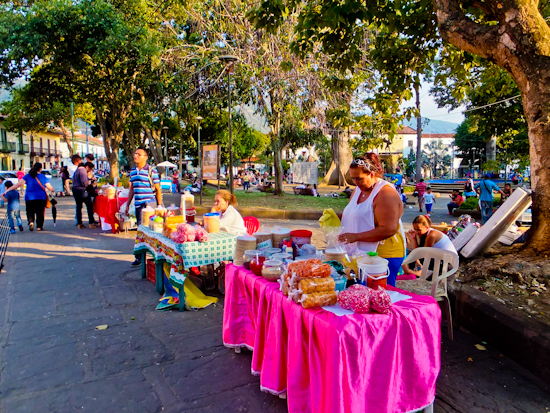 Colombia Travel has information about the county.
The Sofitel Bogota Victoria Regia makes a luxurious base in the Zona Rosa in the North of the city.
Book Bogota bike tours at Urban Adventures.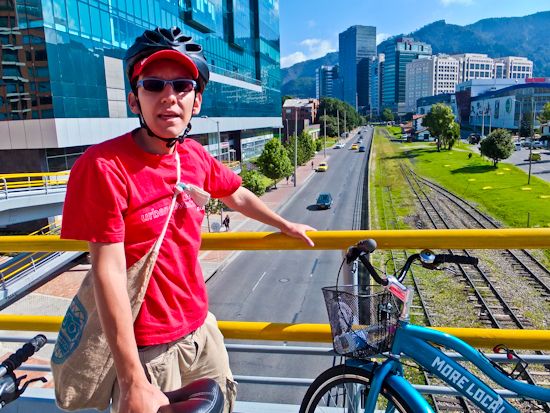 Natural World Safaris arranges tailor made tours of Colombia.
Avianca flies direct from Madrid to Bogota.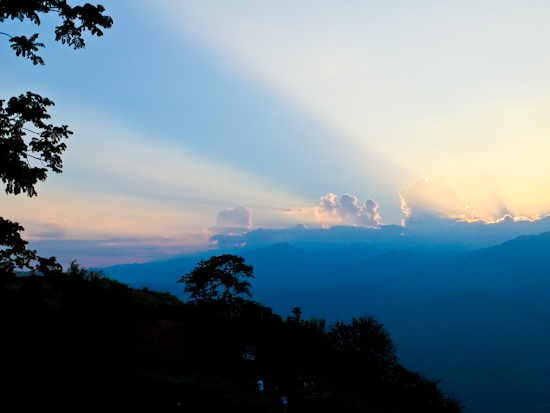 All pictures copyright Rupert Parker.