The county of Essex, just outside London, is famous for many things but not, until now, for its food and that's a big shame.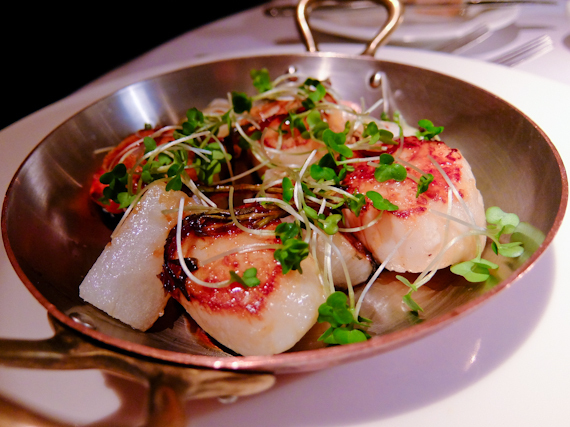 I travel all over the world for my job, searching out the best places to eat in far-flung destinations, and I tend to ignore what's on my doorstep. I was therefore intrigued to hear that Essex has a higher GDP than Belgium and so, on a rainy saturday morning, I set out to find out what's on offer.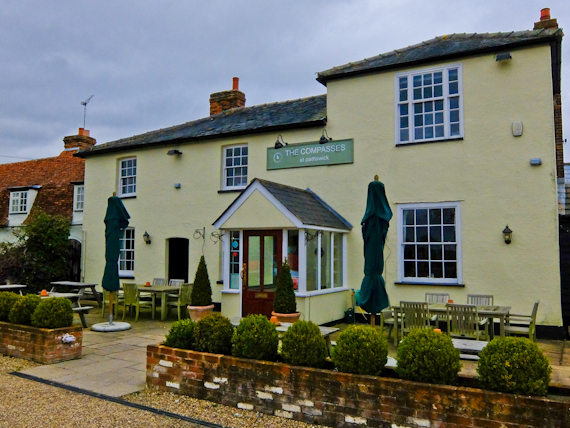 Compasses Pub, Pattiswick
Traffic's a nightmare and we almost end up in grid lock so I'm grateful to find out that the pub is still serving when I arrive after 2pm. Owner Jane Clark gives me a warm welcome and immediately thrusts a glass of wine in my hand and I begin to relax. The dining room is large and airy, pine tables pleasantly not too close together, and, as well as the normal menu there's also a list of specials. My companion opts for a full dover sole while I go for Dingley Dell pork belly, bubble & squeak, parsnips, prune & Armagnac sauce. The most intriguing dish on the menu is a starter of Haggis Scotch Egg so we have to go for it.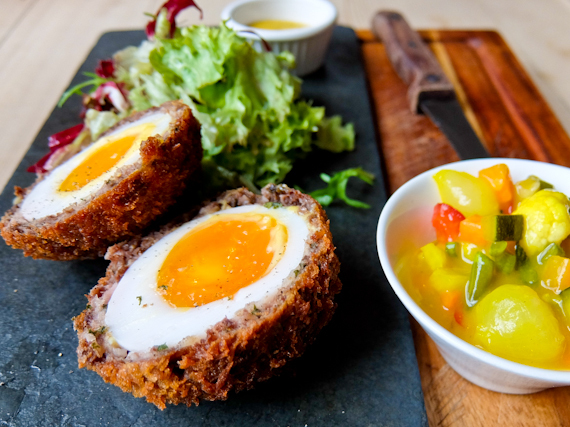 The chef tells us that the egg is coated with 75% haggis and 25% sausage meat and it's served warm, with the yolk runny. It's a great idea, well executed, and accompanied by homemade piccalilli & mustard. The other dishes display the same steady hand in the kitchen, pork belly crunchy on the outside and moist inside. The sole is huge, with a butter sauce of brown shrimps and capers. Desserts are a special of raspberry Eaton Mess, with the meringue light and crispy and a trio of lemon puddings, tart, posset and sorbet. Confident cooking, served in an attractive environment.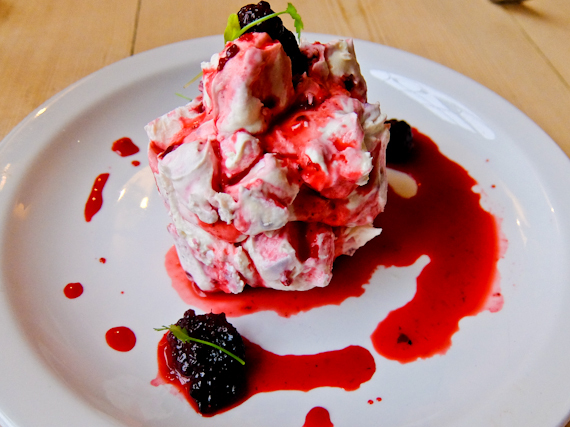 Alec's Restaurant, Brentwood
On the edge of Epping Forest, just outside Brentwood, Alec's Restaurant is a real find. They specialise in the freshest of fish and have developed special relationships with their suppliers, even getting texts direct from boats to tell them about their catch. Chef Stephen Li is of Chinese origin and there's a hint of Asia in his dishes. He has a staff of over 20 to cater for a total of 240 covers per night, extraordinary when you consider most of this is fish. On a Saturday night, the place is packed but service is attentive and there's a definite buzz about the place. It seems all of Essex's finest are here.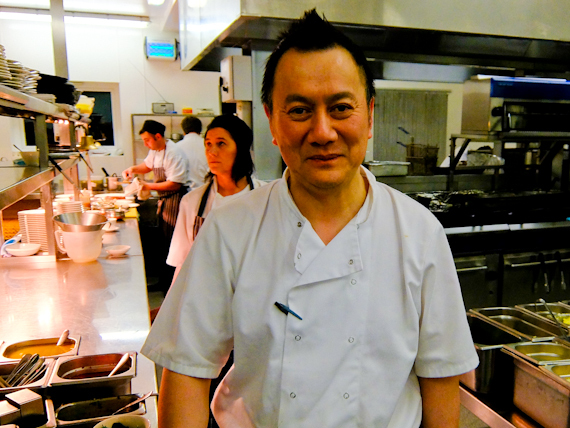 Starters are seared scallops, served with spring onion, in a sweet dark soy sauce. This is the first time in ages that I've actually been served scallops with their orange coral, much the tastiest part of the fish for me, and the dish has a hint of chilli to keep it interesting. Four huge razor clams, from Cornwall, with sizzling garlic, and a paste of coriander, ginger and chilli, are perfectly cooked, some of the best I've eaten.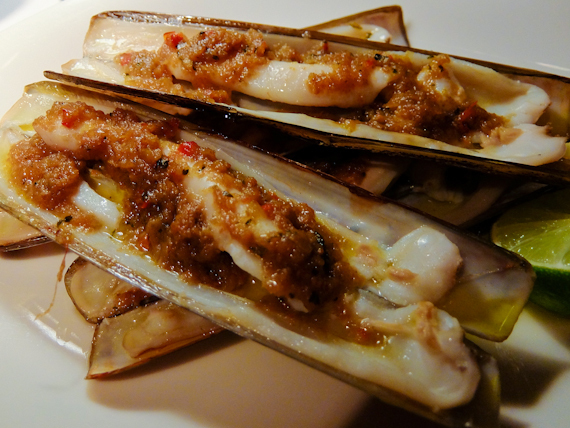 Main courses are equally good, the portions huge. There's grilled Guernsey skate, with brown butter, prawns and capers, all of 12ozs, cut from the centre not the wing, which is meaty and tender. I have roast fillet of turbot, served on a bed of samphire, with an Asian spicy sauce which I've chosen instead of the hollandaise it normally comes with. Dessert is a stand out plum tart tatin, with a thin pastry base, butterscotch and vanilla ice cream. The owner's grandfather worked as a porter at Billingsgate and I'm sure he'd be proud of what his grandson, Alec Smith, is doing.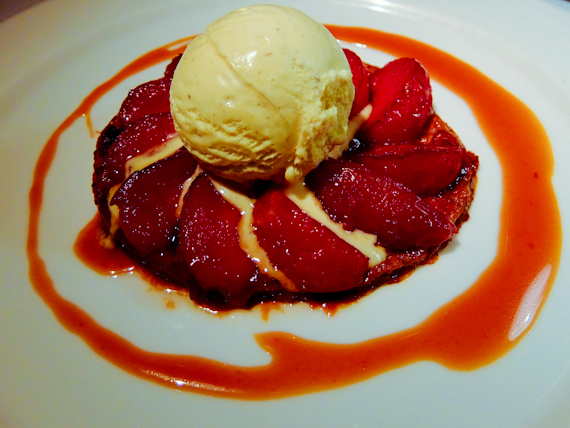 A convenient place to stay nearby is Marygreen Manor in Brentwood, a 16th century manor house bursting with original Tudor features. You can take one of their original rooms complete with four poster bed, or choose one of their more modern suites with its own Jacuzzi.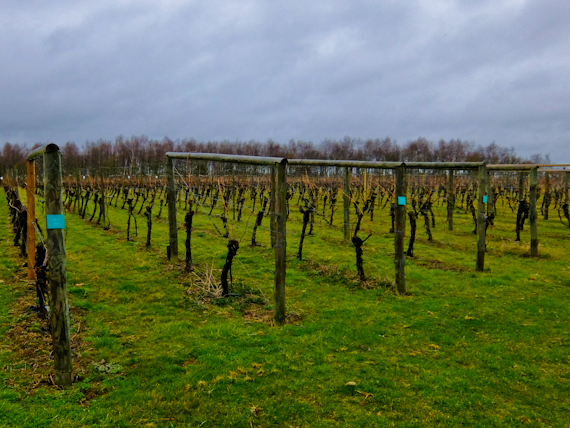 Dedham Vale Vineyard
Well who would have thought it - a vineyard in Essex? Ben Bunting and his son Tom have been making wine here since 2001 and now produce around 20,000 bottles a year from their vines. They also produce another 20,000 bottles from a vineyard on Mersea Island and are keen to encourage local farmers to start cultivating grapes. Ben tells me that this part of Essex is very dry, with some of the highest numbers of sunshine hours in the UK and the land slopes to the south, so it's ideal for vines. Of course the summer of 2014 was particularly good and they're looking forward to a brilliant vintage.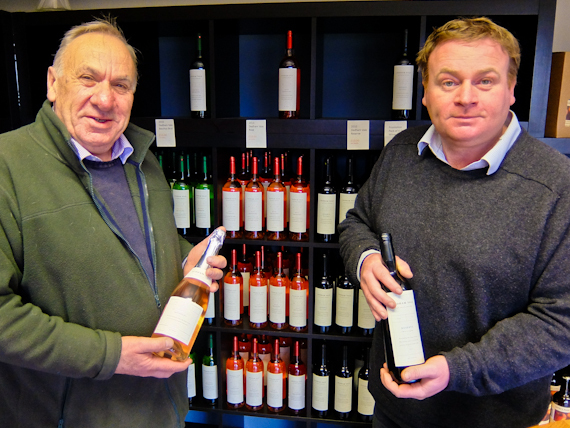 Grape varieties include Bacchus, Orion, Chardonnay, Reichensteiner, Pinot Noir and I enjoy their sparkling white, made by the traditional methode champenoise. 80% of their production is white wine, with a relatively low alcohol content of 12%, which makes them eminently drinkable - their Bacchus won a Gold Medal at the English and Welsh Wine Awards in 2008. Unusually for a British winery they've also a red. Their Dedham Vale Reserve is made by blending Rondo, Dornfelder, Dunkelfelder and Pinot Noir and is then aged in French oak. The winery is open for visits and they'll soon be offering meals made with local produce.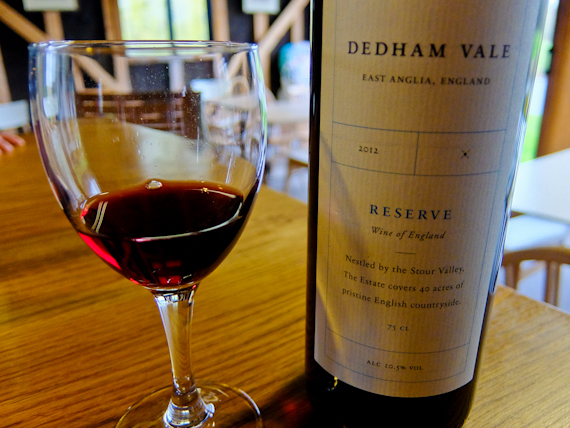 Le Talbooth
Right in the heart of Constable country, even featuring in his famous paintings of Dedham Vale, Le Talbooth is by a bridge on the River Stour. The grounds are extensive but it's a blustery Sunday lunchtime so we settle for the inside dining room. Of course it has to be roast beef, particularly when I learn they carve it right by your table.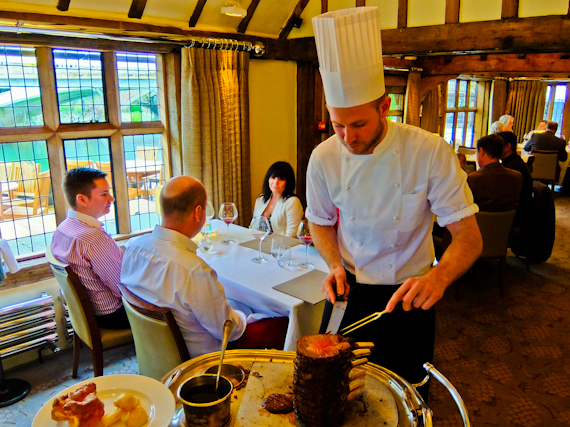 Starters are a fillet of warm Mackerel Escabeche with anchovy tempura and red amaranth, cooked perfectly, and goats cheese mousse with pomegranate, on a pear walnut and endive salad. Both show a fine command of kitchen skills.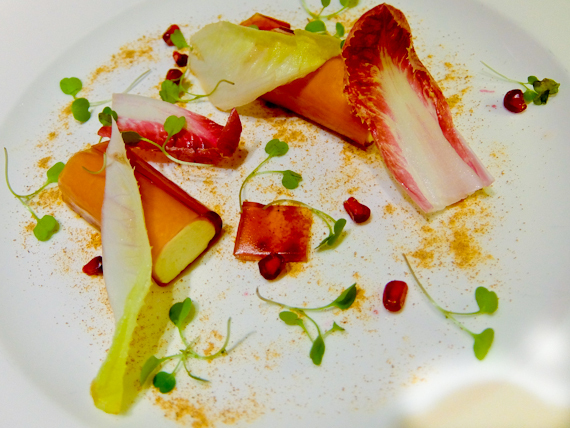 My partner goes for the pan roast sea bream with herb gnocchi, cauliflower, pine nuts, kale and lemon grass, a reasonably light but subtle Sunday lunch. I supervise the carving of the ribs of dry aged English beef and it's served with all the trimmings - light and crisp Yorkshire pudding, pungent horse radish, excellent roast potatoes and root vegetables. They've an extensive wine list and a glass of Burgundy matches it perfectly.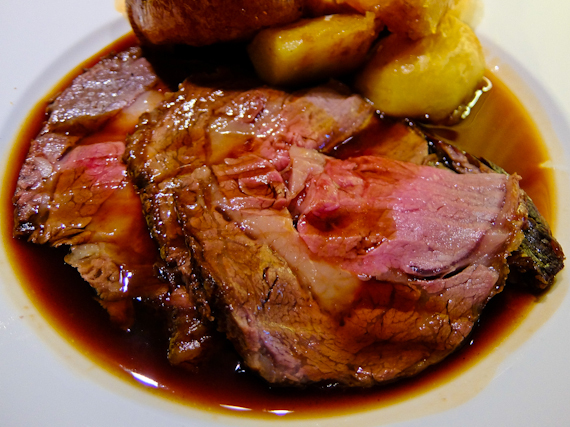 We share an excellent cheese selection, both English and French, and then there's an apple and almond cheesecake with poached blackberries and cinnamon ice cream. You might think we'd had enough but can't resist a few of their hand made chocolates served from a wooden box, with our coffee. The meal is a triumph and the only caveat I have is that the dining room feels slightly cramped.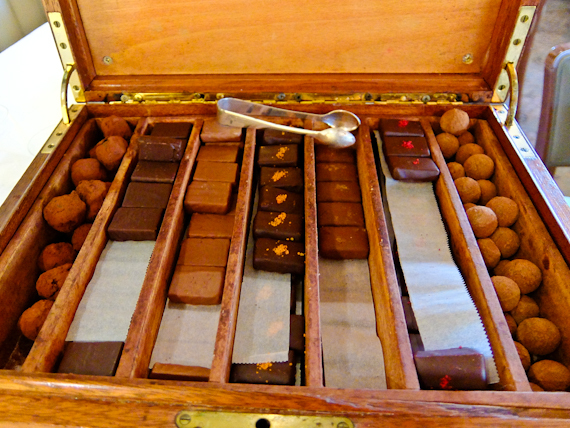 Wivenhoe House
Set in the grounds of Wivenhoe Park, just outside Colchester, the house and its surroundings were also painted by Constable in 1816. These days it's a boutique hotel with 16 individual suites in the Grade II listed house and 24 rooms in the more modern garden wing. It's been restored to a very high standard indeed and special mention must be made of the beautifully decorated lounges where you can take afternoon tea or just enjoy a drink. It makes a good base for exploring the area and you can also dine in their brasserie which is about to get a new chef.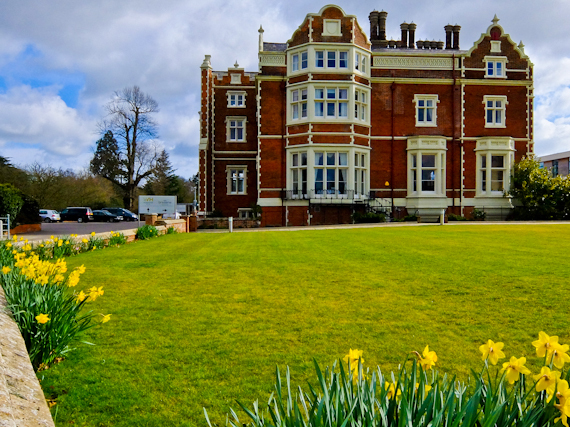 Mersea Oysters
Richard Haward's family has been farming oysters for 7 generations and he sells as far afield as Dubai and Hong Kong. For my money, native oysters from Mersea are the best in the world but he tells me they are difficult. "The first thing they think of doing is dieing", he says and they are very susceptible to changes in sea temperatures. So much so that the big freeze of 1963 wiped them out completely but they're slowly coming back. They represent about 5% of his production and can only be sold between August and May. I taste both varieties side by side and find I prefer their texture and their fresh metallic finish, caused by their high zinc content.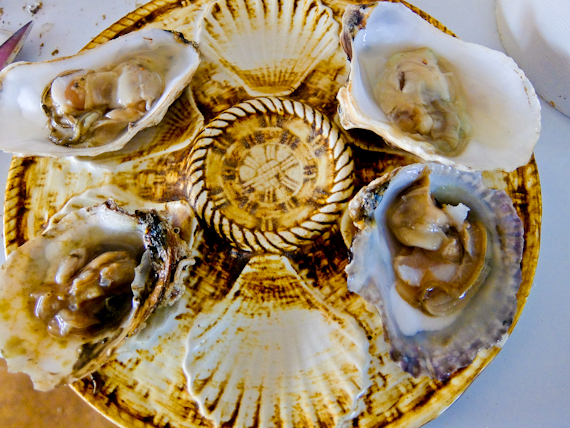 Richard dredges his natives from the nearby River Blackwater and then fattens them on his own tidal oyster beds. It takes about 5 years before they're ready to market and, after selection, are washed in purified sea water for over 40 hours. He's a stall in Borough Market but the best way to sample them is in The Company Shed oyster shack, just in front of his processing sheds in Mersea. You can't book a table and you bring your own bread and wine, but the smell of the sea somehow enhances the taste. His wife Heather has recently opened Mehaha's in East Mersea where you can reserve a table.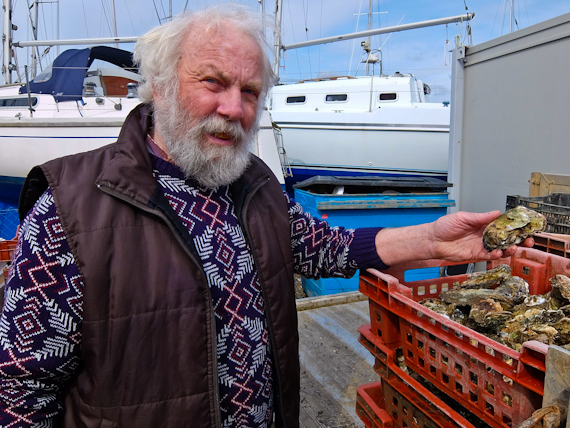 The Coast Inn
Unfortunately both of Richard's restaurants are closed on a Monday so I go across the road to the Coast Inn. Interestingly they don't serve oysters, unless by special order, but do have a large selection of fish and seafood, as well as daily specials. It's a light airy place with wooden tables and I start with their seafood platter, crammed with whole and peeled prawns, smoked mackerel, marinated herring, smoked salmon and mussels.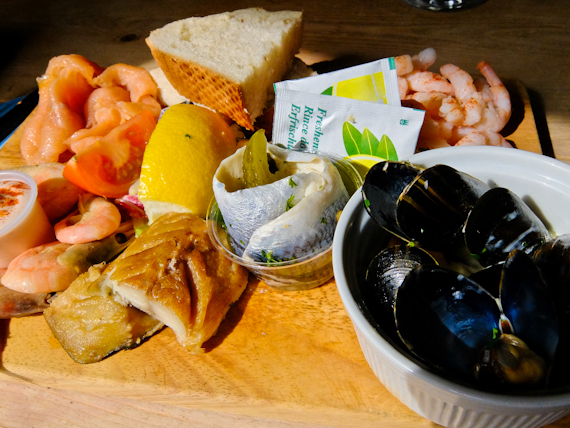 There's salad and dipping sauce but I pass on the crusty bread as I know there's more to come. My main course is the day's special - 3 slip soles, served on the bone, pan fried with salad and French fries and they're delightful. Food here is very good value and it's well worth a visit.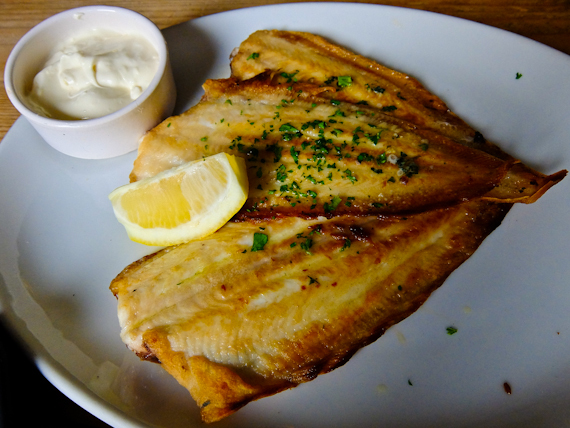 Stay
Wivenhoe House
Wivenhoe Park,
Colchester,
Essex
CO4 3SQ
01206 863 666
Marygreen Manor
London Road,
Brentwood,
Essex
CM14 4NR
01277 2252252
Food
The Compasses at Pattiswick
Compasses Road
Pattiswick
Essex
CM77 8BG
01376 561322
Alec's Restaurant
Navestock Side,
Brentwood,
Essex
CM14 5SD
01277 375 696
Dedham Vale Vineyard
Green Lane
Boxted
Essex
CO4 5TS
01206 271136
Le Talbooth
Gun Hill,
Dedham,
Colchester
01206 323150
The Company Shed
129 Coast Road,
West Mersea,
Colchester
CO5 8PA
The Coast Inn
8 Coast Road,
West Mersea
Colchester
CO5 8NA
01206 383568
Visit Essex has tourist information.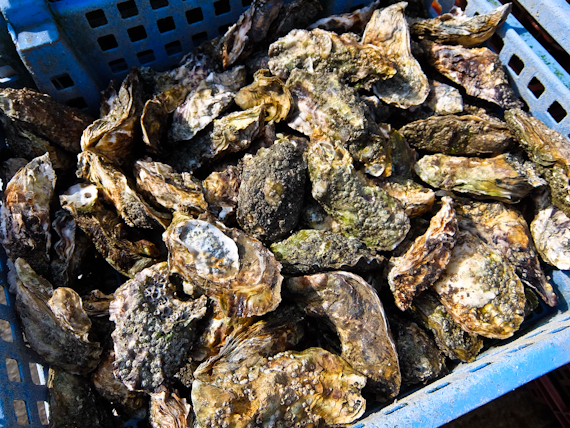 All pictures copyright Rupert Parker.