Compared to its South Asian neighbours, Filipino cuisine is relatively unknown but the regional food of the Philippines is well worth exploring with its distinctive sour, salty and sweet flavours.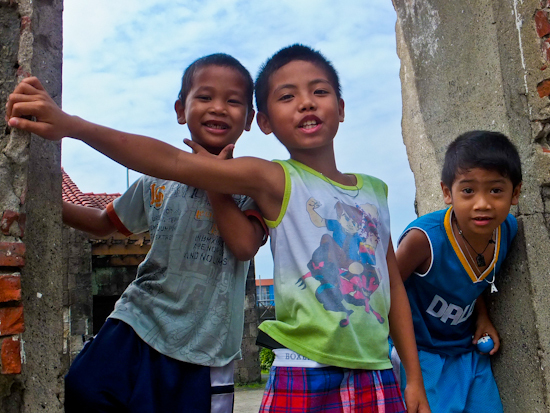 It's Christmas Eve in Manila and the people are flocking to the Lechon shops to buy their festive roast pork. Whole pigs are being spit-roasted over coals, and I join the queue at Mila's to get a piece to try. The skin is delightfully crisp and salty, after being marinated in soy sauce and milk, and there's a dipping sauce made from liver, garlic onion, sugar and vinegar. Local TV asks me for my verdict and I make the evening news saying it's the best suckling pig I've ever tasted.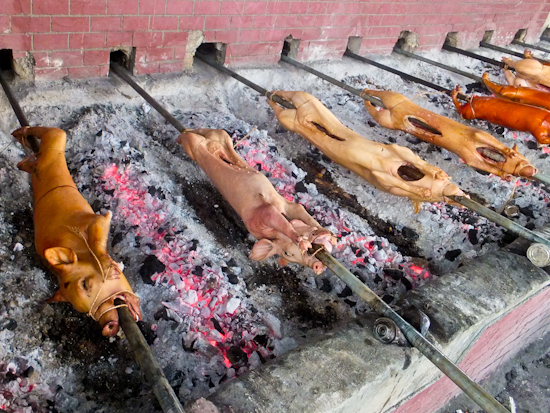 Sour is the dominant flavour of Filipino food, from vinegar or citrus, and it's always paired with sweet and salty, usually soy sauce. Adobo is the signature cooking style, imported by the Spanish from Mexico and this way of cooking meat in vinegar, salt, garlic, pepper, soy sauce and other spices, was used to preserve food when there were no fridges. Ironically chilli is rarely used in cooking, only added on the side, and this makes the food of the Philippines stand out from its South East Asian neighbours.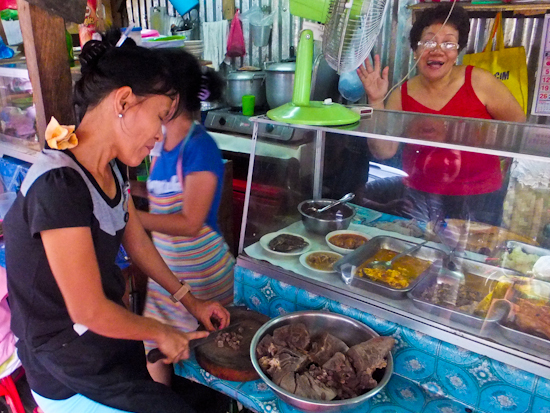 This is my first day in Manila and Pearl, my excellent guide, takes me to all her favourite food stalls to get an overview of Filipino street food. I'm very fond of offal but some of the dishes push me to the limit. On offer are lungs, spleen, liver, kidneys and brain in various guises. Fortunately I've just had an excellent lunch at Bistro Remedios so I can decline on the basis of still being full. The star dish there is Sisig or thrice cooked pork - pig's ears, cheeks and jowls are boiled and then roasted on charcoal. They're chopped and mixed with chicken livers, onions and vinegar before being sizzled in a frying pan. It sounds disgusting, and some variations add pig's brain at the end, but it's delicious.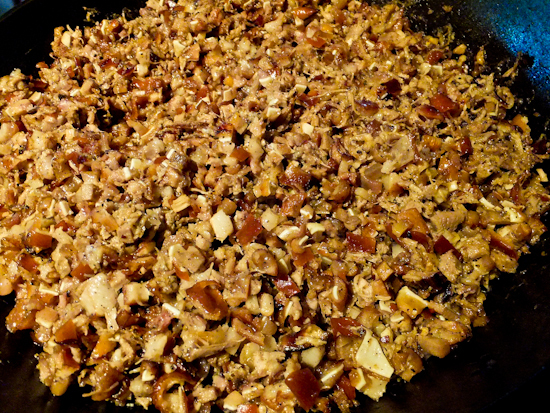 One thing I don't get to turn down is Balut - I think I'm being offered a boiled duck egg, but inside is a 17 day old partially formed embryo complete with tiny head, a bit of a beak, and even the odd feather. It's eaten with salt and chilli, just like a normal boiled egg and I can see the locals watching my reaction, as though they've just sprung an April fool gag. I don't flinch and it's actually very tasty although I must say I wished they'd warned me what I was going to eat.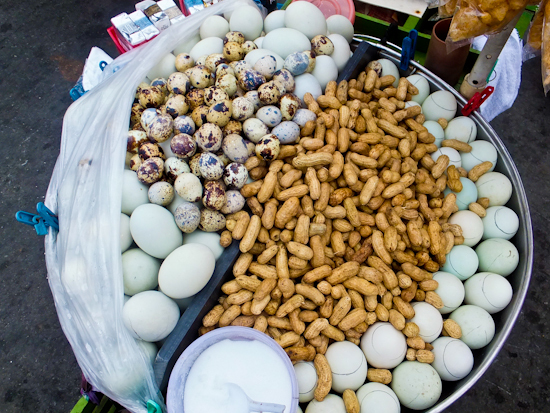 If all this sounds rather off putting then it's worth wandering over to the fish stalls they have by the ocean. This is called Dampa dining and the concept is simple - you choose the freshest seafood and pay for it by weight then take it to one of the restaurants nearby where they cook it for a small fee.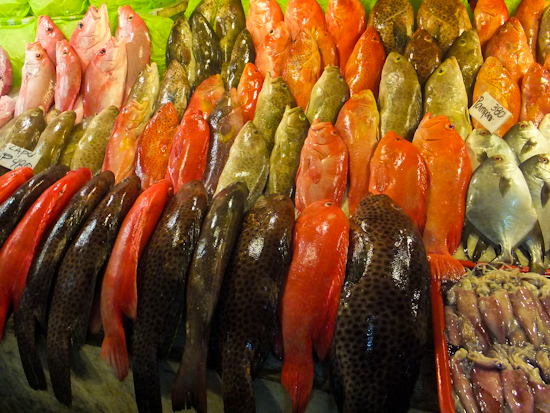 Luckily, I have Filipino food expert Claude Tayag with me and he picks out the best clams, scallops, squid and some seaweed for a salad. Of course no meal is complete without some large fish heads and we deliver our catch to the nearest restaurant, a no frills place with Formica tables. Of course it's all wonderful and I even find myself enjoying digging out the flesh from inside the heads.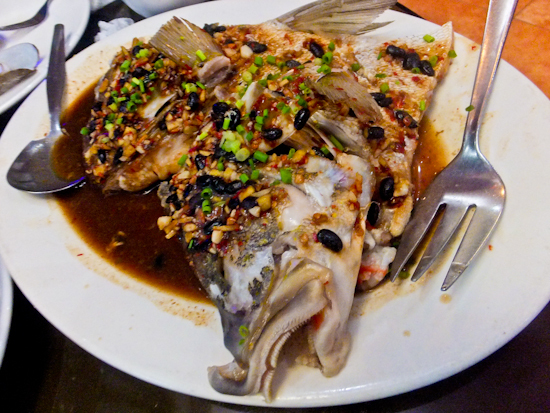 Next day I'm whisked out of town to try another speciality. Leslie's in Tagaytay City is famous for its Bulalo, beef shank slowly boiled for many hours with peppercorns, corn cobs and onions. Here they use the knee, valued for its layers of cartilaginous flesh of different textures and some lean meat, wrapped around the bone.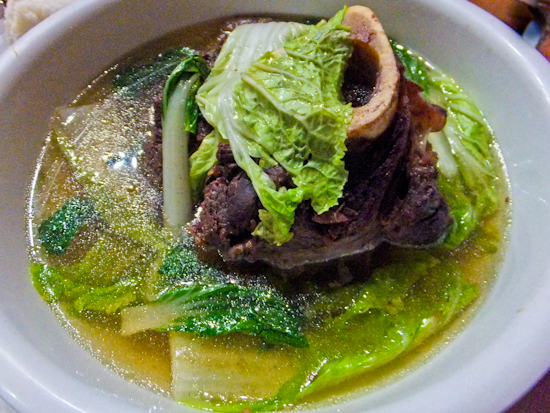 They remove the marrow early and replace it, just before serving. It come with a dip of fish sauce, line and chilli and is deliciously tender. The restaurant has a fine view over the surrounding countryside and of course is packed full of Filipinos all slurping their Bulalo.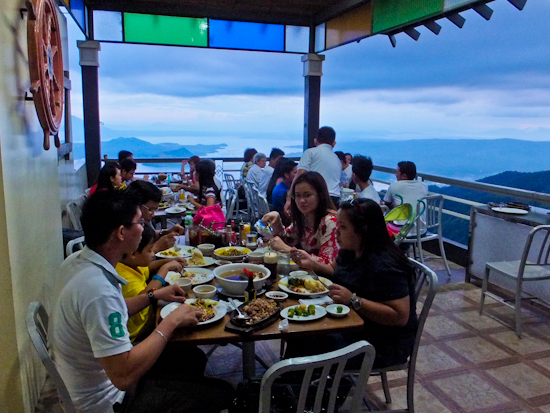 My last meal is a feast prepared by my good friend Claude Tayag in his house, Bale Dutung, in Angeles City, Pampanga. He does this regularly for paying guests and his wife Mary Anne is the ideal host. He serves me his Lechon menu whose 10 courses feature different parts of the suckling pig he's been roasting.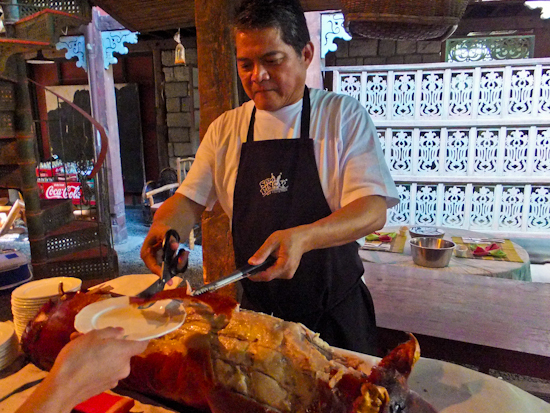 There's crispy skin with liver sauce, fried pulled pork on a tortilla, grilled ribs with aubergine, Sinigang (pork sour soup) and an excellent Sisig. A starter of fiddle head fern salad kicks things off, followed by vegetable spring rolls, BBQ chicken wings and crab fat sushi and of course the pork. Dessert is the aptly named Paradiso - yam, coconut and egg yolk in water buffalo milk.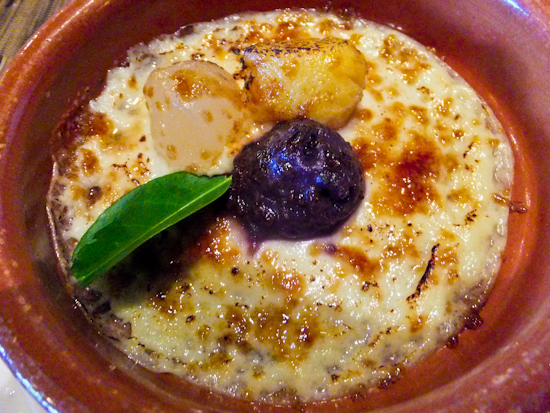 Claude and Mary Anne are both passionate about Filipino food and a trip here is an excellent introduction to this unique cuisine. They've have eaten their way round the Philippines and published a guide to the most distinctive restaurants. Of course it's not comprehensive as many of the 7100 islands in the archipelago have their own regional specialities. Now they've whetted my appetite, I realise that there's a new world of food out there and my mission, should I accept it, is to go off and explore.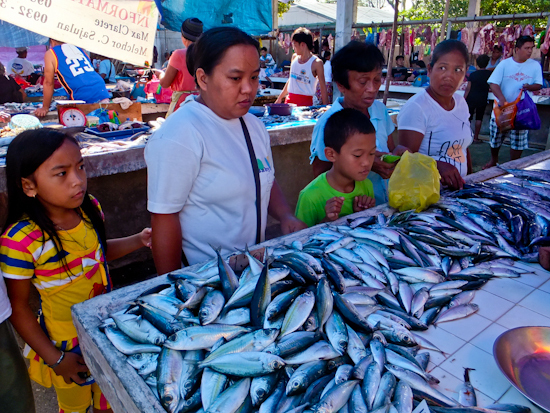 It's More Fun in the Philippines has information about the country.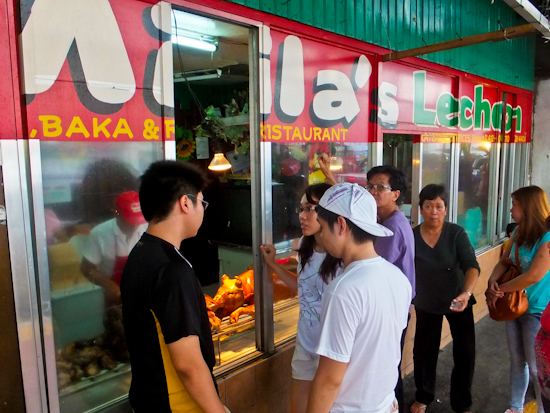 The Sofitel Philippine Plaza makes a comfortable base to explore Manila.
Cathy Pacific flies daily from London to Manila, via Hong Kong.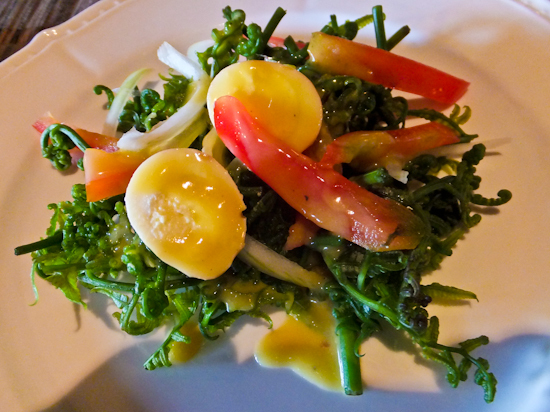 All pictures copyright Rupert Parker.