Located in London's Crowne Plaza Hotel, Blackfriars, the Chinese Cricket Club serves up accomplished Chinese food with selections from the province of Sichuan.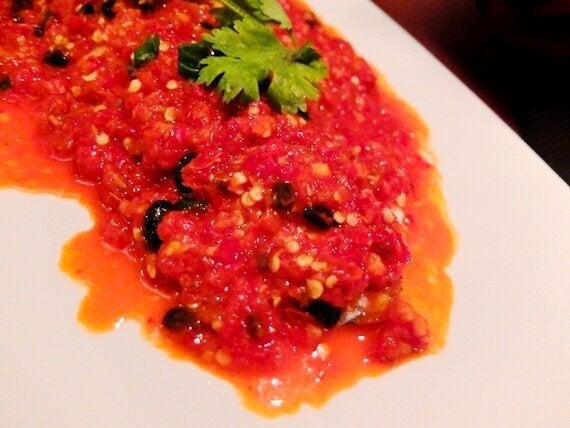 London is not short of Chinese restaurants, but most serve up the usual Cantonese menu that we're all familiar with. The Chinese Cricket Club does the greatest hits like Peking Duck and Sweet and Sour Chicken but still manages to squeeze in a few spicy Sichuan specialities. I've eaten here before but Ken Wang is the new head chef and he's arrived after 15 years' cooking in Jiangsu Province, Eastern China. Now that's around a 1000 miles from Sichuan so I thought it would be interesting to see what he can do.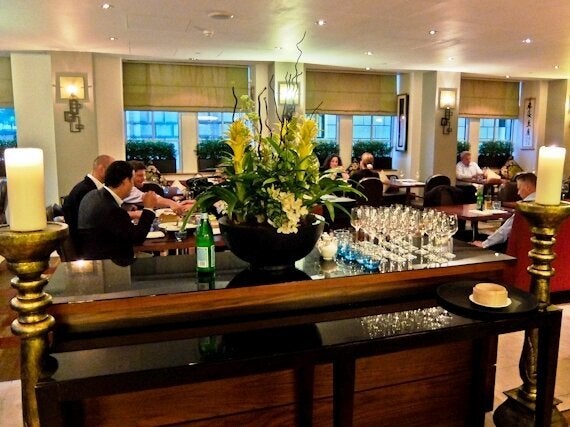 A nice change from the noisy Chinese eateries you find in Chinatown, the restaurant is stylish, cool and calm, with subdued lighting and attentive service. We start with the chef's selection of Dim Sum, usually Cantonese, but he adds a special twist. The scallop Siumai is delicacy itself, subtle favouring, and goes well with the Prawn Har Gau. Meat is good chicken and spinach dumplings, and best of all, duck dumpling. What I like about these is that they feel home-made, not the sort of Dim Sum that you can buy from any supermarket, and they're chunkier than usual.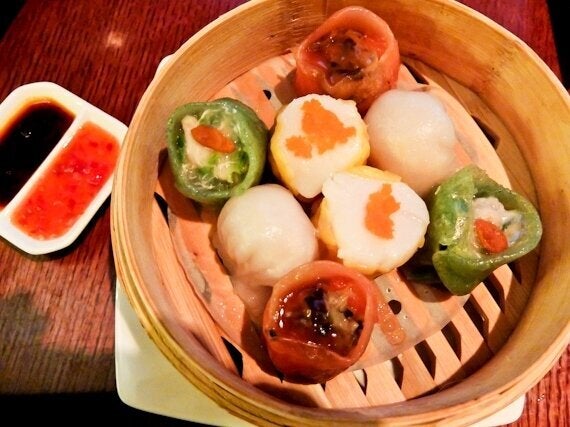 Sichuan has a special section on the menu, so I'm keen to try the Be-Feng-Tang soft shell crab with dry garlic, then the Sichuan diced beef. Unfortunately the beef is not available so we go for crispy salt and pepper king prawn, instead. The crab is lightly battered and heaped with powdered garlic, mixed with sprigs of spring onion.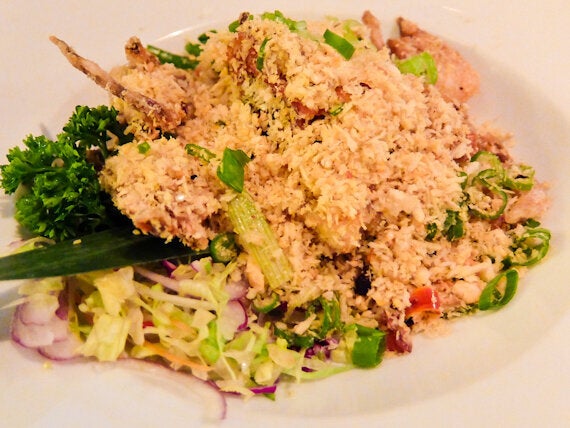 This is a triumph, the drying process seeming to render the large quantity of garlic innocuous and the batter is textured like tempura, letting the flavours of the crab shine through. The prawns, likewise, are light and crisp, the bite added when you chew on thin slices of fresh chilli.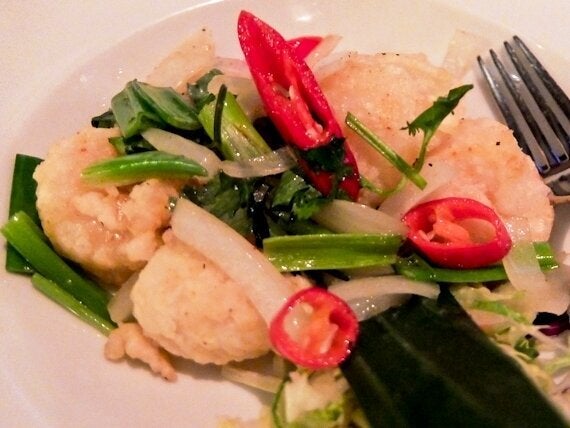 Now I'm not yet feeling the heat of Sichuan so I choose the mains that are most typical. The waitress suggests steamed sea bass, with home-made chilli and black bean sauce and Kung Pao chicken with classic Sichuan seasoning. My companion is keen to try the Sichuan Kimchi, although I point out that it's a Korean dish - it's actually a raw cabbage salad with thin slices of carrot and pickled chilli in a sweet vinegar dressing. Pleasant enough, but no hint of months of fermentation which the original demands.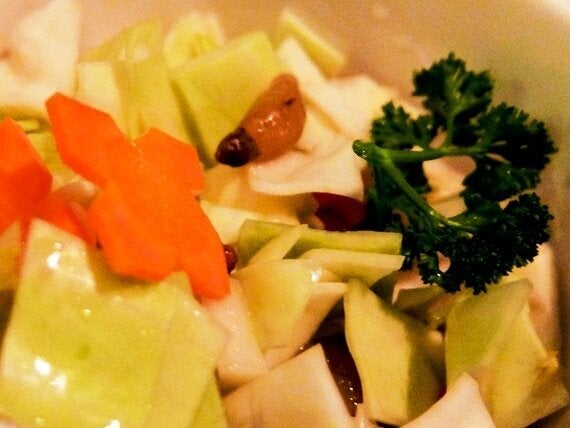 I can tell when the chicken arrives that it's far more authentic - stir fried with over a dozen dried chillies and laced with peanuts. Adding this many chillies is a typical cooking technique of the region - they're there for flavour, rather than to eat, although I can't resist chomping on one.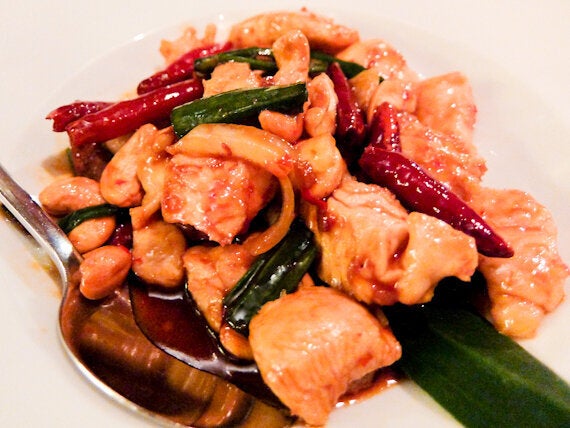 The sea bass is pretty good too, with a torrent of chilli and black bean sauce covering the fillets. In a way, this fish is a bit too delicate for this level of flavouring, but we enjoy it all the same.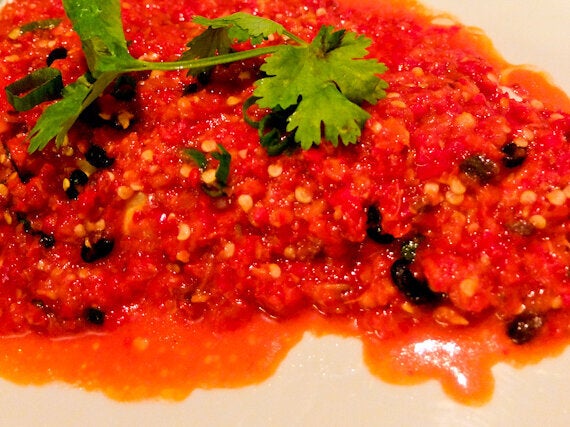 We cheat by taking desserts from the Italian sister restaurant in the hotel and are not disappointed - the Zabione engulfs red berries with its flavour of lemon curd and the chocolate mousse is thick and gorgeous. A nice touch is the salami-like chocolate chips perched on top.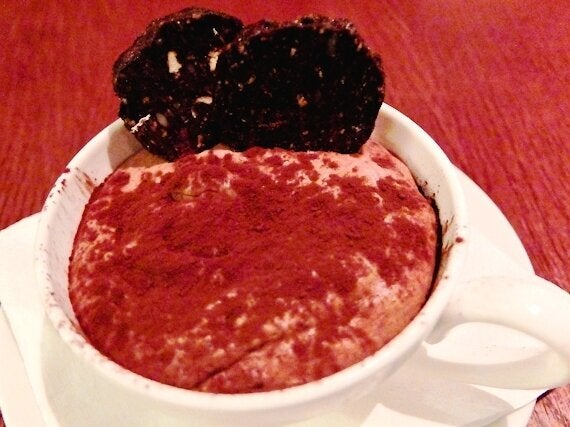 All in all the Chinese Cricket Club is a pleasant experience. It has to do a couple of things at the same time, serve up familiar Chinese food for its regular hotel guests but also cater for the more adventurous diner. Counting myself as one of those, I must say that the Sichuan food is not quite as fiery as I remember from my time in Chengdu but it's a fair approximation. Chef Ken Wang certainly knows what he's doing but I wonder what his Jiangsu food is like? I hear that it's one of the 8 culinary traditions of China - now that would be something else...
19 New Bridge Street, London, EC4V 6DB
All pictures copyright Rupert Parker.