Starting small in 1979, this festival goes from strength to strength and, this year, over 100 balloons are flying from the fields of Ashton Court Country Park in Bristol.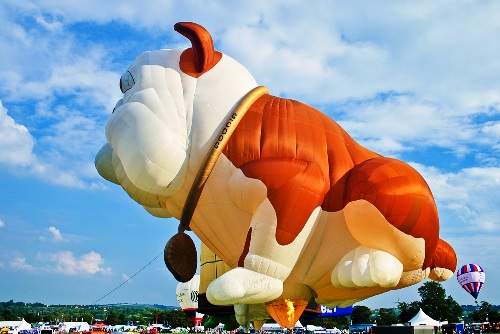 It's early morning and I'm in the middle of a field, about to step into the basket of a hot air balloon. All around me there's frantic activity as flight crews rush to inflate their own balloons. I look up and see the first of these majestic craft leaving the ground, aiming for the clear blue sky. There's no time to lose, as we're all meant to leave at the same time. I climb into the basket, there's a rush of flame and suddenly we're airborne.
This is a homecoming for me. 38 years ago I was at university here and made my first radio programme with the star of today's show. Don Cameron, back then, was the pioneer of Bristol's balloon industry, and he started making balloons in a derelict church in Kingsdown. When I interviewed him, I was struck by his dedication but I must say I thought the whole concept slightly crazy. He does have the air of the British madcap inventor, but he now heads a flourishing international balloon business. I couldn't have been more wrong.
Mind you, in the early days, I wasn't the only one to be sceptical. A confused printer, delivered 200,000 flyers advertising "The Bristol Baboon Festival" and the foot and mouth outbreak nearly killed the industry when, for over a year, they couldn't land anywhere. Today all that's behind them and Lee Hooper, our pilot for the day, has a regular job taking tourist on flights over the temples of Bagan in Burma.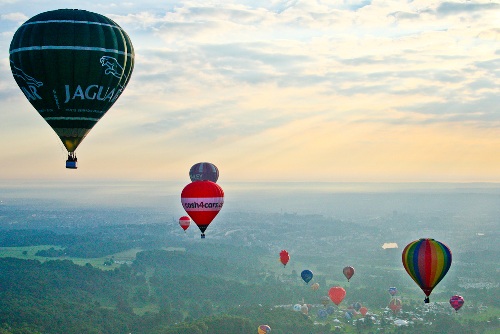 All around me are balloons of various colours and shapes, some higher, others lower. We think of balloons as round, but there are cubes, cylinders, bears, rabbits and, my favourite, a massive Churchill dog with the registration G-WOOF. It's a magnificent sight, on a glorious cloudless morning, as we soar over the hills toward the Bristol Channel and approach our landing site.
Of course what goes up must come down, and suddenly we're warned to bend our knees and hang on tight. There's now a slight wind and, although we hit the ground gently, the basket topples over, as we catch the breeze. I find myself on my back with two Chinese girls above me, stacked like sardines, nobody daring to move. Eventually, we're told it's safe to disembark and the ladies manage to disentangle themselves and crawl out.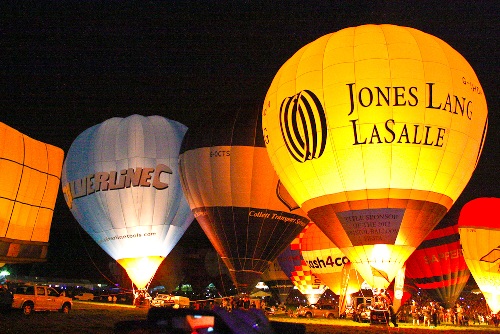 In the evening, after dark, there's what's known as the Nightglow. They inflate around 30 balloons and then fire them up in time to the music. Imagine a real-life Pinball machine and you'll get the idea. The music ends, it's pitch black, and then the fireworks start. I have images of the falling embers damaging the balloons' fabric, even setting them on fire, and everything going up in smoke. But Don Cameron tells me not to worry - he's seen it all before.
Visit Bristol has information about this and other events happening in the city.