Long seen as one of the severest former communist countries, Albania has now emerged from the darkness and is a surprisingly attractive tourist destination.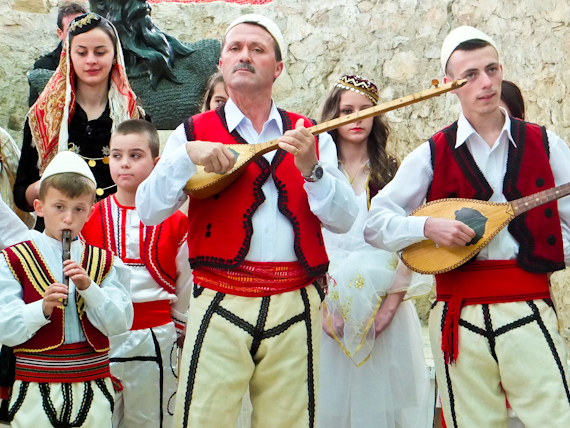 I've always wanted to get to Albania but it has a long history of not encouraging journalists so it's proved particularly difficult. A couple of years ago I did manage to get an appointment at the Albanian Embassy in London, situated in a rather run-down stucco terrace near Victoria. I was led into a tall dark room, blinds pulled down, sat in front of a large oak desk and asked what I wanted. I felt I was back in some 50's spy movie and had been given an impossible mission.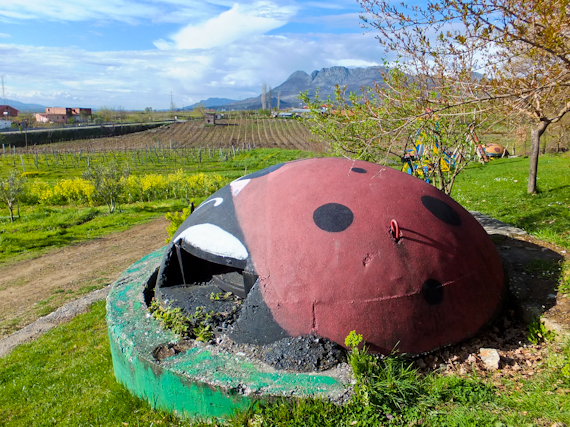 Nothing came of it, so imagine my joy on receiving an invitation, as part of the Adristorical Lands Project, to visit the country including the capital, Tirana, and the nearby district of Lezhë. Granted, I would only be staying one night, as I would be boarding a boat to Italy the following evening, but at least I could get a taste of Albania.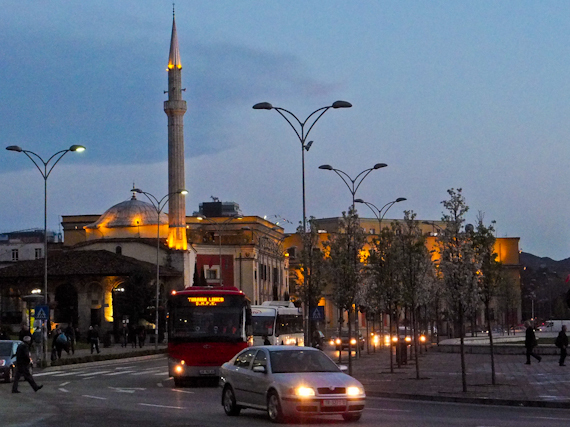 Of course, like in all good communist countries, it's pouring with rain as I'm driven from the airport, and Tirana seems drab and grey. Things begin to pick up at lunch at Juvenilja which includes some excellent Albanian wine and a local speciality, listed on the menu as Dust Pan Tirana, which has nothing to do with housework. In fact, it should be translated as clay pot, containing cubes of beef and liver, baked in the oven, topped with cheese, onion and chilli. It's rather good.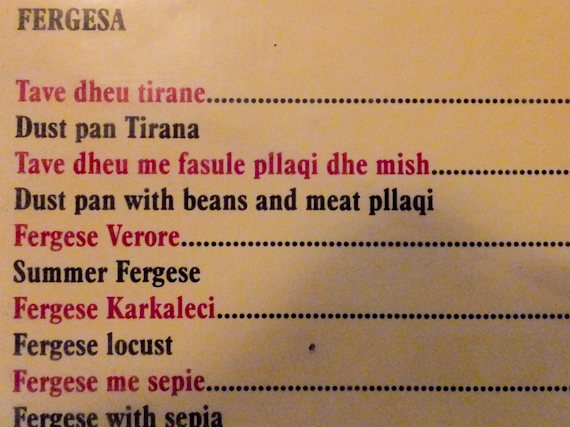 Outside the rain has stopped, the sun is out, so a wander is in order. What I can now see are snow-capped mountains, towering immediately behind the city. Tirana only became the capital in 1920, and Mussolini's architects were responsible for the government buildings in the centre. As you'd expect there are the obligatory 60's Stalinist blocks, housing concert halls and culture centres, but there's also the odd mosque peppered around.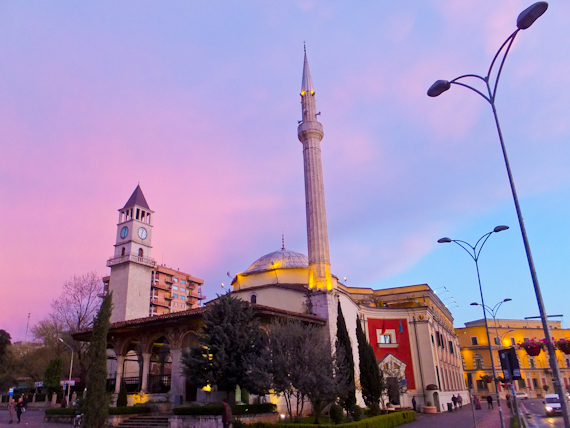 Islam is in theory, the religion of the country, but years of socialism seem to have dampened most people's enthusiasm. The most curious building in the centre is what was meant to be a museum, dedicated to the memory of former dictator Enver Hoxha. It's an ugly rumbling concrete pyramid, designed by his daughter and has been a nightclub, then TV HQ, but is now desolate.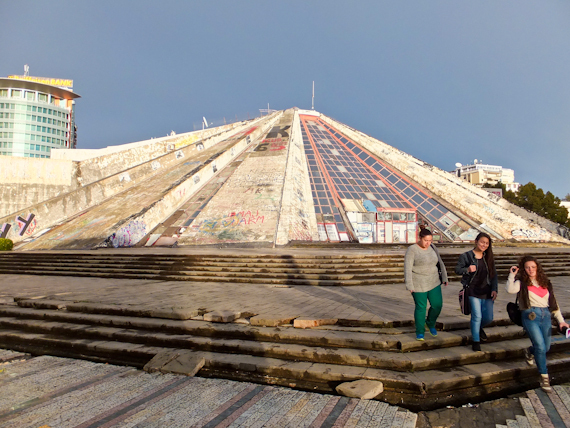 It's interesting to visit the National Art Gallery where pictures depicting idealised visions of workers doing great things for their country are on display. They've also managed to unearth works that were censored and never displayed, probably because not everyone is smiling. Behind the gallery is a collection of larger than life statues, covered from head to toe, consigned to the garbage dump of history.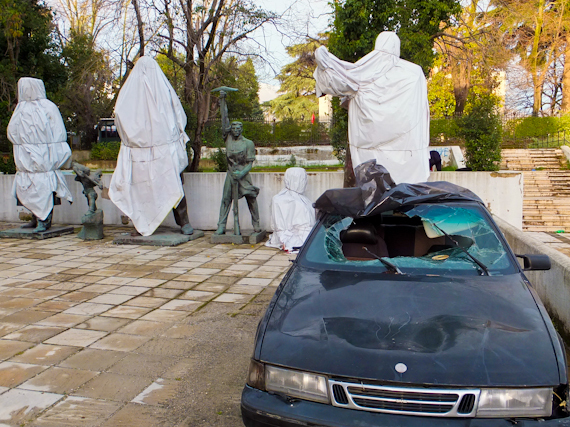 It's about an hour's drive north to the city of Lezhë and I check into a hotel close to the beach. This area is being developed for mass tourism, unfortunately largely for the bottom end of the Russian market. Fresh fish is on the menu here and I have some more of that wonderful Albanian wine.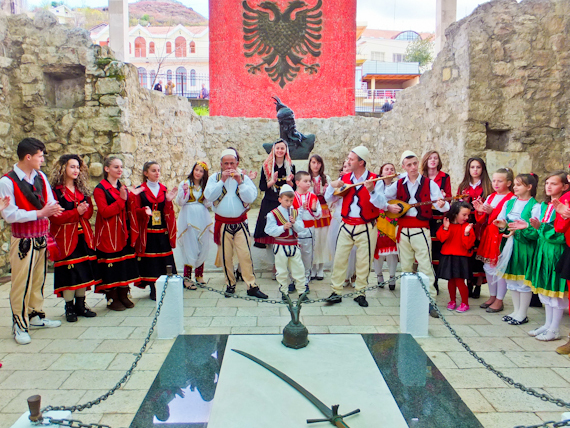 Next morning I'm at the memorial where Albanian hero Skanderbeg is buried and there's a welcome party of musicians and local school children. In the 15th century, under his leadership, this part of Albania successfully resisted the Ottomans for 25 years. Unfortunately, after his death, the Turks were victorious and fortified the area with a large castle. It stands high above the town and affords marvellous views of the surrounding area.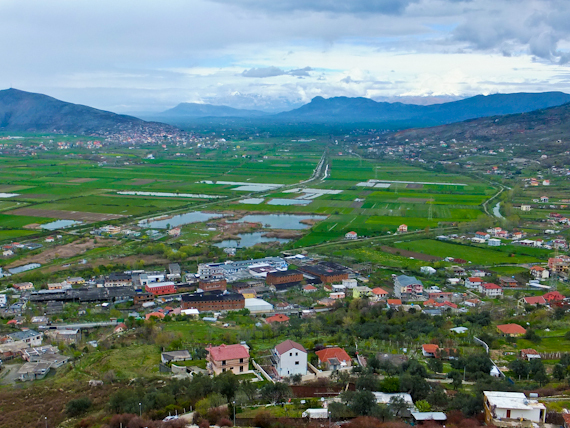 What becomes immediately obvious is that there's a ribbon of fertile flat land between the sea and the mountains, parcelled up into family plots, passed from father to son for centuries. Mass agriculture doesn't exist here and, as I drive through the fields, women are still wearing traditional costume to do their work. Restaurant Mrizi I Zanave prides itself on sourcing everything locally and grows much of its own food. Chef Altin Prenga trained in Italy and his restaurant bears the Slow Food logo.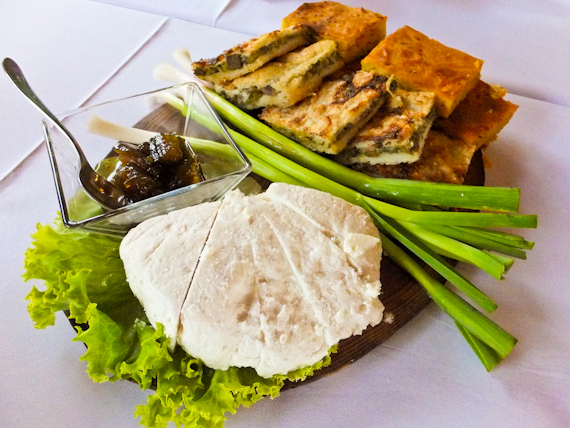 He starts off with a flourish - baked egg yolk on a biscuit with cream cheese as an amuse bouche, starters are liver pie with greens, pumpkin pie and a large slab of cheese. Then there's a delightful display of roast vegetables, including baby parsnips, asparagus, spring onion fritters and white bean puree.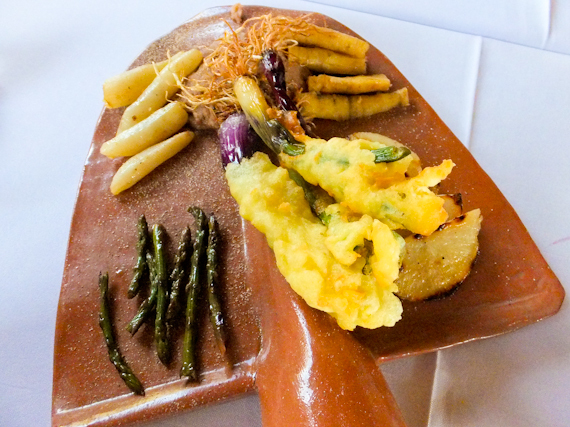 Of course there's a meat course, or 3, roast goat with garlic and yoghurt, free range chicken with stuffing, and pork kebabs. A selection of boiled veg in a jar - pumpkin, Brussels sprouts, broccoli and assorted cheese ensures we don't go hungry. Oh and I forgot potatoes cooked 3 ways, sauted, stuffed with cream or baked.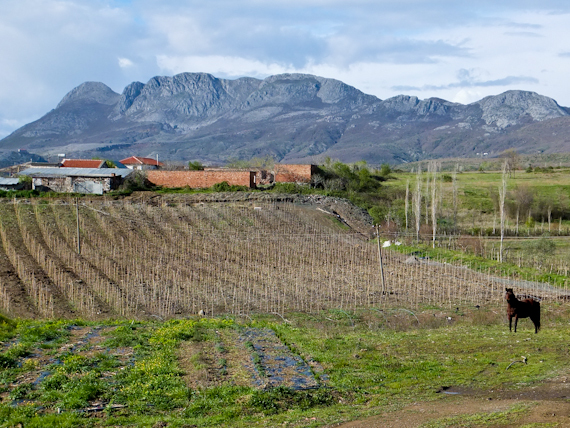 Just down the road I get a chance to see where the wine is made. Kantina Kallmeti, in the village of the same name uses an old Albanian variety, also called Kallmet, originally brought by the Romans. They only have a couple of hectares of their own vines but 50 local farms supply them with grapes. They started in 2007 and now produce 40,000 litres a year with 75% red. Production is organic although they are not yet certified, and they've been winning prizes in Albanian national wine competitions. True to their home spun philosophy they also grow their own olives.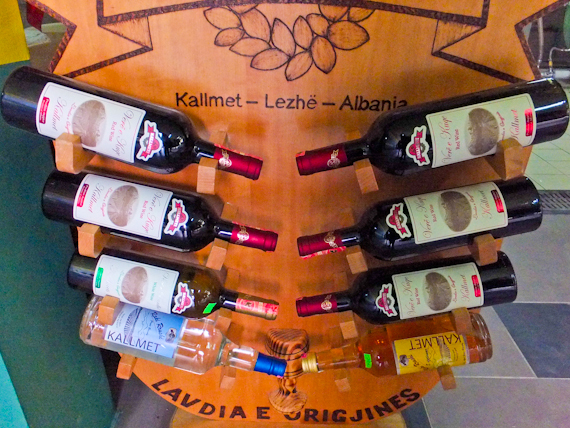 All too soon, I'm on my way to Durrës to board the overnight boat to Bari, and I realize I've only scratched the surface of what Albania has got to offer. On the basis of my short stay I now know that good things are happening with food and drink. Albanian wine is far better than you'd expect and the fact that there's no large scale agriculture means that ingredients actually taste of something. It's early days, but I think Albanian tourism has a great future, but get there before everyone else finds out.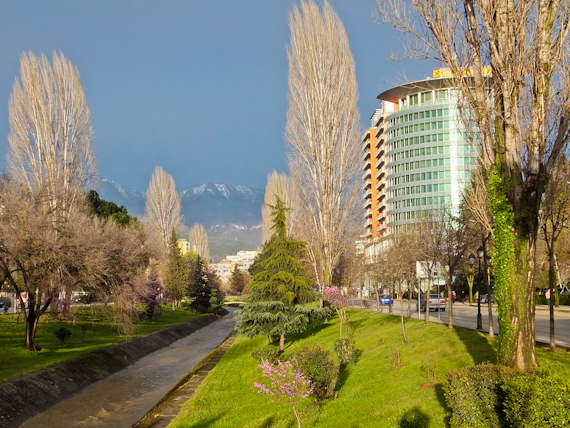 British Airways flies direct to Tirana.
Hotel Antag is a comfortable base for the beach and visiting Lezhë.
Albania Tourism has information about the country.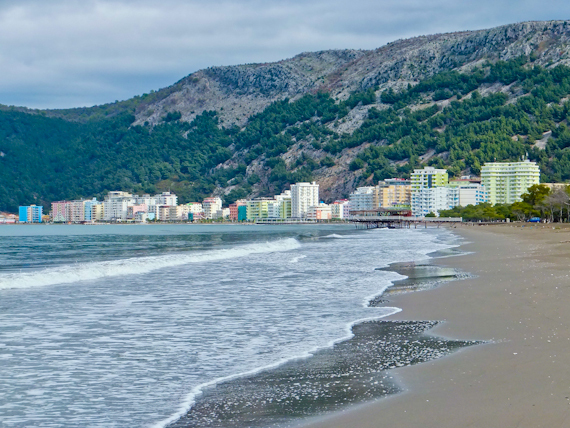 All pictures copyright Rupert Parker