Four top international chefs, from France, Belgium, Spain and the UK, gather in Marrakech to create new dishes inspired by the cuisine of Morocco - only one of them will win the acclaimed title of MarrakChef 2014.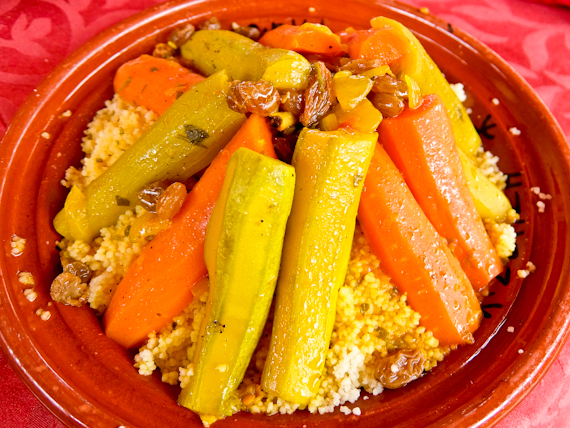 I have a long love affair with Moroccan food and like nothing more than to dust off my tagine pot and make one of those aromatic slow cooked stews. I even make my own preserved lemons, with great success, I have to admit, and there's an ample supply of couscous from the Algerian stores, close to my house. So an invitation to travel to Marrakech and taste the creations of gourmet chefs from Europe is well received. Even better, I get the chance to take part in the judging, along with my fellow journalists and an expert panel of Moroccan chefs.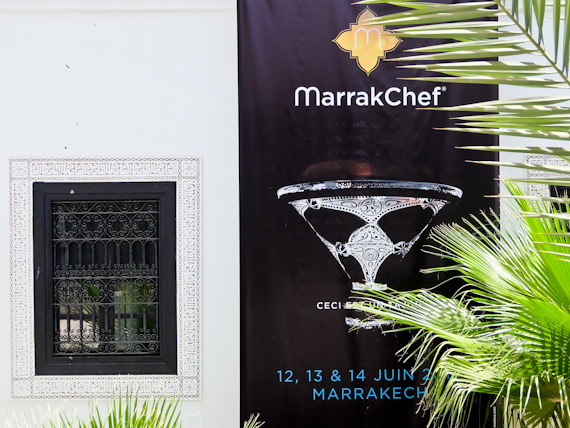 MarrakChef is taking place in the divine Naoura Barrière Hotel, within the medina and a 10 minute walk from the Djemaa el-Fna square. Of course, when the day has cooled, I make a visit and check that they are still serving the same exotic food as I remember.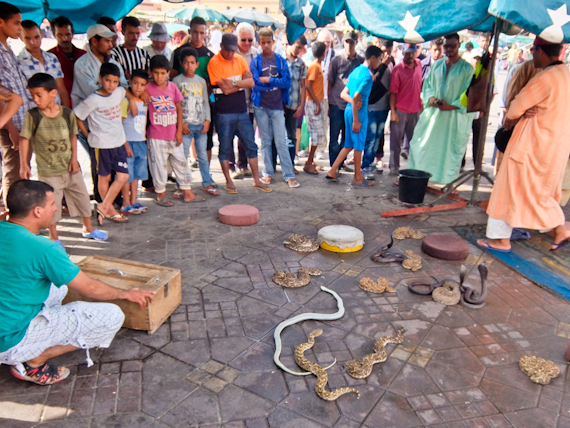 I dodge the snake charmers and see that sheep heads are still on the menu, along with my favourite -spleen stuffed with spicy heart and liver. Now these may be too much for some, but couscous, kebabs, snails are all up for the eating. Unfortunately I have to hurry back to the hotel for the competition and don't want to spoil my appetite for the judging.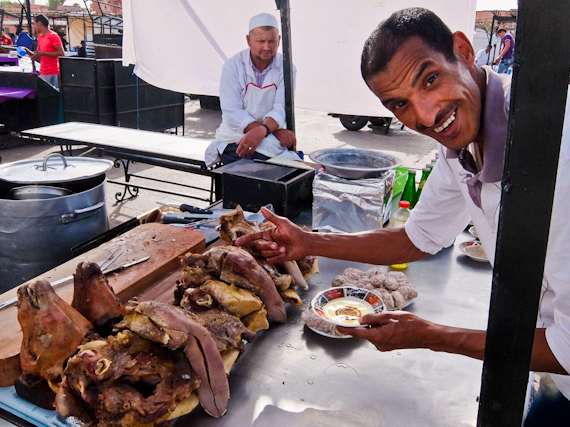 The concept is simple - each chef must create 2 dishes, a main and a dessert, creating a fusion between their own style of cooking and that of Morocco. The basis of the main course must be either a tagine or couscous but they are free to interpret these however they wish. Specific Moroccan ingredients on offer are fresh coriander, saffron, olives, argan oil, cumin, preserved lemon, dates, sesame seeds, fresh ginger and turmeric. Themes for dessert should be based on either pastilla, a sweet and savoury pie in flaky pastry, or citrus fruits or both. Ingredients are fresh mint, orange blossom, honey, almond paste, sesame seeds, almonds and dates.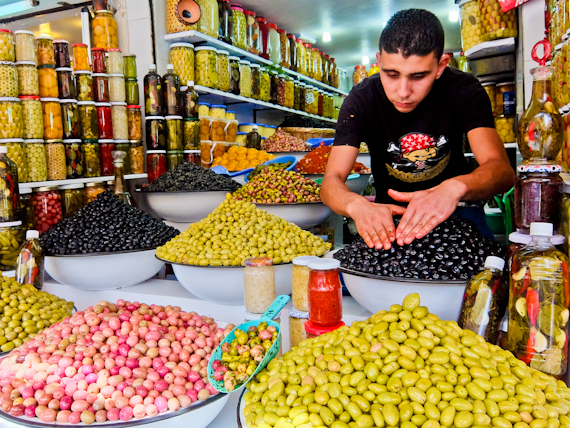 Damien Bouchéry from Le Bouchéry, in Brussels, kicks things off. He's prepared a fillet of monkfish accompanied by couscous, chickpeas, mini vegetables with a sauce of argan oil and preserved lemon. The fish is perfectly cooked and he's created a symphony on the plate, but the sauce is rather overwhelming. It almost feels as though he's thrown in the Moroccan ingredients as an afterthought.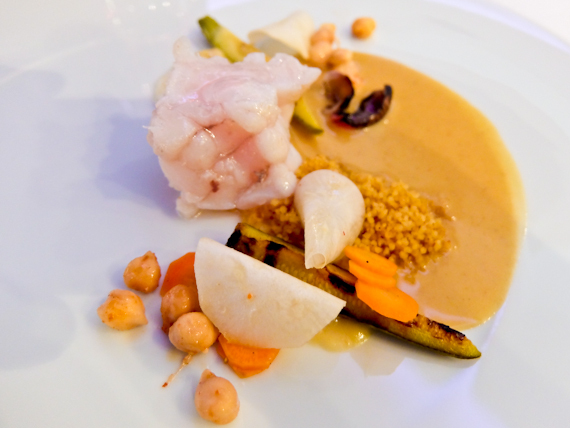 He fares better with dessert. It's an almond cake with orange and grapefruit slices, marinated in orange blossom water, plus an emulsion of cow parsley. The presentation is excellent but I'm not really savouring the flavours of Morocco.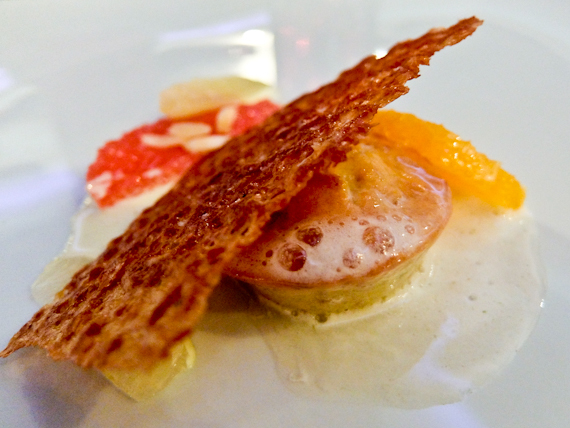 Next up is Félix Manso from Antxon Gaztelumendi, in the north of Spain. He's chosen tagine as his way of cooking a piece of Cod, but he may have just steamed it. It's resting on a cream of potato and leek, flavoured with turmeric and argan oil. Again it seems he's been rather heavy on the turmeric and, strangely in an Islamic country, there's a thin sliver of bacon hiding in the sauce.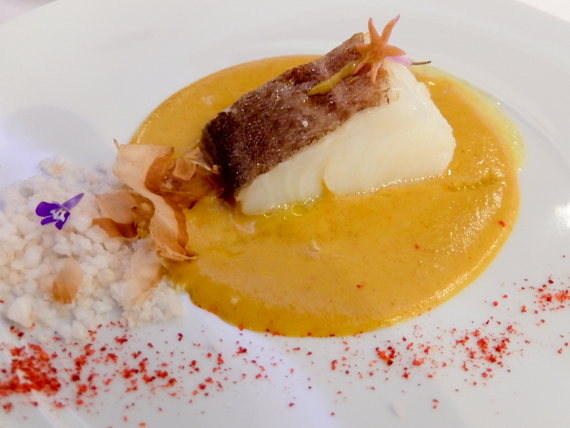 His dessert of pastilla pastry parcels, crammed with almond cream, with a sauce of citrus cream and orange blossom definitely feels Moroccan. It's well realised although the crêpe-like werqa dough is a bit heavy for my tastes.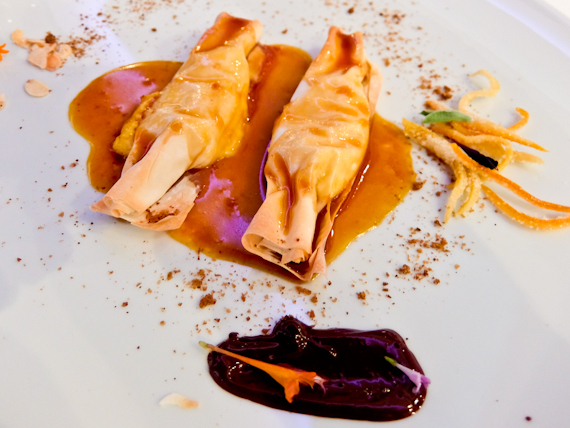 We get through these 2 chefs at lunch and get to sample the others in the evening. First is Frenchman Richard Toix from Passions et Gourmandises in Saint-Benoît near Poitiers. He's going with a sea bass steak with cream of carrot in argan oil. The fish feels slightly overcooked but his masterstroke is tiny vegetables lined up to the side of the plate like a long kebab. It reminds me of couscous with 5 vegetables and for the first time I feel the savours of Morocco coming though.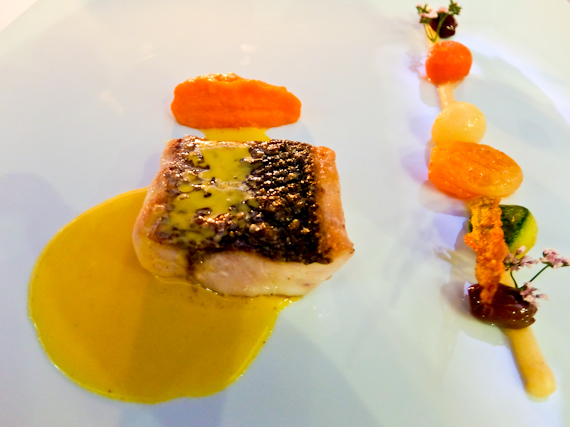 Dessert is interesting - 3 pastilla pastry cylinders, 2 stuffed with lemon cream, the 3rd with avocado. A delightful orange blossom ice cream with honey is the perfect companion.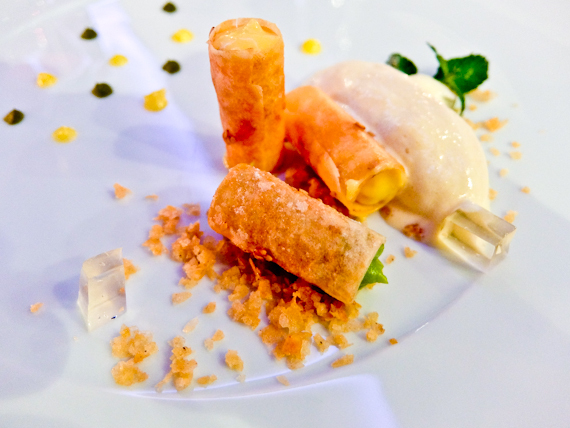 Finally we come to Pascal Aussignac from Club Gascon, in London. He's the honorary Englishman here, although he's originally from Toulouse. His fish is a whole red mullet, with spices, stuffed with fennel. There's an argan oil foam and a single tulip hides his saffron couscous, under its petal. There's no doubting his ambition but it doesn't quite hang together.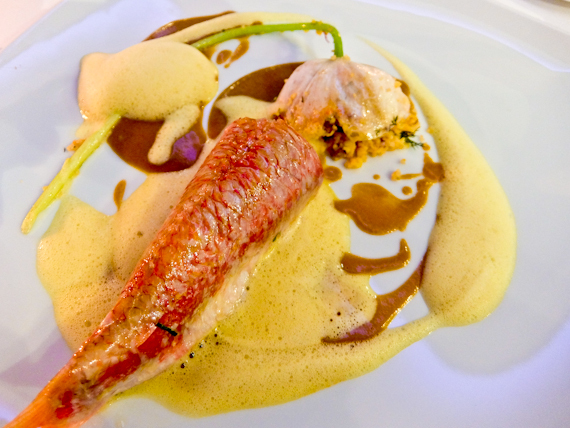 Now, if you think that was advanced, his dessert, a large cylinder of pastilla pastry hiding a piece of foie gras inside, aromatised with dates and almonds, is off the map. Accompanied by a passion fruit sauce, it certainly evokes the Moroccan pastilla pie mix of savoury and sweet. I have a feeling it would work better as a starter.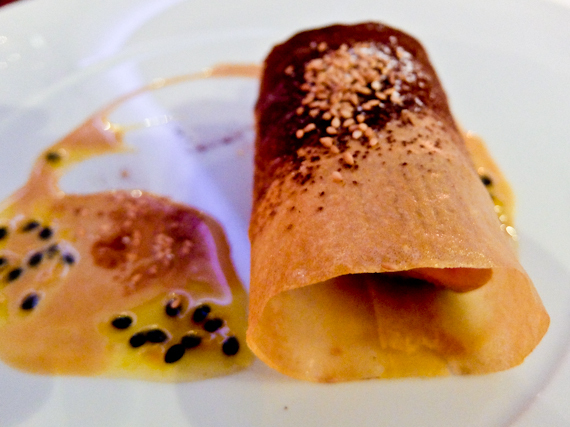 Before the winner's announced, there's a lunch at the nearby Riad Monceau, cooked by top local chef, Rachida Sahnoune. This is an inventive take on Moroccan classics and I particularly enjoy her lamb tagine with its topping of grated fresh ginger, like a condiment. It's also a delight to taste her dessert of cream and milk pastilla with almonds.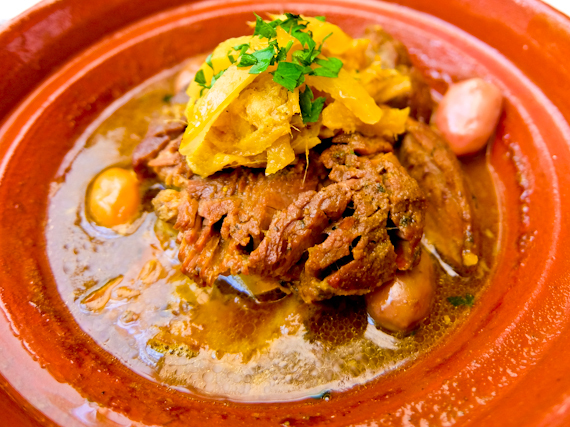 It's no surprise to find that Richard Toix, from France wins the Trophée Maroc Gourmand. His dishes are genuinely a successful fusion of French and Moroccan and flavours. I later find out that he's spent some time here in the past, so it's no accident that he appears to be the only one who seems to understand how to use the unique flavours of the country.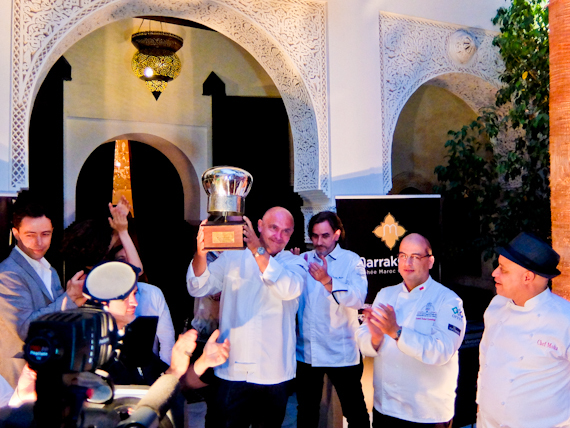 The thermometer in Marrakech shows it's above 40 degrees so I beat a retreat to the Atlas mountains, just 90 minutes away. At nearly 2000m the Kasbah du Toubkal, seems a world away and it's mercifully cooler and quieter. There's no traffic here, as it's a 15 minute climb on foot, from the village and I really do feel close to nature.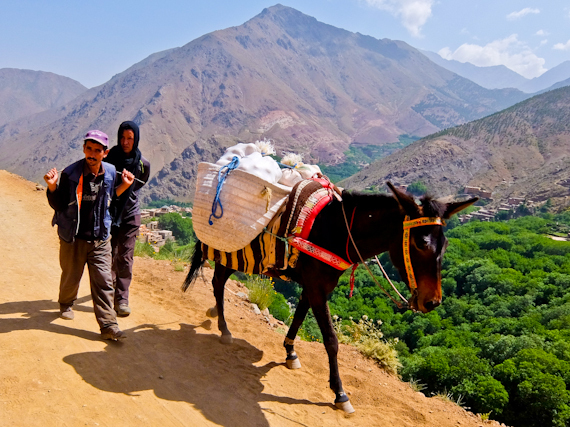 As I tuck into my rabbit tagine, all ingredients sourced locally, and contemplate the view of Morocco's highest peak, the only thing which interrupts the silence is the call to prayer, echoing across the valleys. The cooking here is simple, traditional Berber, and I find myself thinking that some of the top chefs I've encountered would benefit from a visit to the kitchen. After all there's no harm in going back to basics.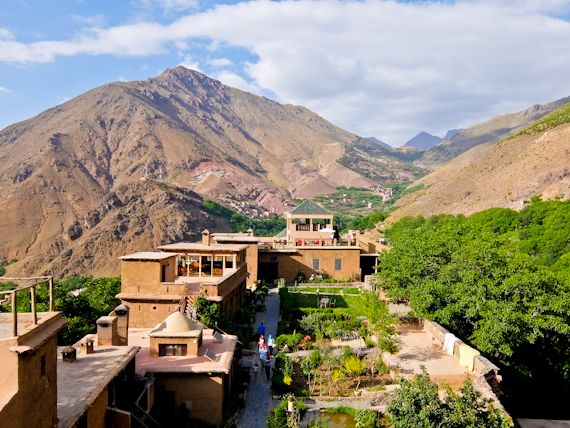 The Moroccan National Tourist Office has information about the country.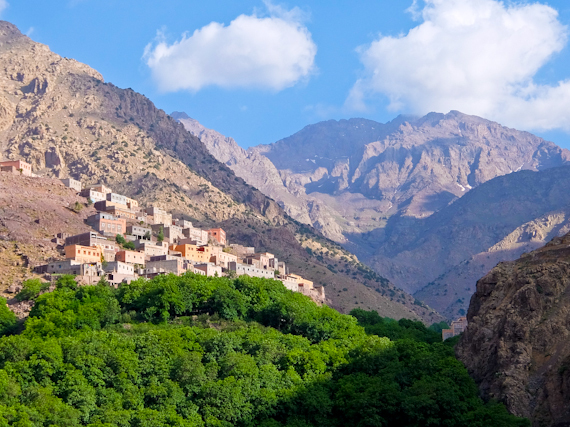 British Airways and Royal Air Maroc fly direct from London to Marrakech.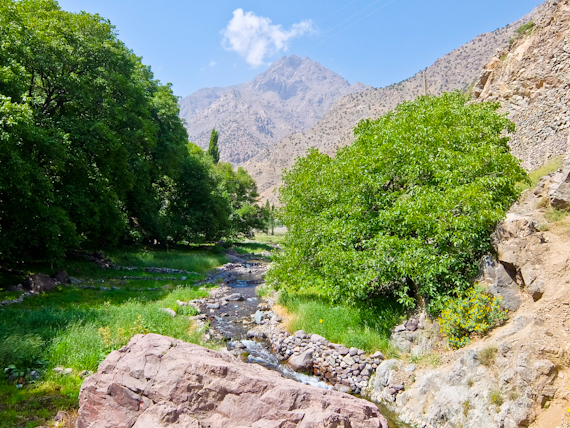 All pictures copyright Rupert Parker.