Over 10 days, 10 renowned international chefs from England, Spain, Portugal, France, Denmark, America and Canada serve up their interpretations of modern Azorean cuisine at 10 Fest Azores, in Ponta Delgada, Sao Miguel, Azores.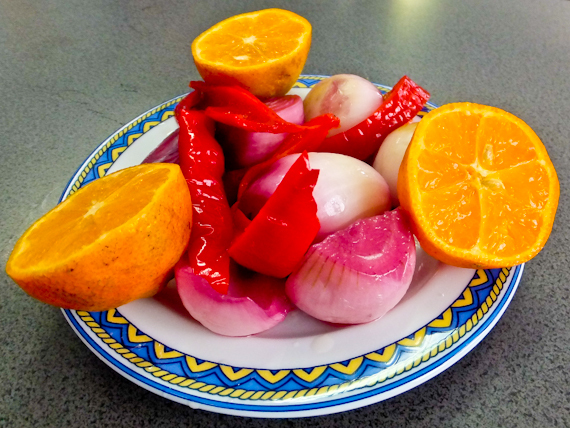 In the world of food, Azorean Cuisine hasn't really hit the headlines but 10 Fest Azores aims to change that. The idea is that, on each night, a different international guest chef works with students from the Azorean School of Tourism & Hospitality Training to serve up a 6-7 course meal with matching wines.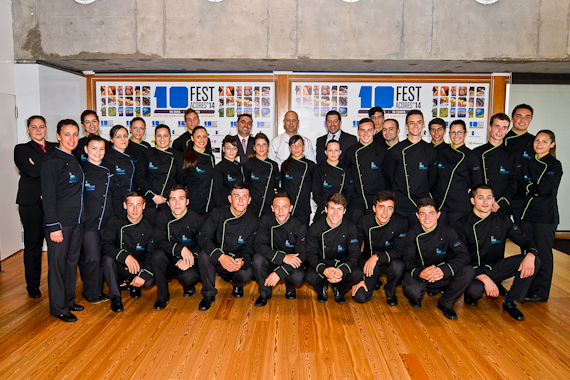 It's now in its 3rd year, and the venue is the cookery school's 70 seater Anfiteatro Restaurant, right on the seafront, in the picturesque marina of Sao Miguel's capital, Ponta Delgada.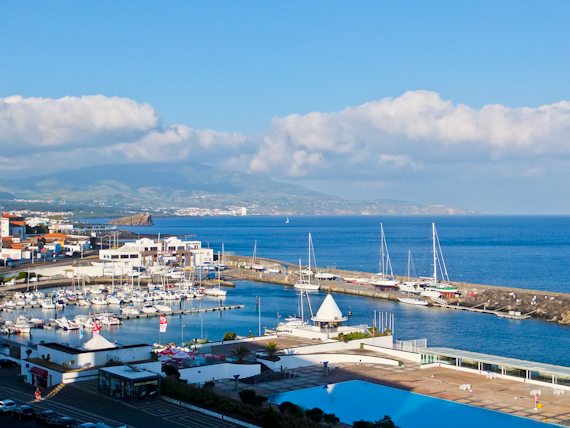 The aim is to use local Azorean ingredients and that includes the cocktails. I've missed the first 2 days of the festival but am soon into the groove as I down an exotic Guava Mojito on my arrival.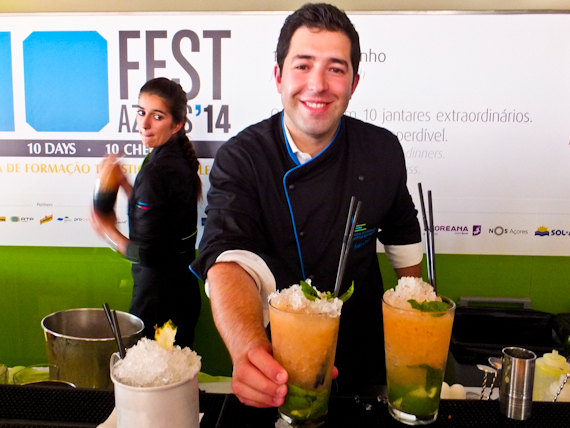 Tonight it's the turn of the teachers, plus chefs from the archipelago, showing what they can do. As you'd expect from islands in the middle of the Atlantic, fish features heavily, but the delicious meaty starter features the Azorean version of black pudding with caramelised pineapple and Foie Gras.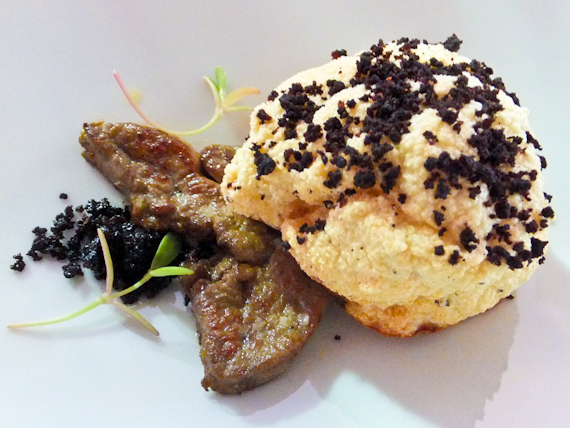 Of course we move on to Tuna then Red Scorpion fish, with sea urchin and barnacles, followed by Blue Mouth Rockfish with Safflower. There's roast meat to follow, then banana with cheese, crème brulee and finally coffee and cigars. The real surprise is that each course is paired with a different wine from the Azores, all eminently drinkable.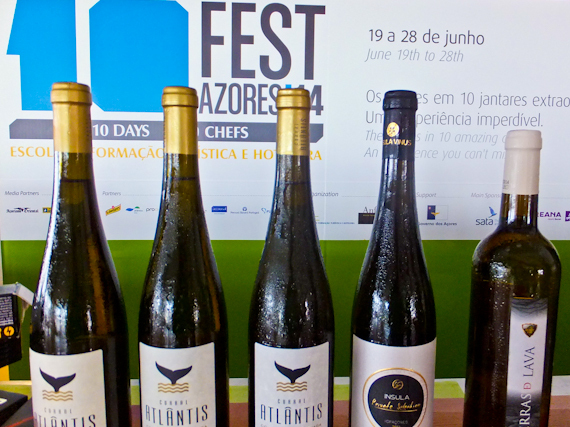 I've now a fair idea of local ingredients and I'm wondering what the food will be like in restaurants. Sadly, my hotel offers tinned fruit for breakfast, a disgrace given the range of local fruit in season, but I'm heartened by Restaurante Bar Cais 20, a 15 minute walk on the outskirts of town. I start with barnacles, lightly boiled, and extract the flesh from the shells with a designer tool. It's tough work, but the flavour is intense sea; easier are the Lapas, grilled limpets in butter, garlic and parsley, slightly chewy but delicious. I get to pick my fish from the catch of the day and I remember the Blue Mouth Rockfish from the previous evening, so I go with a whole fish and am not disappointed.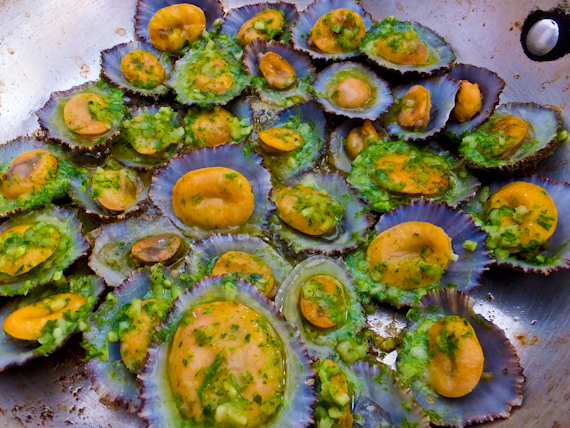 In the back streets I find Cervejaria Sardinha, a café which has been here almost since the beginning of time. The owner, who's now 76, is still cooking fish straight off the boat, and I join him in a tiny kitchen to see him dusting fresh horse mackerel with cornflower from his garden and grilling them on his single gas ring.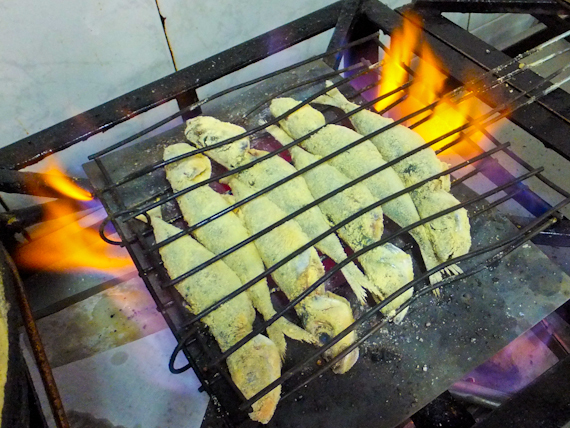 I take my seat in the café and, whilst I wait, get a slab of fresh cheese with red pepper sauce, thin slices of liver and Azorean baked beans as appetisers. My man appears with the hot fish and I crunch the whole lot, bones and all, crispy and delicious. It comes with pickled onions, preserved red peppers and local limes which resemble oranges. There's octopus in red wine and pork ribs to follow, all typical of the region and I suspect the menu's been unchanged from day one.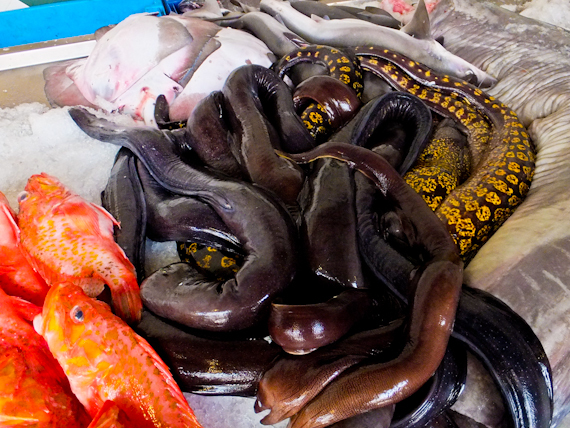 I'm now realising that the secret to Azorean cuisine is the quality of local ingredients. In the market I see all sorts of deep sea fish, most of it completely unfamiliar, but all unfailingly fresh. Vegetables include yams, sweet potato, peppers, and sweet corn all grown on the islands. The big surprise is that there are 3 times as many cows as people, on the islands, and milk production is 60% of Portugal's total.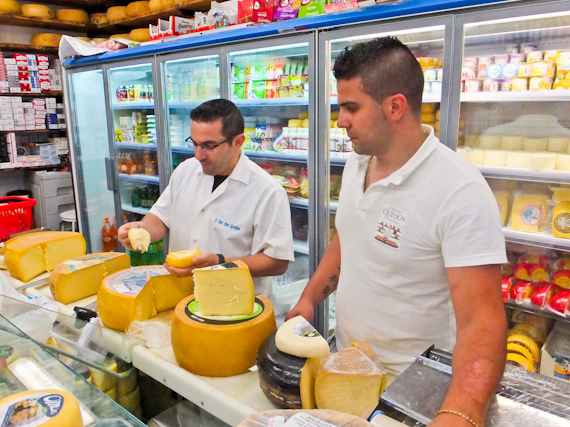 Much of the cheese is rather bland probably because it's processed in industrial diaries, but there is artisanal production. I like the Sao Jorge, from the island of the same name, which I sample in a marvellous shop, by the market, called The King of Cheeses. This is a cow cheese, aged 8 months, and is full of character, slightly burning the mouth. If you like your fromage forte, then this is for you.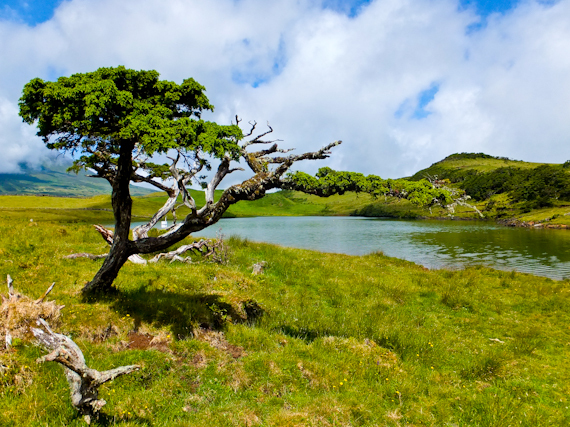 In the next few days, I travel to 2 other islands, Faial and Pico, and find that local restaurants are always better than the hotels. There's still an "all you can eat" buffet syndrome here and ingredients are often imported and probably frozen - imagine lukewarm salmon steaks, congealing on the hot plate, paired with overcooked Brussels Sprouts, both far from local. But there is hope - in Horta, I get to cook ever-so-fresh slices of Tuna, Squid, Pork and Beef on my own heated stone, although the fries are frozen. And just to prove that buffets can work, on Pico I join hard work working locals tucking into the food at Restaurante O Rochedo in Sao Roque. Soup, a selection of cheeses, black pudding and sausage, sweet potato, and long cooked pork all deliver that genuine taste of the Azores.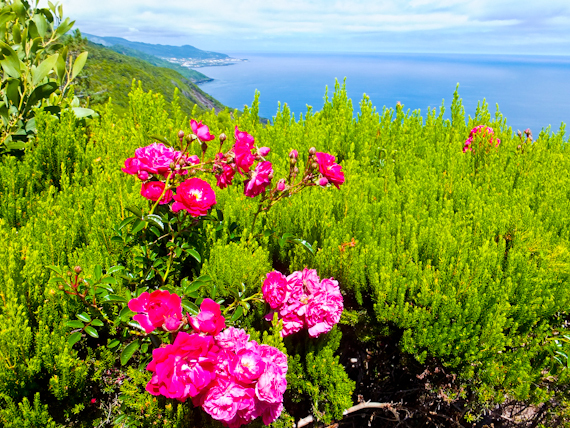 I should also say something about the wine in Pico. Because of the volcanic soil and the strong salty winds, the vines are enclosed by square black stone walls, their roots digging deep into cracks gouged out of the basalt. From the 16th century wine exports thrived, particularly to England and Russia, where Pico wine was considered to be the wine of Tsars. Unfortunately, in the 1850's Phylloxera decimated the vines and the vineyards were more or less abandoned as people migrated to the USA.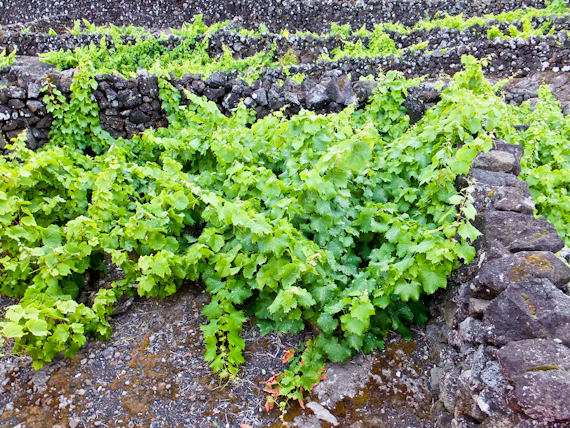 Fortunately, in the 1990's, traditional grape varieties of Arinto, Terrantez and Verdelho were replanted, and production is now climbing. Pico's most famous wine is a fortified Verdelho but I prefer the single varietal Arinto or Terrantez, still produced only in tiny amounts, and you won't find them outside Portugal. These days the vineyards have been classified as a UNESCO World Heritage Site and you can visit the wine museum in Madalena, housed in a former Carmelite convent.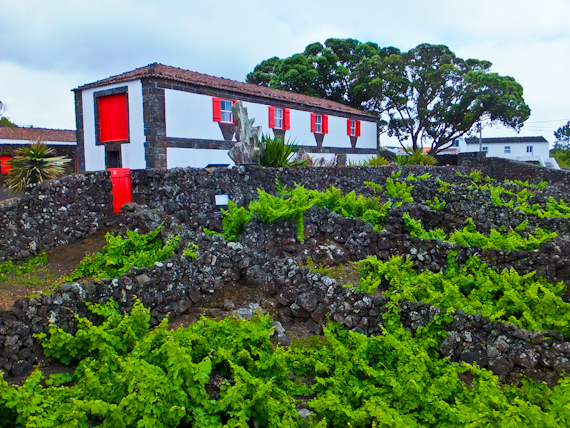 Back on San Miguel, I travel to the active volcanic area of Furnas to sample Cozido The idea is simple - you put your meat and veg in a pot, bury it in the ground for a few hours, then pull it out at lunchtime. It's a speciality of many of the restaurants here and they all retrieve their pots at the same time, partly concealed by billowing steam from adjacent bubbling hot pools. It works better than any slow cooker, the heat from the geo-thermal activity, doing all the work.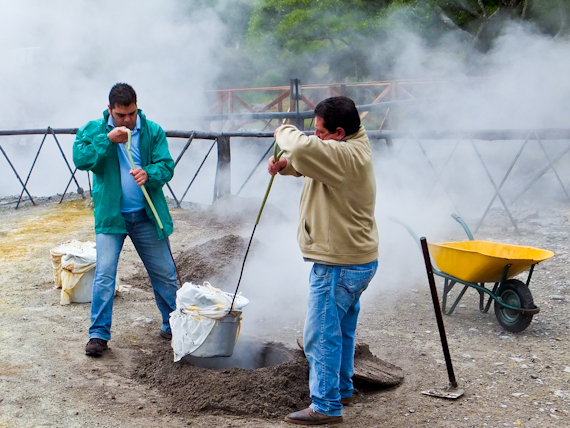 The best place to try this is in the restaurant of Terra Nostra Garden Hotel, which also has its own outdoor hot water pool where you can soak for hours while you wait for your dinner. The hotel has recently been restored to its original elegant art deco and the a la carte menu is quite special - fine tagliatelle-like slivers of squid served on an octopus risotto, blackened with the ink is a stand out.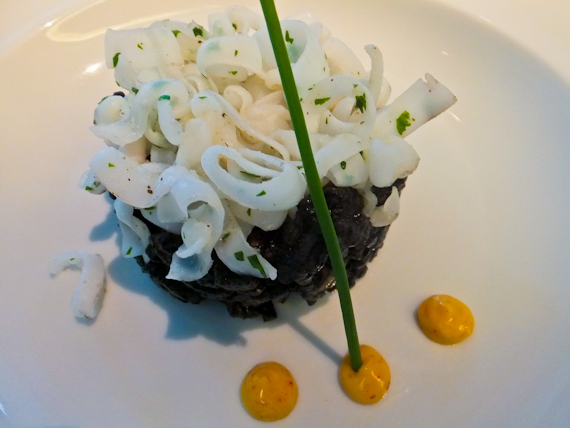 In Ponta Delgada, I have 2 consecutive dinners at the Anfiteatro Restaurant. The first is by Adam Gray, from London's Skylon, and shows accomplished use of Azorean ingredients - I particularly like his veal loin on a bed of fava beans. The dinner next day, by David Fischer from Hos Fischer in Copenhagen, is more left field, with starters of cod tongue with almonds and beef carpaccio with Sao Jorge cheese and pomegranate. His Blackspot Seabream gravlax, with mustard ice cream and fennel also makes interesting eating.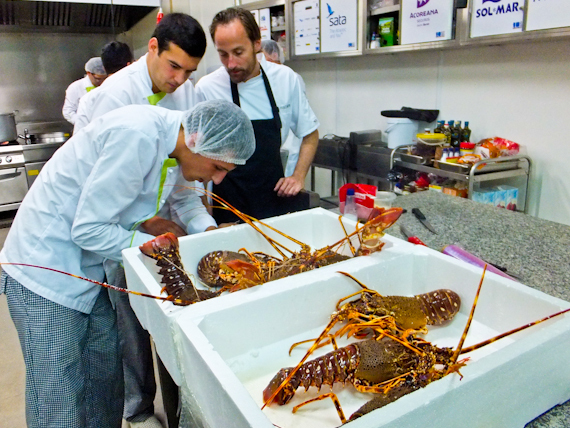 But the stars really are the students, who not only provide stunning service, both in the kitchen and in the dining room, but also represent the future of Azorean cuisine. 10 Fest is a marvellous initiative, inspiring students and islanders alike, and with brilliant seafood, meat, cheese and wine, the Azores certainly should be on any foodie's map.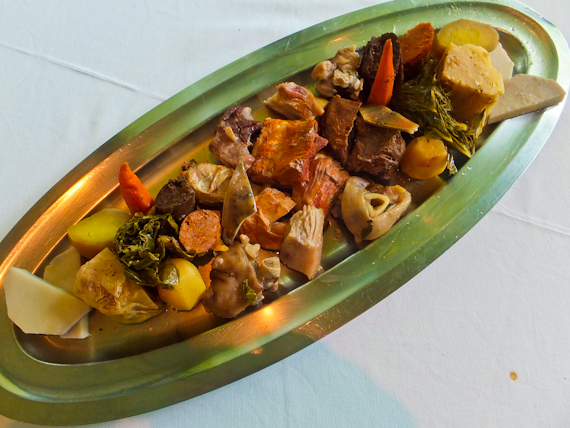 Taste of Azores has information about the food.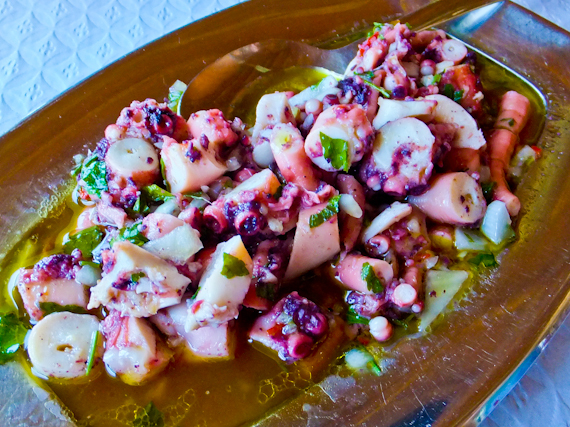 Visit Azores has tourist information.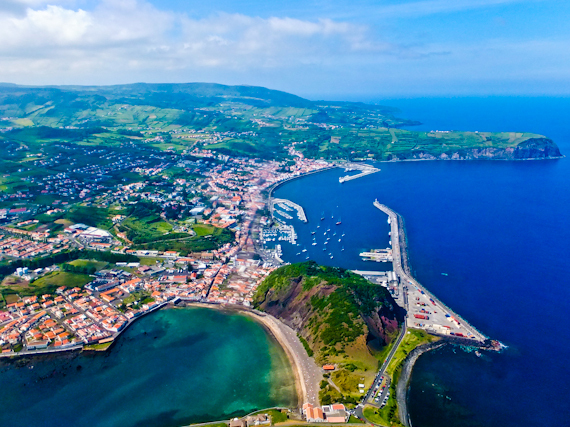 SATA flies direct from Gatwick to Ponta Delgada every Saturday until 18 October 2014, with prices starting from £339 pp return (including taxes and charges).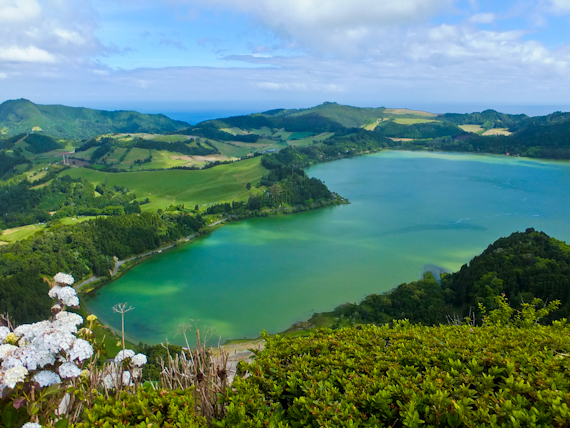 Archipelago Choice offers a combined 14 night Sao Miguel and Pico, wine and whales experience holiday, starting from just £1,689 per person. Includes return flights with SATA from Gatwick, inter-island flights, 14 nights' accommodation on B&B basis, car hire on both islands, 2 half day whale watching trips, a 1 day jeep tour and a wine tour. To book, call 017687 75672.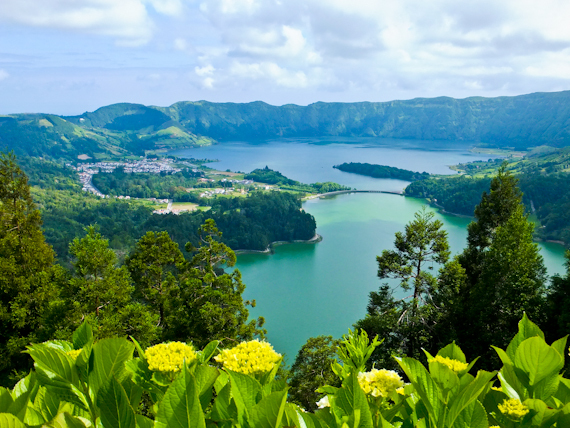 All pictures copyright Rupert Parker.