Now in its 16th year, the Seabreeze Jazz Festival now attracts close to 25,000 spectators, to groove beside the white sands of Panama City Beach, Florida.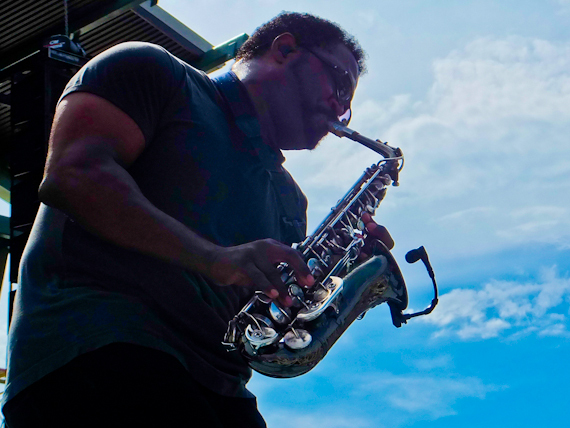 There's something complementary about music festivals and sunshine, particularly when they're held outdoors. Add to that 27 miles of stunning white sand, a culinary mixture of Cajun and southern cooking and easy airport access and you've got a winning formula. Panama City Beach is located in Florida's panhandle, on the Gulf of Mexico and they call it the Emerald Coast and I can see why. It gets more than 320 days a sunshine per year with a year-round average temperature of 25C. The name comes from the time when the port was shipping out supplies for construction of the Panama Canal, and it's stuck.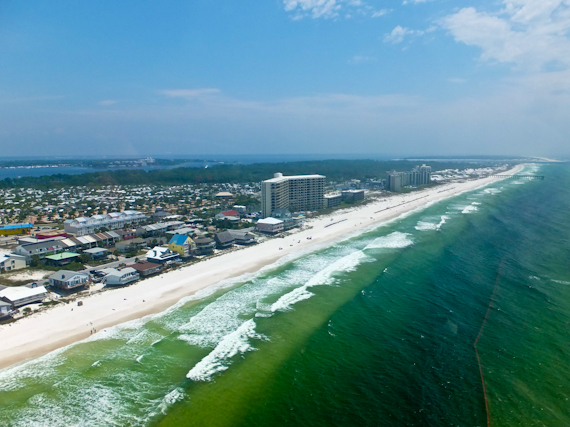 The festival started small in 1999 but, with the building of the Pier Park complex, which gave it a permanent home, it grew and grew. Nowadays it can accommodate more than 5000 people and all bring their portable chairs so they can sit and relax, and, of course get up and boogie, when the mood takes them. This is a laid back, mainly black crowd, all keen to enjoy the music, and there are food stalls galore to keep appetites satisfied.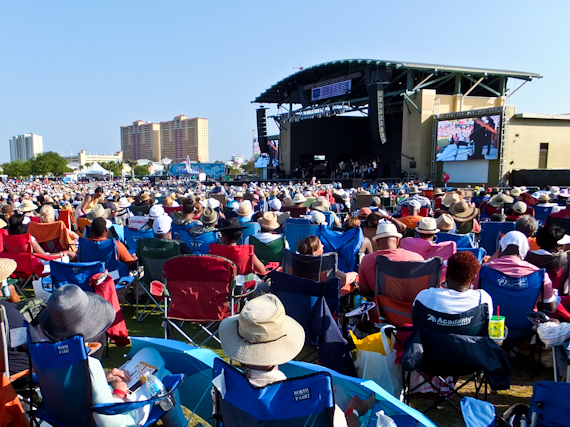 I arrive on the first day when there are just three acts scheduled. I'm too late for Michael J Thomas but I catch Nick Colionne, known as the best dressed man in jazz and dapper in his turquoise jacket and broad brimmed white hat. He's a good guitarist and his mix of funk and R&B goes down well with the crowd.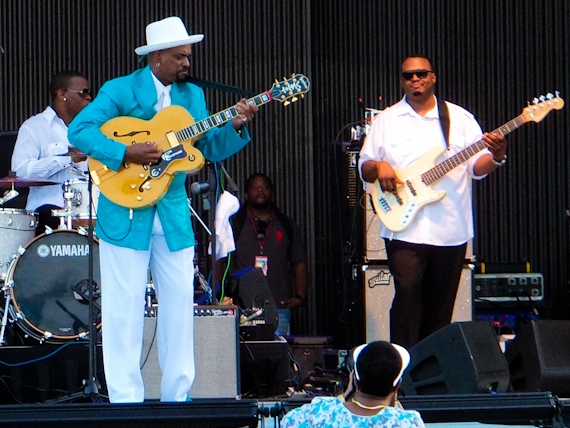 Topping the bill is Trombone Shorty, a local boy from New Orleans. I've seen him before but tonight he's outstanding. Switching from trombone to trumpet, he keeps his band tight on his classy arrangements of standards by James Brown and Ray Charles, as well as his own compositions. His display of circular breathing is some of the most impressive I've seen, and he moves effortlessly through his repertoire of funk, new Orleans jazz and R&B. He's very good indeed.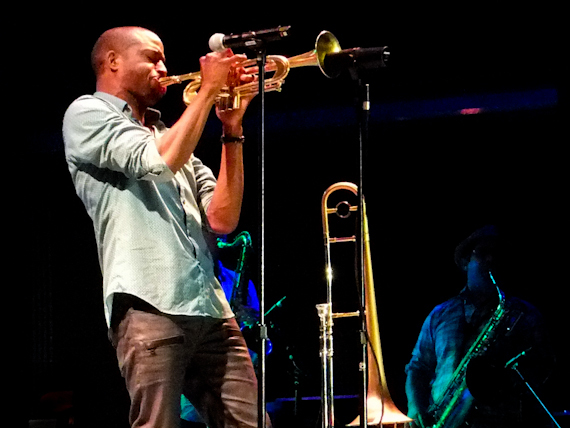 On these first two days, the music doesn't start until late afternoon which gives me plenty of opportunity to enjoy the sea and the sand. On Friday night, after spending rather too long at the beach, I arrive for alto saxophonist, Eric Darius. He's an excellent player, and certainly knows his stuff. For me there's not enough variety but he jumps off into the crowd and really does get them dancing.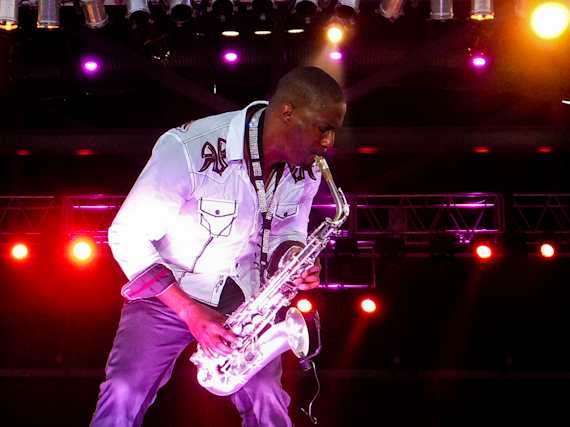 The headliner tonight is scheduled to be a trio of Jonathan Butler, Alex Bugnon and Norman Brown, but Norman has pulled out because of sickness. I get slightly worried when Butler starts off with a version of James Taylor's Fire and Rain, but he soon gets into his stride when keyboardist Alex Bugnon joins him. He's a classy player, originally from Montreux, Switzerland, and the influence of Herbie Hancock is clearly evident. A gospel feel creeps into the event when Butler talks about his love of Jesus, to the murmured halleluiahs from the audience, and it's a good way to end the evening.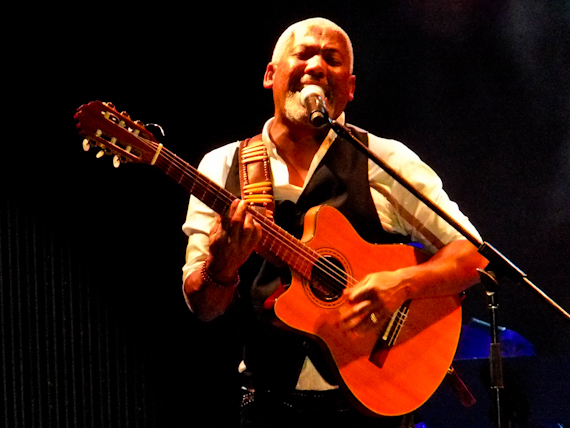 Saturday is given over to the popular keyboard player, Brian Culbertson, who's had over 25 number ones on the R&R, Gavin and Billboard Radio charts. I don't really know his work but he puts on a good show. Next is Will Downing, who I do know, and am pleased to hear his baritone voice is in good shape. He plays all his hits and, on Send for Me, he's joined by singer Phil Perry, who really does bring the house down.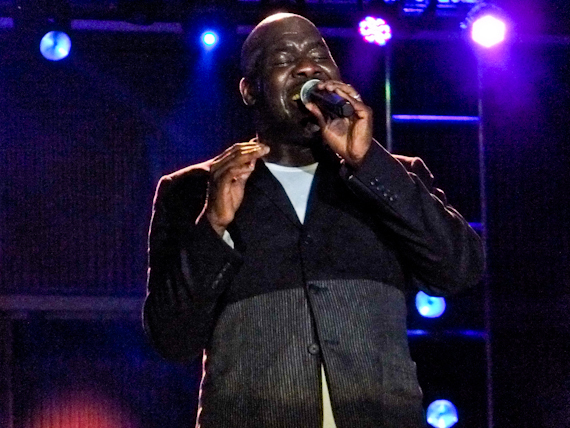 Sunday is the final day and I get there early to catch Jazz Funk Soul, a band led by Chuck Loeb, Jeff Lorber and Everette Harp. All are accomplished players and Loeb comes out with some awesome guitar, but it's the ensemble playing which makes this work. For me, it's easily the best set of the festival and raises smooth jazz to another dimension. I wish I could say the same about The Family Stone, who without Sly seem like a bunch of backing singers. They do their best in their psychedelic outfits but it really does seem like they're past their sell by date, although the crowd probably won't agree.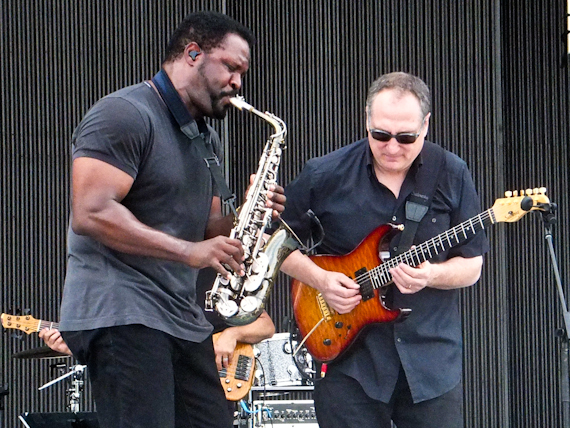 Four days of smooth jazz is probably not everyone's cup of tea, but this is mellow music, fairly easy listening, with a great vibe. There's plenty of accommodation nearby along the beach and it's easy to park. Activities during the day include snorkelling and scuba diving, or you can just lie on the sand and soak up the rays. Sun and smooth jazz really do go well together.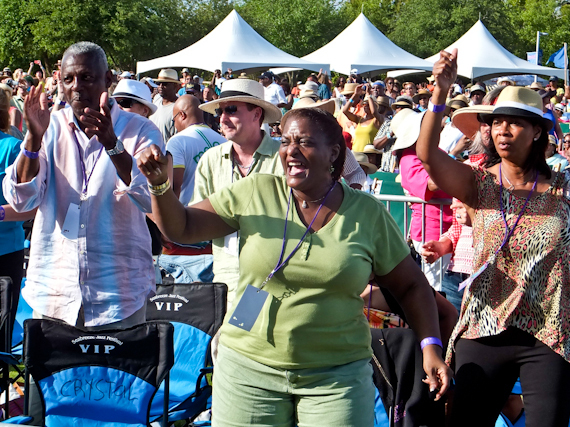 2015's Seabreeze Festival runs from April 22nd - 26th. 4 day tickets start from $200 per person.
Visit Panama City Beach has tourist information.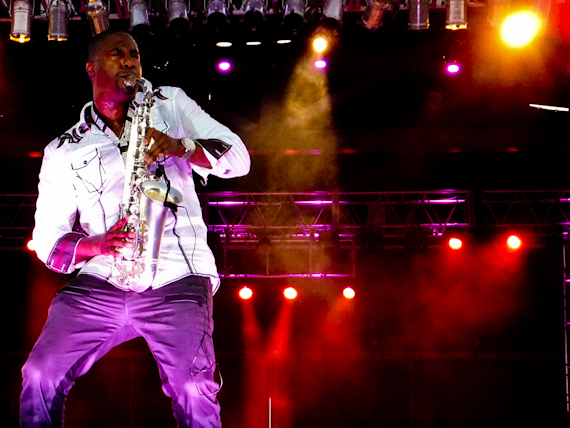 Wyndham Vacation Rentals has condominiums overlooking the beach from $169 per night.
Delta flies to Panama City Beach, via Atlanta, from London Heathrow.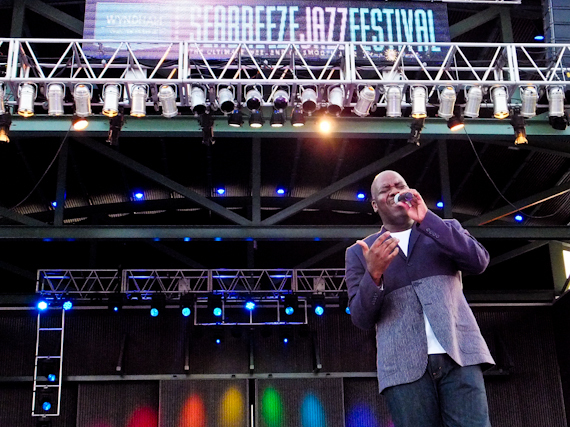 All pictures copyright Rupert Parker.