Four chefs, Raymond Blanc, Christophe Muller, Michael Moore and Guy Krenzer, with five Michelin stars between them, each prepare a course, complemented by wines selected by Baron Philippe de Rothschild.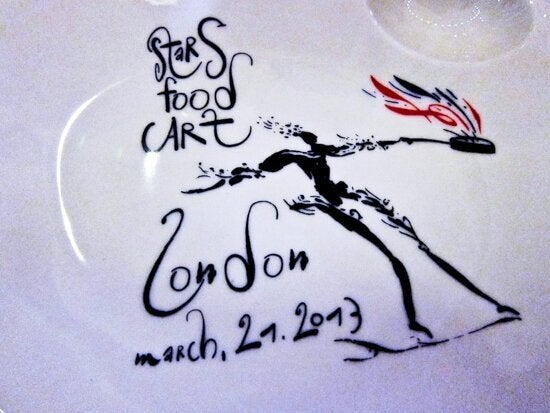 This event, Stars, Food and Art, has been held in various countries since 2007 but it's the first time it's come to London. I arrive at the Sofitel London St James to find a glass of Moet Vintage 2004 thrust into my hand by a classily dressed waitress with an elaborate beehive hairstyle. Indeed all the waitresses seem to have visited the hairdressers and they're also bearing exotic canapés. The art part of the evening is displayed on the walls and the event is being held in aid of The Royal Flying Doctor Service of Australia - Friends in the UK.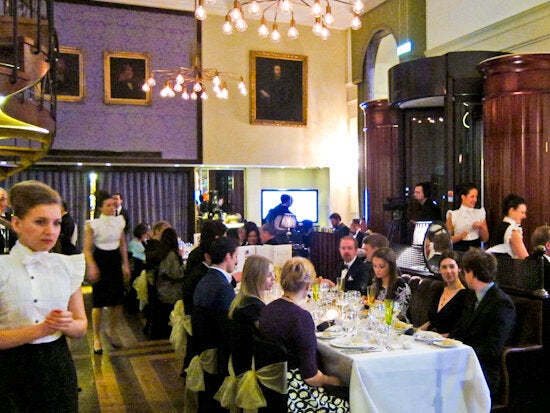 Dinner is announced and we all troop through to The Balcon dining room and take our places. Raymond Blanc has prepared the first course and he introduces his confit of salmon with cucumber and wasabi. Apparently the fish has been cooked at low temperature, around 40 degrees C, and it's moist and succulent. There's a dollop of caviar on the top, and it rests on a bed of cucumber with some squirts of wasabi on the side. Nothing to overpower the fish and the Réserve Mouton Cadet Graves Blanc 2011 matches it perfectly.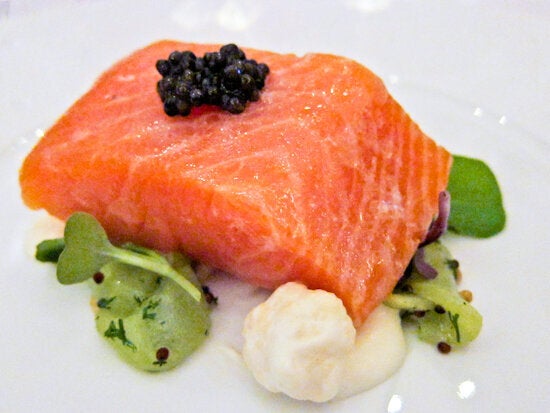 Next up is Christophe Muller of L'Auberge du Pont de Collonges where his boss is Paul Bocuse. He brings greetings from "Monsieur Paul" and explains that the lobster we are having is one of his classic recipes. It's been poached in Poully Fuissé which has half set into a glaze and is accompanied by a celeriac puree scented with ginger.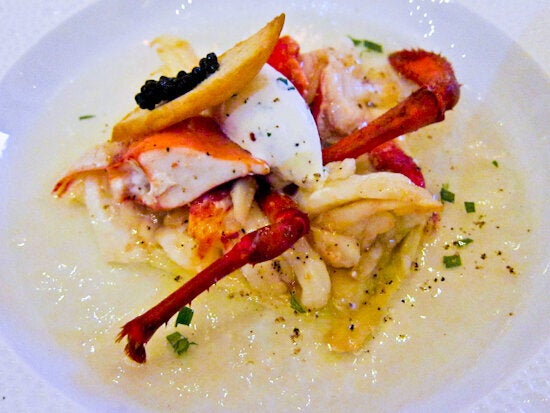 I must say this is the hit of the night and it's rare to savour such complex cooking. The Aile d'Argent 2008, Vin Blanc de Château Mouton Rothchild is also a good choice.
It's fitting, given that Australia is a beneficiary of this event that Michael Moore should have flown all the way here with his sous chef. Although he's originally from the UK, he now cooks at the O Bar and Dining, 47 floors above the Sydney streets.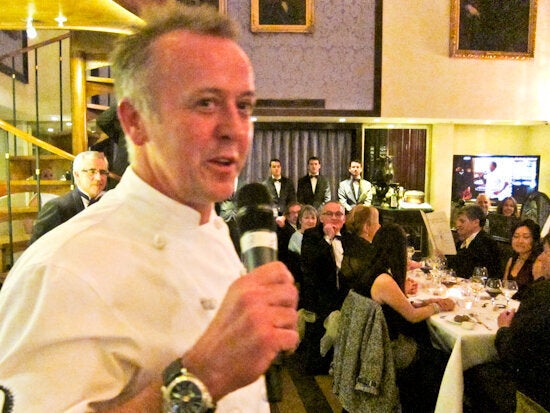 He's created what he calls a Black Dish with Angus short rib and fillet with black quinoa, black garlic, black salt, treacle and chia seeds. The fillet is rare and contrasts well with the long cooked rib, which melts in the mouth. The red is a particularly special Château Mouton Rothschild 1999, which seems to open up in the glass.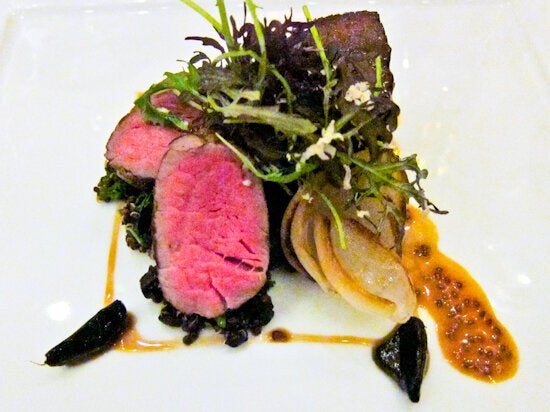 There's a slightly underwhelming cheese plate to follow, with a reserve Mouton Cadet Sauternes 2010, but soon we're being served Guy Krenzer's dessert which certainly doesn't disappoint. He describes it as dulce de leche, citrus granita and sabaillon and it's a sort of caramel on custard with crunchy bits and pretty good too.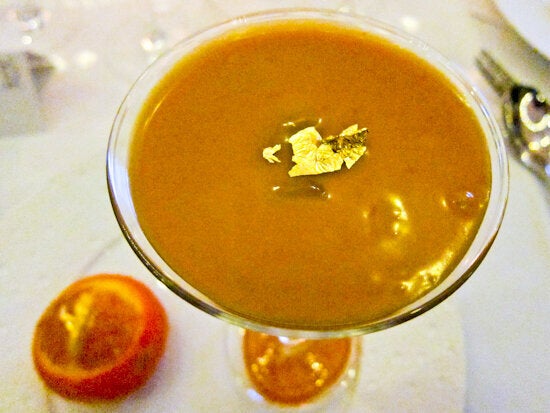 There's a nice touch with the granita, as it's frozen inside a hollowed out orange, and makes a fitting ending to an excellent meal. Service was excellent throughout and congratulations to everyone in the kitchen for making this work so well. I will be back to visit The Balcon Restaurant when the kichens are less hectic - they seem to know what they are doing, and the dining room makes it a memorable dining experience.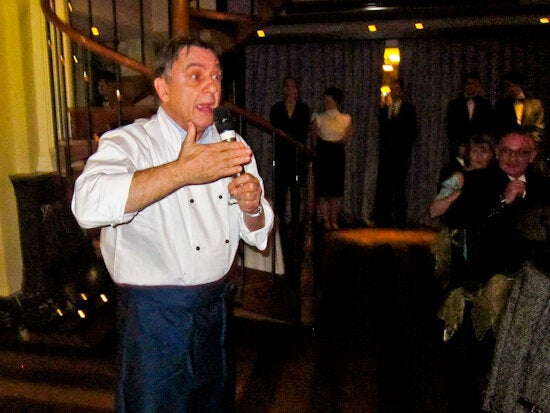 All pictures copyright Rupert Parker.