Only ten minutes from St. Moritz, the Nira Alpina Hotel, in Silvana, is right at the foot of Mt. Corvatsch and has direct access to its cable car so you can ski out and ski back in.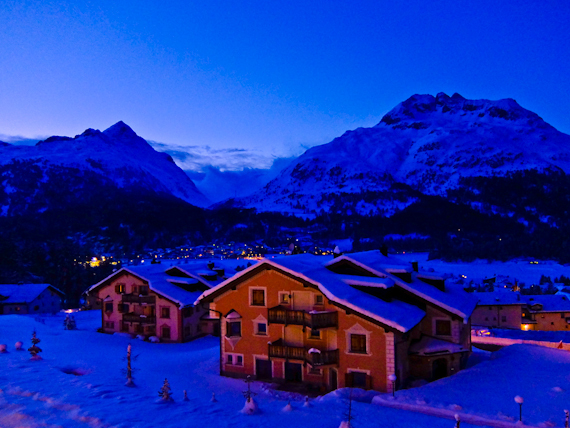 I love being in the heart of the mountains, waking up to stunning views and breathing raw alpine air so, at 1870m, the Nira Alpina seems to fit the bill. True, you're not mixing with the chic inhabitants of St. Moritz, or window shopping in its designer stores, but they're only 10 minutes drive away and I'm in the outdoors to get away from all that. All the rooms here look out onto the Engadin mountains and it's fascinating to watch the light change over the course of the day. The hotel is modern, completely refurbished in 2012 and is furnished in national materials including Swiss pine and Italian stone.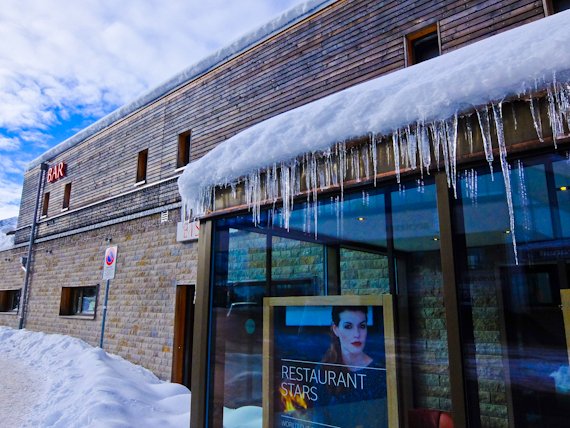 I'm fortunate to be in an Alpine Junior Suite and my favourite time on the balcony is early evening, at twilight when the lights are going on all over the valley. There's a living room and a separate sleeping area with a comfortable king size bed. Best of all, there's a small dressing room, ideal for throwing off your ski togs and getting into something more comfortable after a hard day on the slopes. Each modern granite bathroom has a deep bath and waterfall shower.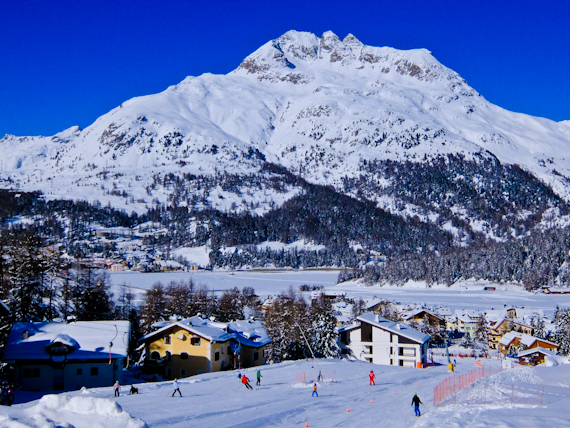 There's a choice of eateries here - you can sample après-ski, in the cosy wooden Pichalain shack, or tuck into Italian in their Trattoria. If you're after fine dining then the rooftop Stars Restaurant presents the best of world cuisine. I particularly like their slightly curried shellfish bisque with tamarind and lime leaf and the Tandoori King Prawns are not bad either. They also serve breakfast in the restaurant and the delicious breads come from their own bakery fresh every day.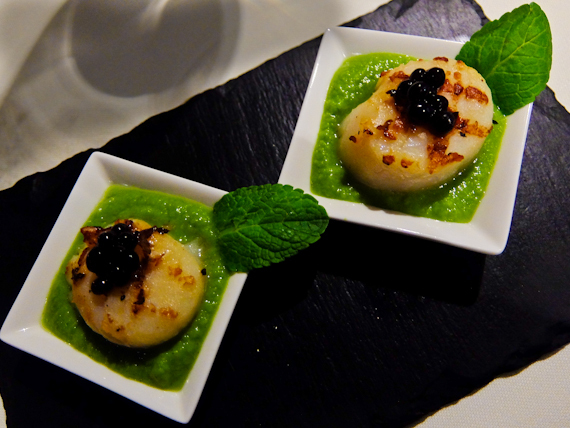 Snow Shoes
Not being in ski mode, I decide to try out snow shoeing as I've never done it before. The hotel arranges a guide who comes to pick me up and decides my boots are not up to the job. Fortunately he has a spare pair and I'm soon tramping through virgin snow further up the valley above Sils. It's important to use poles to help you get along, but the shoes are so light that you soon forget that you're wearing them. I realise how necessary they are when I stop for lunch, take them off, and find myself sinking down to my knees in the snow.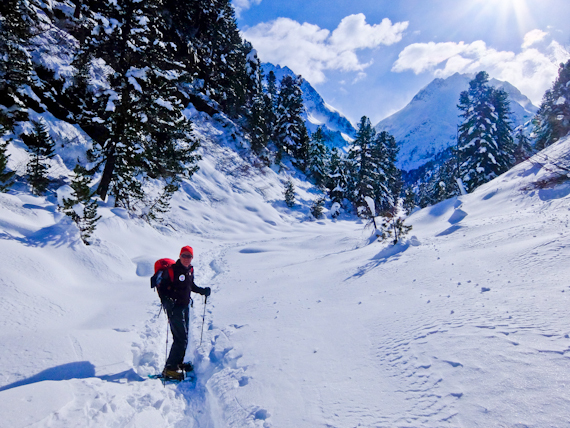 The whole hike takes about five hours, with the highest point over 1900m. Going down is tougher than climbing as you have to use the poles to stop you sliding. It's quite a tough walk and at this height some people suffer a mild form of altitude sickness. I certainly feel like I've done a day's work but, apart from general tiredness, feel no ill effects.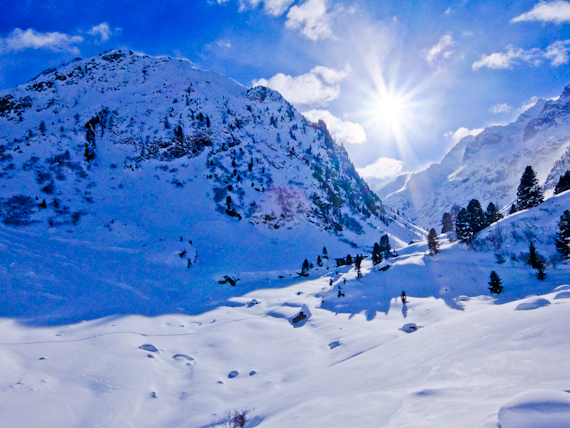 Corvatsch Mountain
Another excursion is to take the cable car up the Corvatsch Mountain and have lunch in the Panorama Restaurant, the highest in the Eastern Alps, at 3303m. They serve hearty fare and I start with a warming barley soup, a speciality of the region and follow it with Valtellina Pizzoccheri pasta with cream, cheese, vegetables and potatoes. Suffice to say that this piles carbs upon carbs, but I do manage get through it.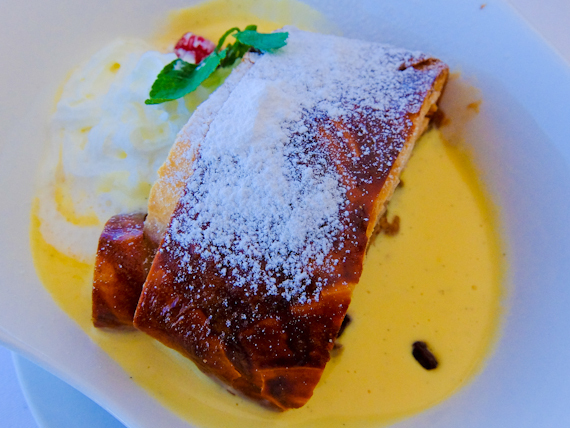 What finishes me is off the dessert of apple strudel with custard and ice cream. The food is designed, of course, to get you down the 4km ski run which leads directly from Corvatsch, over Hahnensee, to the Corviglia ski area in St. Moritz. Without my skis, I lamely take the cable car back and jealously watch the skiers descend.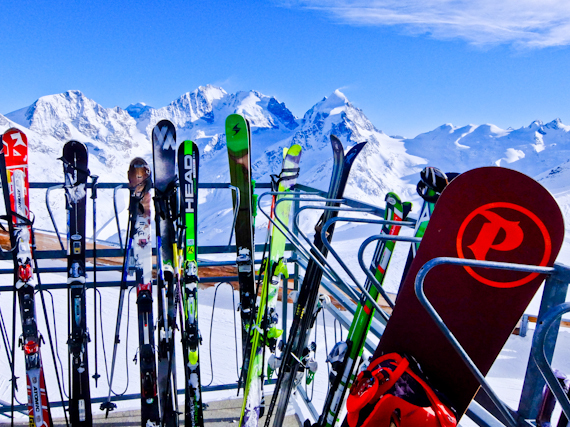 Although this area is marvellous in the winter, I get the feeling I'd enjoy it as much in the spring, or early summer, when the alpine flowers are beginning to bloom and the upper Engadin lakes are not frozen. Nira Alpina makes a comfortable base, particularly relaxing after a day of hard exercise. There are plenty of hikes from the hotel but, the opportunity to get a bit of help from the cable car, and start walking in the high mountains, is something that's going to bring me back here.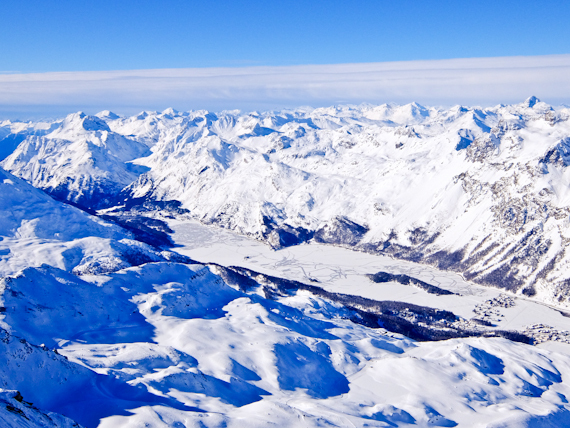 Nira Alpina
Via dal Corvatsch 76
CH-7513 Silvaplana, Switzerland
info@niraalpina.com
Phone +41 81 838 69 69
Fax +41 81 838 69 70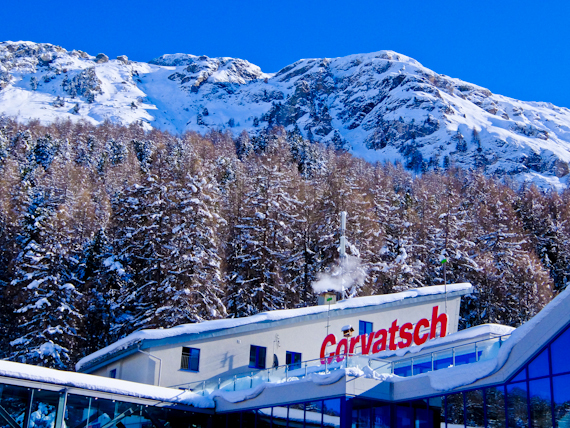 Tourism Engadin St. Moritz has information on the region.
My Switzerland has information about the country.
SWISS offers up to 86 weekly flights from London Heathrow, London City, London Gatwick (seasonal during winter), Birmingham and Manchester to Zurich. Fares start from £65 one-way. Fares include all airport taxes, one piece hold luggage and free ski carriage (exclude "hand luggage only" fare). For reservations call 0845 6010956.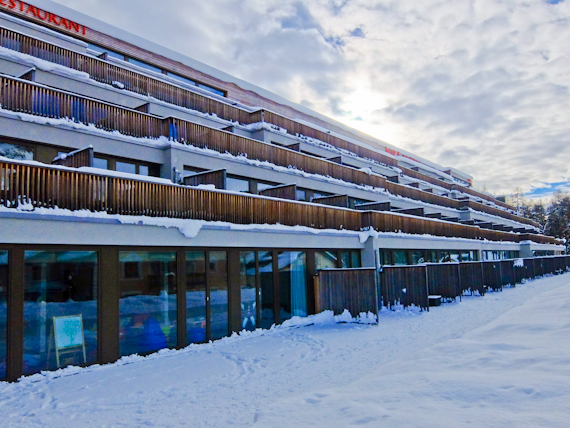 The Swiss Travel System offers a Swiss Transfer Ticket that covers a round-trip between the airport/Swiss border and your destination. Prices are £104 in second class and £167 in first class. For the ultimate Swiss rail specialist call Switzerland Travel Centre on 00800 100 200 30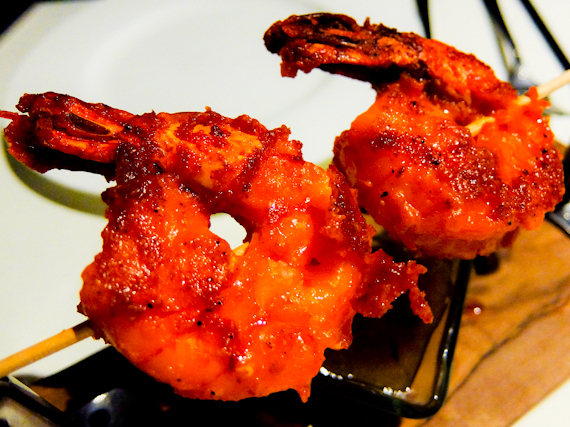 All pictures copyright Rupert Parker