Swiss winter tourism was invented 150 years ago by the British in St. Moritz so it's fitting that this year's Gourmet Festival invited 9 UK Chefs to create a "British Edition".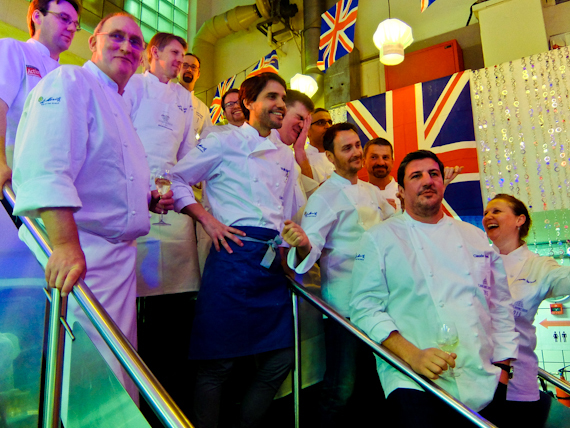 I can't believe this is happening. I'm in the subterranean kitchens of Badrutt's Palace, it's 10.30 in the evening and it's crammed with people. There's a jazz band playing and there's not just one, but nine chefs cooking with a total of 11 Michelin stars between them, and I'm allowed to sample as much as I want. This is the St. Moritz Gourmet Festival Kitchen Party and, as you can imagine, it sold out months ago. After all, where else can you observe master chefs cooking at such close quarters, chat with them as they're working and then dig your fingers in and taste their creations?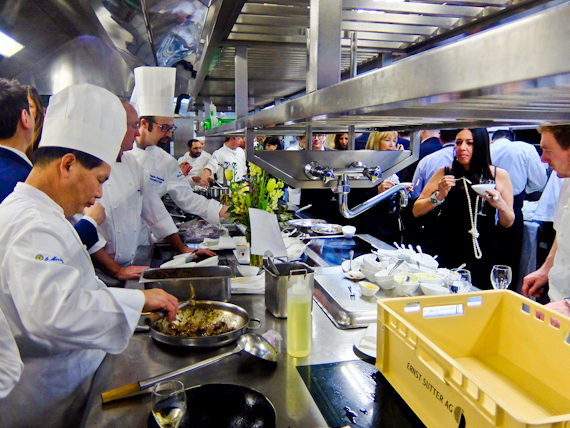 I've already had a taster at the Grand Opening at the Kempinski where each chef prepared two tapas size dishes to sample. Black truffle and scallops were very much in evidence and I particularly liked Claude Bosi's Foie Gras ice cream. Here in the kitchen he's serving up gourmet sausage rolls, an archetypal English snack, doubly ironic since he's French. I think that it's his little joke and he tells me he's here because he wants to show the world how British cooking has changed for the better. I must say that his dinner at Badrutt's Palace, serving up some of the greatest hits from his restaurant Hibiscus, is one of my highlights of the festival.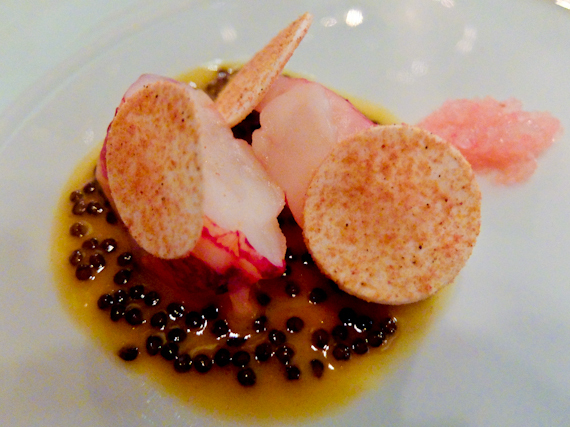 He's also a keen skier and every morning, during the week, he and Jason Atherton, the talented chef from Pollen Street Social, make the most of their time here and take a quick spin on the slopes before getting down to work. The weather is kind and I also take advantage by spending my days hiking in the surrounding mountains before settling down to tackle mammoth 6 course tasting menus. Highlights include Jason Atherton's Jerusalem artichoke soup with cheese and scallops, Claude Bosi's sweetbreads with Nashi pear and liquorice and Martin Burge's hot smoked salmon flakes, in a celeriac consommé.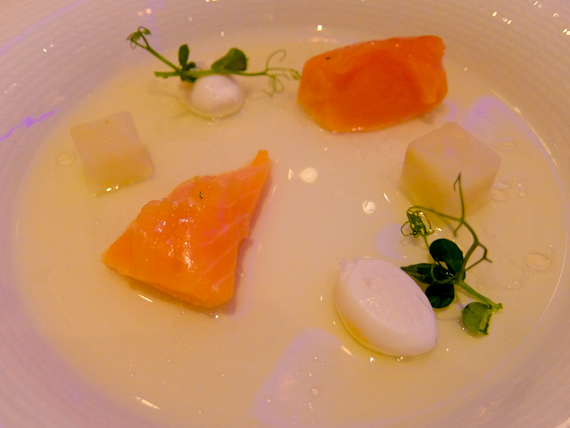 The idea is that each chef stays in town for the whole week and takes up residency in a hotel, preparing dinner each night. Angela Hartnett is at the Carlton, Chong Choi Fong at the Kronenhof, Virgilio Martinez at the Giardino Mountain, Jason Atherton at the Schweizerhof, Nathan Outlaw at the Waldhaus, Isaac McHale at the Kempinski, Atul Kochhar at the Kulm, Martin Burge at the Suvretta House and Claude Bosi at Badrutt's. True to multi-cultural Britain it's good to see Indian, Chinese and Peruvian food represented and indeed these dinners seem to attract the most attention from the locals.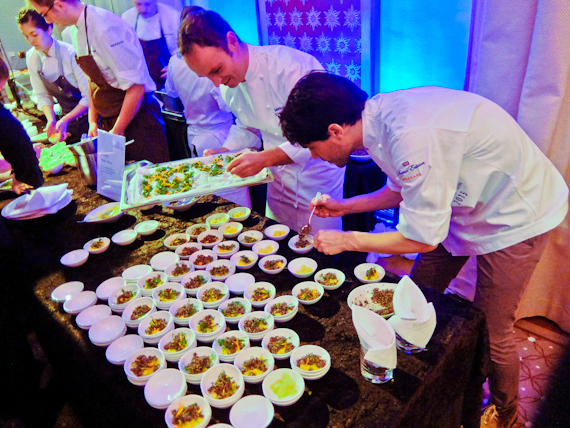 I'm interested to find out how you manage cooking food of this calibre in a strange kitchen. They've provided ingredient lists beforehand which have all been fulfilled so there's not a problem with the provisioning. Also most have brought a couple of their staff with them to act as their left and right hands. In a place where not everyone speaks English, Angela tells me she usually latches on to one person, learns their name, and turns to them if she has a question. Jason says that he's cooking dishes from all his restaurants and feels firmly in his comfort zone. This is the secret, Claude divulges, always cook within the limitations of the situation, otherwise you'll be caught out.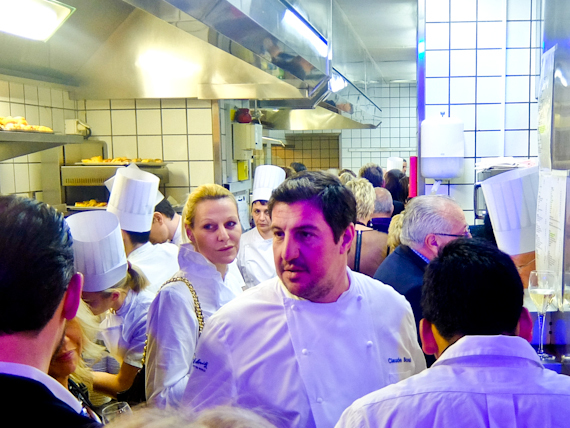 It's not all about big dinners. Also on offer are gourmet safaris, where you're chauffeured between 5 kitchens with a different course in each, or a daily caviar and seafood blizzard on Corviglia, the local St. Moritz mountain, at an altitude of 2486m, cooked by master chef Reto Mathis. There are chocolate workshops, afternoon teas and champagne tastings and of course a Grand Finale. This is the event where the 9 chefs each cook a dish and the Kulm Hotel is turned into a replica of Buckingham Palace, complete with cocktail reception and gala dinner.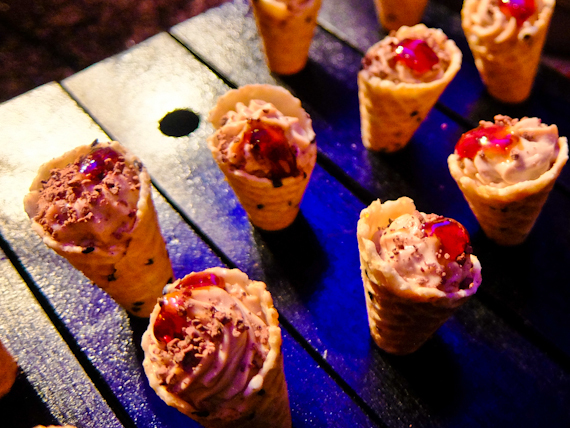 I'm not going to be there. After four days, I feel as if I've eaten my fill and decide to take the train out of town and get back to some sort of normalcy. It's great to have been enveloped by the bubble of St. Moritz, lived like royalty for a few days and shared my experiences with some of the world's best chefs. And, after all, I reflect, I can still dine out on their food on my home turf in London - and there's no need to take the plane and the train and shiver in the snow.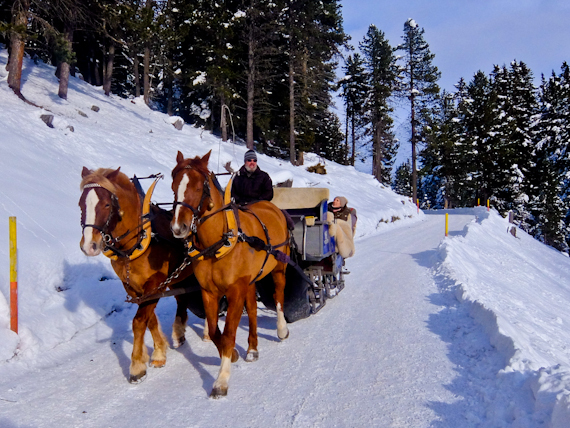 The St. Moritz Gourmet Festival is an annual event.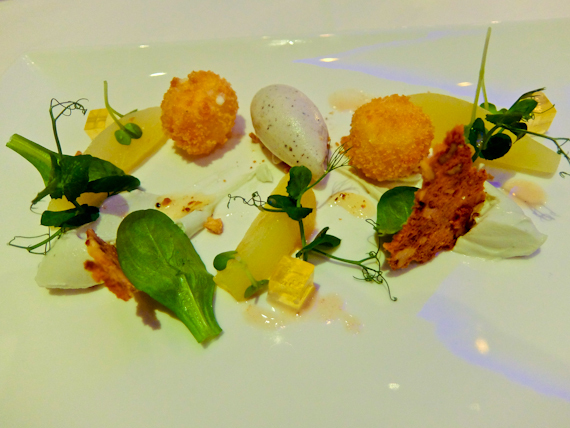 Tourism Engadin St. Moritz has information on the region.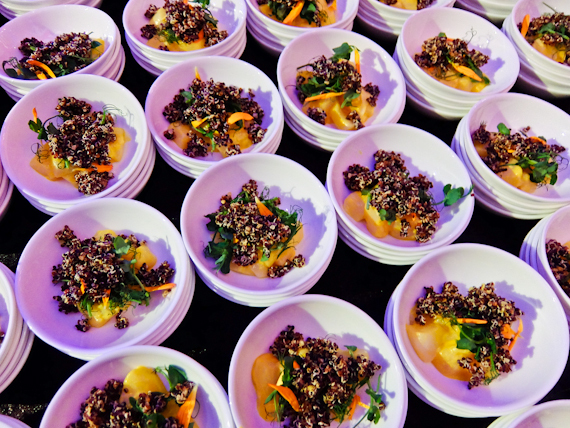 My Switzerland has information about the country.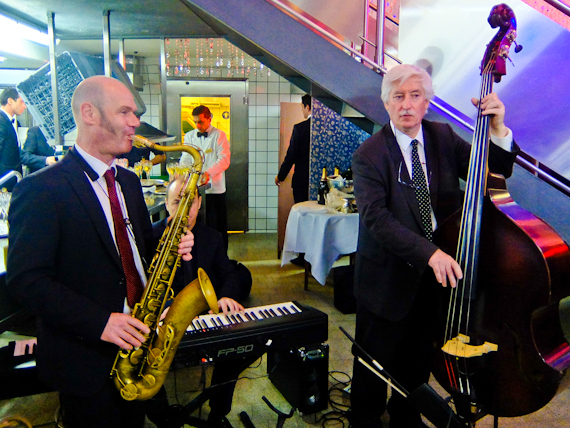 SWISS offers 19 daily flights from London Heathrow, London City, Birmingham and Manchester to Zurich. Fares start from £147 return, including all airport taxes, one piece hold luggage and free ski carriage.
The Swiss Travel System offers a Swiss Transfer Ticket that covers a round-trip between the airport/Swiss border and your destination. Prices are £96 in second class and £147 in first class.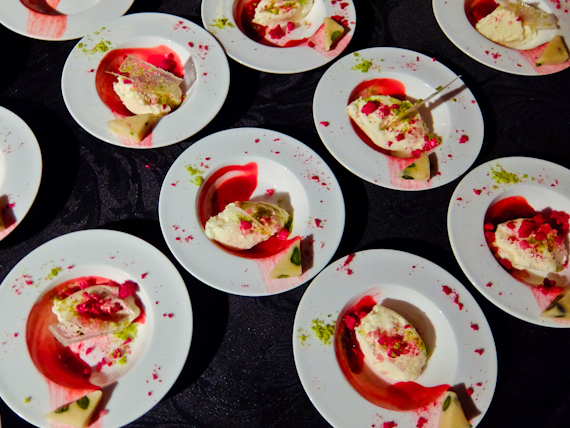 All pictures copyright Rupert Parker.