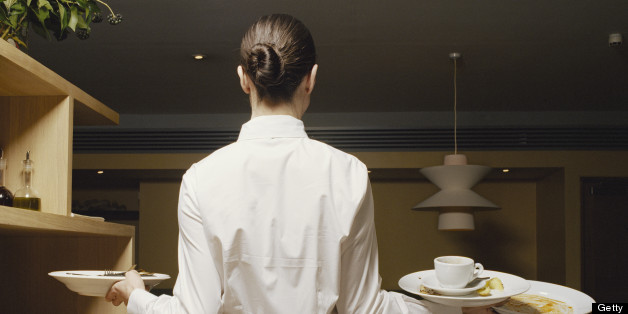 Getty
As a restaurateur operating a number of restaurants that work on a 'walk-in only' basis, the question I get asked more than any other is: "Why don't you take reservations?"
My answer occasionally surprises people: "Our restaurants do take reservations; in fact you can book more often than not" (of the five restaurants we operate, 4/5 take lunch bookings and you can book dinner at 2/5). But I usually find that people don't want to hear that answer. What they really want to know is why they can't reserve a table for six on Friday night for Alice's birthday. It's a fair question.
Casual neighbourhood restaurants have a responsibility to do two things: be casual and serve the neighbourhood. It is unlikely that Alice's group of six will take a long journey to the West End on a whim for a celebratory meal at a restaurant that does not take bookings. They will, quite rightly, choose one where they can reserve (and, incidentally, so would I.) This allows the no-res place to stay open for casual diners who live, work or play in the area and will pop in on a whim.
A common complaint is that not taking bookings is a trend and that too many restaurants are jumping on the bandwagon. Well, I'm afraid it is not a trend at all. Casual no-reservation diners such as Anchor and Hope, Barrafina, Busaba Eathai, Relais de Venise L'Entrecote, Tapas Brindisa, Vinoteca and Wagamama have been doing the casual 'no bookings' thing for decades. Additionally, of the 12,000 restaurants that currently operate in London, I can think of only 50 or so that don't take reservations. That's 0.4% folks - hardly a bandwagon.
I think some people are put off by long queues they expect to find at many places that don't take bookings. No-one likes to queue, including me. But if there is somewhere warm and dry where I can enjoy a drink or two while I chat and wait, then what's the problem? It's part of a night out isn't it?
"But what if there are always long waits at the place I want to go to?" I know. It can be frustrating. But I tend to eat at Spuntino at lunchtime because I know you can always get a seat straight away. I always avoid 1pm at Koya because it's their busiest time. I head for Barrafina at 6pm to beat the queues. Popular restaurants are going to be hard to get into whether they take reservations or not. Interestingly, it is often the same people who complain about the long waits at Polpo, Pitt Cue Co or Bone Daddies that protest with exasperation and indignation that they can't get a booking at Dabbous or Balthazar...
What we need is more good restaurants operating on a no-reservation basis so that choice is greater, queues are shorter and the power balance then shifts towards the customer.
Finally, if you can bend the rules, then do. When Matthew Norman reviewed 10 Greek Street in the Daily Telegraph he spent the obligatory opening paragraph whining about restaurants that don't take bookings and then revealed that he'd pulled some strings and got a reservation anyway! Some restaurants will always make exceptions for neighbours or regulars. I remember talking to Ken Friedman about this a few years ago. The Spotted Pig NYC (which he co-owns) famously does not take reservations and Ken was telling me that Bill Clinton is a regular customer. I asked Ken if Clinton waited his turn like everyone else. "Of course not, we sit him straight down." I asked him what he tells customers who complain that someone is jumping the queue. "What do I tell them? I tell them that he was the fucking President of the United Fucking States. That's what I tell them."
The Huffington Post UK are proud media partners of Wilderness. Check back here for more exclusive blogs, competitions and stories soon. For tickets to the event click here: www.wildernessfestival.com
Watch a trailer for this year's Wilderness and check out some pictures from last year below...