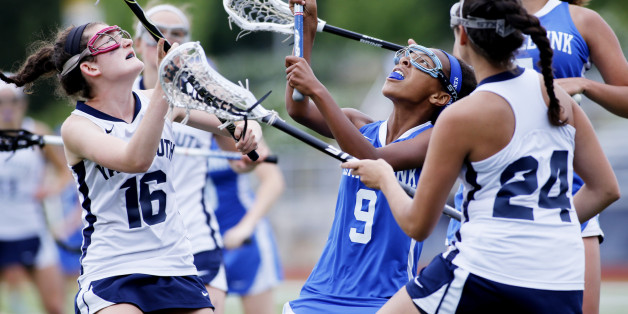 Portland Press Herald via Getty Images
Phew, it's hot!
Every day at the moment we seem to be breaking records - the hottest day of the year so far; the hottest June in the last 40 years... you get the picture. Even within the weather forecast, it seems, we love a good statistic. The 'biggest', 'smallest', 'hottest', or more often in this country, the 'wettest' somehow provides a context that helps us understand our experience.
Every news story needs its statistics - so how about these for a compelling story:
The gender gap in sport, the difference in the numbers of men and women playing sport once a week, is closing - but still stands at a whopping 1.5m more men than women playing sport once a week.
Half of the National Governing Bodies of sport, when surveyed last year, still had less than 30% women on their boards.
And shockingly, only one in five girls do enough exercise to stay fit, happy and healthy according to the latest Health Survey for England.
Sadly these statistics are just the tip of a very big inequality iceberg. Which is why Women in Sport has once again joined forces with Sport England, Department for Culture Media and Sport, the BBC, Sky Sports and British Rowing to create the third annual Women's Sport Week campaign. Our shared goal is to raise the profile of sport for and with women and girls; encouraging them to take part, advising the sport sector on how to provide a sport offer that is engaging and relevant to women and girls in 2017 and challenging persistent gender stereotypes in sport.
This Women's Sport Week, otherwise known as #WSW2017 - because everything needs a hashtag these days as well as a good statistic - is vital. Vital because sport is so important to our lives - and it's critically unfair that women and girls at best miss out and at worst are often actively discriminated against when it comes to sport.
That said, in the current climate of terrorist attacks, political uncertainty and the tragic events which unfolded last week in West London, I wouldn't blame you for challenging my statement about the importance of sport.
But I don't make such a statement lightly. Sport is a unifying force - and perhaps now more than ever we need to focus on the things that bring us together. Sport and physical activity keep us fit and healthy and empower us to be the best version of ourselves.
Getting women and girls active at levels that match those for men will contribute to reducing the crippling burden of ill health facing the NHS. And team sports in particular embed in us and our children a set of skills that are so desperately needed in society: cooperation, team work and resilience to name just three.
Women in Sport is a national charity which works with partners across the country to help embed sport in communities and women and girls' lives; to make it "normal" to be physically active and to educate people about the attitudes and barriers women and girls can often face, when choosing or contemplating taking part in sport.
It's easy to think that sport is just the thing that 'sporty people' do for fun - but the reality is so much greater than that. Sport and physical activity are essential to a strong society and women deserve access and involvement to the same degree as men.
So whilst we have this glorious weather (fingers crossed it's still glorious when this is published) why not check out #WSW2017 and help us get more women and girls active and make this your own scorching summer of women's sport.
Support Women in Sport's fundraiser on Friday 23 June by wearing your sports kit to work. Full details: womeninsport.org