Autumn is here. No matter how long we try to make the summer last, eventually those cold nights are going to creep in and leave you us pining for the longer days and sunny skies.
But have no fear - this pie will make the seasonal changes a little more bearable. The tangy fruitiness will give you that summery feeling while the warm, buttery pastry will help you forget the bad weather.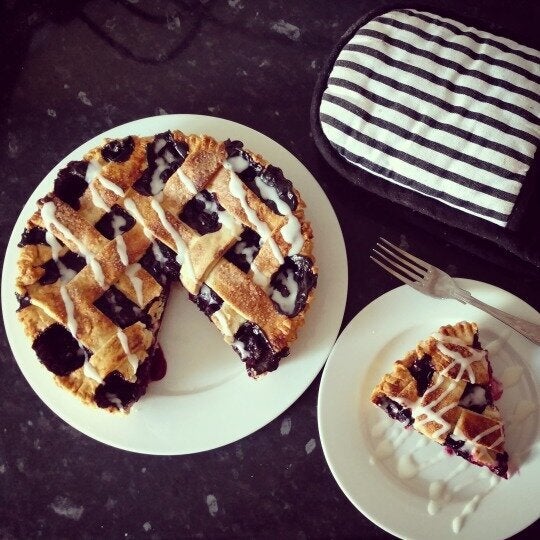 I'm a big believer that blueberries are one of the greatest fruits available, and they go super well with lemon. So, I thought I'd combine the two into a nice, summery pie to celebrate the end of my favourite season.
This is a super easy recipe, and it's also a crowd pleaser.
For the pastry, you will need:
2 1/3 cups or 375g of plain flour
2 tbsp of granulated sugar
3/4 cup or 200g of unsalted butter, chilled and cut into cubes
Around 5 tbsp of cold water
For the filling, you will need:
1kg or 2lb of blueberries
1/3 cup or 40g of plain flour
1 tbsp cornflour (corn starch if you're American)
3/4 cup or 150g of granulated sugar
1/2 tsp of vanilla extract
For the eggwash, you will need:
For the lemon drizzle glaze, you will need:
~1 cup or 125g of icing sugar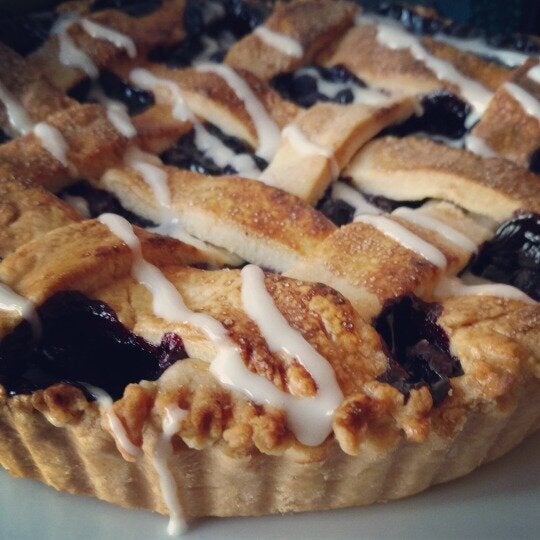 1. Preheat your oven to 200 degrees Celsius or 400 degrees Fahrenheit.
2. Put the flour, sugar and salt in a large bowl and work the cubes of chilled butter into it using your fingertips until it resembles fine crumbs. Add the egg and lemon juice and mix together, adding the cold water 1 tablespoon at a time until the dough comes together. Wrap it in plastic wrap and pop it in the fridge for 30 minutes.
3. Put your blueberries into a large bowl and add the flour, sugar, salt, cornflour and vanilla. Give it a good mix up and make sure everything is evenly coated.
4. Dust a clean surface with flour and roll out 2/3 of your chilled dough to a disk about 1cm thick. Grease a 12-inch pie tin with a little butter or oil and dust with flour, then lay your rolled dough into it and press it into the dish. Trim your edges and crimp if necessary, then roll out the rest of the dough and cut into strips. Make a grid on the top and use a bit of cold water to glue them to the pie base.
5. Beat together the ingredients for your eggwash then use a pastry brush to brush it onto the lattice on top of your pie. Sprinkle over a little granulated sugar and put in the oven for 10 minutes before turning it down to 175 degrees Celsius or 350 degrees Fahrenheit for 50 minutes. Turn the oven off and let it sit there for at least 30 minutes.
6. Stir the juice of a lemon into your icing sugar, adding a little more icing sugar if it's too loose. Once the pie is cooled, use a spoon or a piping bag with a small tip to drizzle it over the top.