Slutty brownies are so non-PC. It's time to have a rethink, and what better way to do it than by turning them into cupcakes?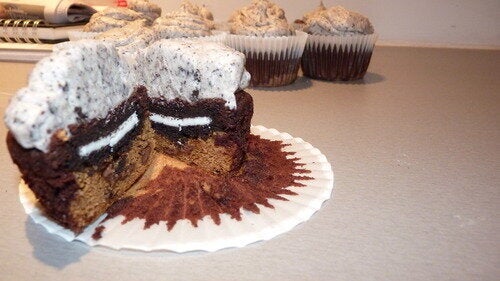 With a decadent, chewy bottom layer of cookie and a rich chocolate top, these little bitesize bundles of joy even have a hidden surprise in the middle - an Oreo cookie.
But the fun doesn't stop there, you've also got a delightful vanilla and Oreo buttercream on top of all that ooey-gooey-chewy wonder!
Yeah, these things are incredible. Even better than they look. All other cupcakes may as well give up and go home right now.
1/2 cup or 117g of softened unsalted butter
3/4 cup or 150g of brown sugar
1 1/3 cups or 170g of plain flour
1/2 cup or 100g of chocolate chips
1. Preheat oven to 350 degrees Fahrenheit or 175 degrees Celsius.
2. With an electric whisk or a ridiculously muscly forearm, beat the butter and sugar together until light and fluffy. Throw in the egg and vanilla and mix until combined.
3. Sift in the flour, baking soda and salt and mix until combined before folding in the chocolate chips.
4. In a muffin tin lined with cupcake cases, put about 1 tbsp of cookie dough into the bottom of each liner. This dough should be enough for around 24 cupcakes.
5. Use an Oreo to flatten out the cookie dough in each one. Set the cupcake tin aside and move on to the brownie mix.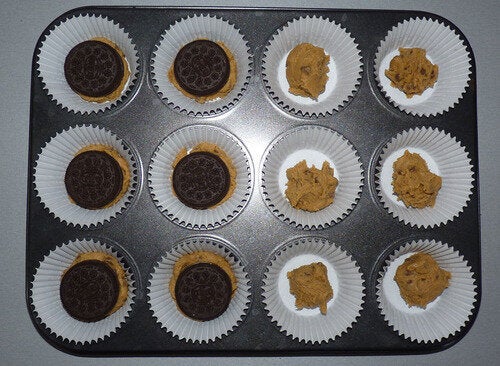 1 1/8 cups or 140g of plain flour
1/2 cup or 60g of dutch-processed cocoa powder
3/4 cup or 150g of brown sugar
1/2 cup or 120ml warm/room temperature black coffee
1/2 cup + 1 tbsp or 140ml of heavy cream
1/2 cup or 117g of butter, melted
2 tbsp or 40ml sour cream
1. Whisk the egg and sugar together until smooth. Add your milk, heavy cream, vanilla and melted butter and mix, followed by the sour cream.
2. Sift the flour, cocoa, baking soda and salt into the mixture and mix until you have a smooth batter. Slowly stir in the coffee.
3. Add around 1/8 cup or 30ml of batter to each cupcake liner.
4. Bake in the oven for 15-18 minutes and let cool completely.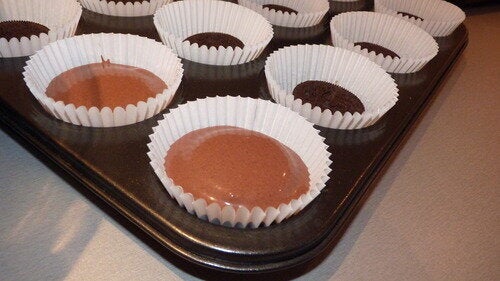 1 cup or 225g of butter, softened
3 1/2 cups or 500g of icing (powdered) sugar
1 cup of coarsely crushed Oreos
1. Using an electric mixer, beat a small amount of powdered sugar into the butter and continue to add.
2. Add the vanilla and milk. Once incorporated, beat for around 3 minutes. The frosting should hold stiff peaks and be pipeable. If not at the desired consistency, add more milk or icing sugar as needed.
3. When your frosting is at the right stage, crush your Oreo cookie pieces into a coarse dust (you'll need about 1 cup but the specific amount doesn't matter too much) and mix it into the frosting.
4. Pipe the buttercream onto your cooled cupcakes and upgrade your gym membership because these things are irresistible and they WILL cause a shock on the scales.