Savoury cupcakes are an idea I've wanted to try for a long time. Something about the thought of combining bacon with cupcakes is culinarily arousing, but I never really liked those recipes that tried to turn bacon sweet. I've tried maple bacon ice cream, candied bacon, bacon donuts and lots more - but they never really did it for me.
So I decided to go down the totally savoury route. A treat that looks like a cupcake but tastes like a meal. After a bit of tweaking, this recipe has yielded some truly delicious results.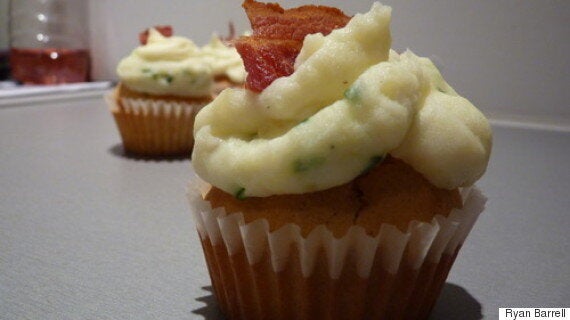 Cornbread always reminds me of proper Lumberjack-style places. American BBQ joints and stuff. So does the combination of potato, sour cream and chives. Everything about it just screams 'steakhouse'. You'd be mad not to try these - people go crazy for them!
Makes 12 savoury cupcakes
For the cornbread muffins
3/4 cup or 95g of cornmeal
1 1/4 cups or 155g of plain flour
3/4 cup or 180ml of whole milk
1/2 cup or 117g of unsalted butter, melted and cooled
2/3 cup or 35g of sun-dried tomatoes, chopped
1 cup or 175g of sweetcorn
1. Preheat the oven to 350 degrees Fahrenheit or 180 degrees celsius. Line a muffin pan with paper liners ready to spoon your mix in later.
2. Mix together the cornmeal, flour, baking powder, sugar and salt and set it aside.
3. In a separate bowl, whisk the honey and the milk with your eggs. Add corn, garlic and chopped sun-dried tomato. Once mixed, put that and the melted butter into the dry ingredients and stir.
4. Mix until just incorporated and fill your cupcake liners to almost full. Bake for 17-20 minutes, or until the tops are golden brown. Cool the muffins for a few minutes in the pan before moving them to a wire rack.
2 medium sized potatoes (around 1 lb or 450g)
2 tbsp or 40ml of sour cream
1 small bunch of chives, chopped
1 tbsp or 20ml of whole milk
1. Peel and cube your potatoes and put them in a pan, filling up with water until they're just covered. Put the pan on a high heat and bring to the boil, then reduce the heat and simmer for 20-25 minutes.
2. Strain the water off, leaving a little bit at the bottom. Lightly mash in the pan before transferring to a bowl and adding the rest of the ingredients.
3. Give it a really good mash and season with salt and pepper before piping onto your muffins.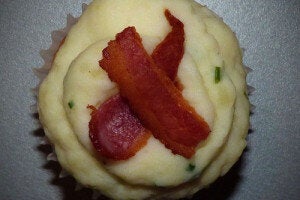 4 rashers of thin-cut streaky bacon or pancetta
Fry the bacon until crisp and let cool on some kitchen paper. Soak up as much of the excess oil as possible before cutting each piece into three shards and garnishing.