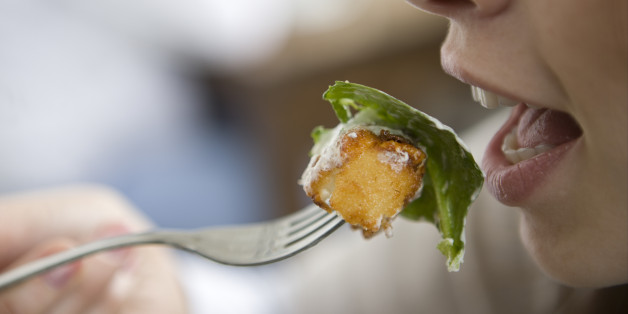 webphotographeer via Getty Images
Three years ago my life changed forever when my mother, Krista, lost a two-year battle with cancer.
During chemotherapy, she lost her hair, of course - her eyebrows went first, then the rest. But losing her sense of taste was the final straw. Everything she ate after that point resembled cardboard, she said.
The homely dishes she had loved cooking for us - her wonderful lasagne or Thai curries - had become like ashes in her mouth. Somehow being disconnected from food in that way, losing out on one of life's most important and sustaining pleasures, was among the hardest things our family had to bear.
That's why I'm launching Life Kitchen, a charity project to offer something new for people living with cancer, in Mum's memory. I'm aiming to raise £10,000 to get started, and you can help by backing it on GoFundMe.
Shortly after my mother was diagnosed with small-cell lung cancer in 2011, she and my dad renewed their wedding vows at a service in Spain in front of the whole family.
As we were about to eat afterwards, Mum picked up an apple from the table and took a bite. Her tastebuds were so dulled by that point, she didn't realise that it was in fact a skinned onion. We laughed at the absurdity of that moment, but it showed how severe her problem had become.
On December, 8, 2013, at just 47, Mum lost her battle. She had fought bravely, though the odds had been against her. Losing her hurt me terribly, but I slowly began building a career in food writing and styling - a move, I think, partly inspired by her. In an attempt to stay close to her, I still cook dishes from my childhood to find comfort and to remember her by.
The bitter memories of my mother's struggle to find pleasure in food during treatment have stayed with me ever since. I knew I wanted to do something for other people in her situation, and so Life Kitchen will offer cookery classes for people living with cancer, and their families, focusing on taste, flavour and nutrition.
Having announced the idea on social media a couple of weeks ago, I've been bowled over with offers of support and friendship from stars of the food world including Nigella Lawson, the Evening Standard critics Grace Dent and Fay Maschler, Chantelle Nicholson, chef patron of Marcus Wareing's Tredwells restaurant, and a host of others offering to teach our classes.
On our fundraising page we've raised almost £2,000 of our target. Our first class in London will be launching soon, with logistical support from cancer charity Macmillan, which was a great help to my mother during her illness.
But we have much further to go. I would be honoured if you would consider backing Life Kitchen and help us to help people living with cancer to find pleasure and joy in food again.
The classes will be a ray of light in which people can find new friends and share happy experiences in what can be a worrying and difficult time. With your help, no one will have to repeat the experience my mum went through. Please visit gofundme.com/LifeKitchen to find out more.