I love visiting eateries that have been recommended by others whether that is through websites or verbally.
It's a good starting point and stops me from wandering around aimlessly trying to find a place to eat.
But sometimes when you have more time on your hands and you fancy working for your lunch and heading beyond the beaten track, it's worth taking a gamble.
I was spending a couple of days in Edinburgh pottering along The Royal Mile and fancied eating in places that weren't dominated by tourists.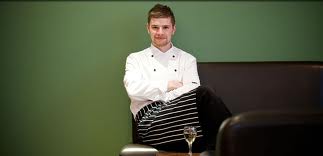 My first stop was dinner at Michael Neave's Kitchen and Whiskey Bar, a place I found along the top of a hilly road just off The Royal Mile.
The place is split into two floors with the swanky bar on the street level and the restaurant in the basement.
According to Michael - the owner and young chef - no restaurant in Scotland is complete without a whisky bar.
And indeed the Whisky menu was almost longer than the food menu!
But Michael is passionate about food - especially Scottish produce - which is displayed on his fine menu.
He has met the growers, the farmers, and the fishermen to bring some amazing creations to the plate.
There is plenty to tantalise your taste buds and perhaps even try something new.
Wood Pigeon with pear and a bacon and mortlach sauce, or Rabbit and prune terrine with tomato Confitt are the kind of dishes that feature on the menu.
And if you want to sample a number of dishes without feeling the pinch in your wallet, the restaurant offers express lunches at just £7.95 which includes a starter, main meal and a coffee and brownie to go.
I settled for the salmon fillet with brown shrimp veloute served on a smokie fish cake and crispy leeks.
The salmon was flaky and the shrimps nice and crisp - just the way I liked the them - and presented in the most artistic way.
The next day I was on the search for a good lunch so I walked to the end of The Royal Mile and continued onto Cannongate.
Indeed it was a place where the locals lunched I soon realised (I couldn't help eavesdropping).
The décor is clean and fresh following a recent refurbishment I find later but very intimate and inviting.
Wedgewood has a policy of not rushing its diners and I was told of this immediately after being shown the menu.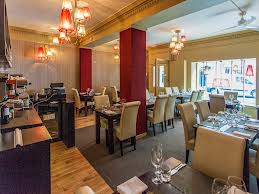 The lunch menu changes daily depending upon the seasons and local weather, which tends to dictate what ingredients are available each week.
Paul Wedgewood - co-owner and head chef - gains inspiration for his style of dishes from regular travels around the world.
And indeed the menu reflects Paul's creativeness.
There were many dishes I wanted to get my teeth into but eventually settled with diver caught scallops, with cauliflower korma, pistachio and peanut dust, pineapple and capers.
With the leisurely lunch out the way, I was back on the street to explore the road further and ended up sniffing out The Fudge House, not too far away from the restaurant.
It's been established since 1949 and has awesome flavours like praline and Drambuie and Chai Latte.
The lure of the sweet smell in the air was clearly too much and as tempting as the unusually sounding desserts sounded in the restaurant - Honey Roast Parsnip crème brulee with thyme ice-cream, chocolate and peanut butter mousses, hazelnut and blue cheesecake with spiced poached pear - skipping the temptation the second time around proved to be too much.
My final meal of the weekend took me some two miles from the centre to an Indian restaurant called Voujon in the Newington area of Edinburgh.
The fact that the restaurant was practically full as early as 5.30pm on a Saturday evening was a good enough sign for me to wander in.
With India being such a huge country, Indian restaurants offer food reflecting products of different regions.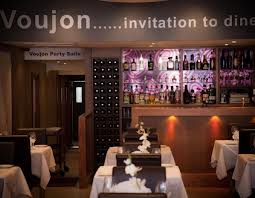 This one has a huge Bangladesh and Northern Indian influences and the menu bore the hallmarks of the areas fishing industry with a wide range of fish dishes.
I opted for the Macher Bora which comprised of fish kebabs accompanied by a delicate chilli sauce.
I prefer my food spicy so I found the sauce fairly mild. Luckily this wasn't a problem for the chef who whipped up a hotter sauce with no quibble.
The restaurant does its best to fuse traditional recipes with influences from realms of both east and west so I guessed that they keep the sauces on the mild side.
The menu choice indeed is extensive and with a constant queue of people coming in to collect takeaways during my time dining there, it seems to cater for many.
So as I pat my belly and reflect on the wonderful foods I have consumed, I conclude that sometimes it's just worth taking those few extra steps and get off the beaten track.
Just as well - I needed to burn off those calories.
To sample some really interesting cheeky whiskies after you dinner, visit http://www.michaelneave.co.uk/
Lunch at Wedgewood The Restaurant starts at £12 for two courses. To book log on to http://www.wedgwoodtherestaurant.co.uk/
To book dinner at Voujon log on to http://www.voujonedinburgh.co.uk/index.html
Travel from London to Scotland can be booked via East Coast trains online at www.eastcoast.co.uk. Standard advance travel tickets between London and Edinburgh start from £34. For further information on times and fares, call 08457 225225.
Pictures courtesy of restaurants.