This delicious tandoori chicken salad is healthy, tasty and filling. It is paired with a red onion pickle, a tomato chutney and fresh mango. It is one of those recipes that you just have to try! Even if you are not a fan of tandoori chicken (like the hubby), when you taste it with these sides, you will love it. I always make red onion pickle and a mango chutney with tandoori chicken but this time I opted for a tomato chutney and fresh mango and it works equally well.
As I write this, i am wondering if it is a good idea to mention that it is pretty humid today and I am sweating my face off. Ok maybe it doesn't sound appealing but i feel like I have to mention it because like J.lo, I'm real.
Let me tell you what's great when it's humid. Chicken Salad! Ok that was so lame and obvious. . But in my defence, I think everyone should have a bunch of chicken salad recipes that are fun and I have got you covered!
This recipe here, is part one of a series featuring global inspired chicken salad recipes from around the world.
All the salads in the series were some of my go to salads, from when we overhauled our diets last year. Yeah.. about that we need to start again and we are. You know..on Monday.
Also because these are salads, I have used chicken breast. I know, I know chicken thighs are so much more moist but all that moistness also means a higher fat and calorie content which is fine sometimes but sometimes we have to make sacrifices. My hips thanked me personally afterwards.
However if you want to use chicken thighs, the recipe is adaptable but I would suggest marinating for at least an hour and baking in the oven for 20 mins on gas mark 6 before flash frying for 5 - 6 minutes in a pan or until the thighs are cooked.
Anyway enough from me, here is that recipe. I hope you enjoy it as much as we do!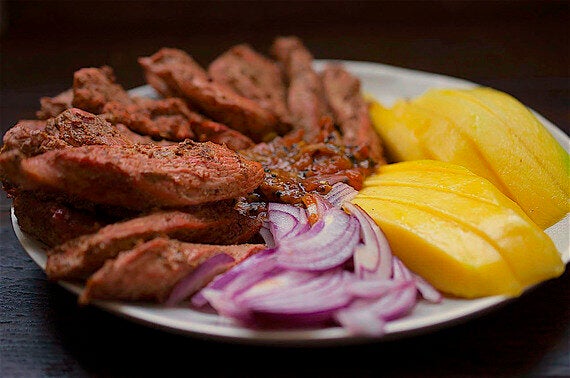 Prep time: 5 mins Cook time: 30 mins Total time: 35 mins
1 lb skinless chicken breast washed
3 tbsp tandoori masala powder
½ red onion sliced very finely
1 green chilli sliced finely
1 mango stoned and sliced into wedges
Marinade the chicken in all the ingredients listed.
Add the oil to a non stick pan and add the chicken.
Cook over a medium heat for about 10 minutes.
Flip the chicken over and cook for a further 10 minutes.
Allow to rest for 5 minutes and cut into strips.
In a small non stick pan over a medium heat, add mustard seed and once they begin to pop add the garlic and green chilli.
Allow to cook for for 1 minute and add the remaining ingredients.
Turn the heat to low, cover the pan and cook for about ten minutes or until the tomatoes have broken down completely and the sauce is thick. Check midway to ensure they aren't catching.
In a small bowl combine the ingredients for the pickled onion and set aside.
On a plate add the mango, chicken and tomato and red onions and enjoy!