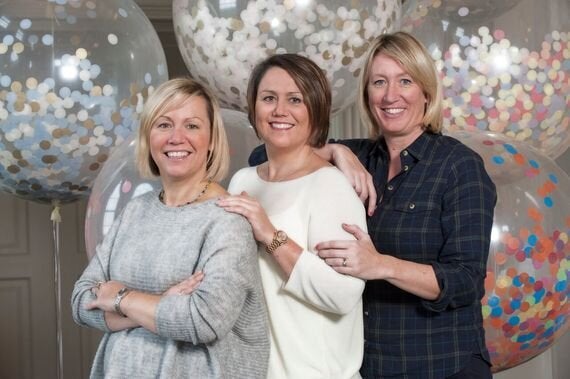 Mums running businesses is BIG business - according to a report from Development Economics, commissioned by eBay; "mumpreneurs" generate £7.2bn for the UK's economy and over 200,000 jobs.
If in 2013, when we (that's me, my sister Laura Slater and our school friend Megan Robertson) put pen to paper and created Bubblegum Balloons, someone would have said that just three years later we would be part of that figure; on course to turn over £1M and employing a team of 20, we simply wouldn't have believed them!
Between us we have six children under eight and like many mums who start their own businesses, we wanted to do something for us and also try to achieve a happier work-life balance.
Not only did we want to fill the gap in the market for high-end balloon gifts, we also wanted to be able to dash up to school with forgotten PE kits, attend sports days and be there to hear all about their days. After all, as we all know these precious yet slightly crazy days flash by in the blink of an eye.
Needless to say, things haven't always gone according to plan; fulfilling our personal ambitions whilst juggling being a wife, mother and homemaker is not without its challenges. We often consider that age old question: "can we really have it all?"
One huge benefit that's been pivotal to Bubblegum's success is our personal relationship. Having known each other for years, there's a level of trust, understanding and an intimate knowledge of how each other works, that's solidified our business partnership.
In this respect, it's been less of a juggling act than it might have been, had we gone it alone or been working full time for someone else. Some of the guilt associated with not being able to be all things to all people at once is eased because we feel like 'we're in it together'.
That's not saying that it hasn't been hard work or full on.
Back in those early months (when we were designing and producing our first range of 17 balloons), we were able to do it all. But as time has gone on and the business has quickly developed - we now do 20-30 events a week with recent clients including Simon Cowell, Cheryl and Little Mix, London Fashion Week, This Morning, TOWIE, Made in Chelsea and The X Factor - sometimes, it's been pretty crazy!
However, I really do believe it's the work-life culture that we tried to instil when we started the company (and the importance we put on being sisters/friends above all else) that has been one of the most important factors in our success so far.
From personal experience (and from chatting to other friends), I know that many women find it difficult to return to work once they start a family. Pressure from work and all too often a lack of understanding from other colleagues can leave many new mums feeling guilty or inadequate as they feel pushed and pulled from both directions, desperately trying to balance work with home life. For us, we 'get' these overwhelming pressures and know that, as friends, there's more to life than work.
If one of our children gets sick - we have the time we need with them. If we've been working on events and have spent little time at home; we can take guilt-free time off to spend with the family when we need to. And, if one of us just needs a day where we switch our phone off; we can do it.
Over the years, one question that keeps coming up is "how have you managed motherhood, friendship AND a business?" and the simple answer is it has been hard at times but life always changes, we just have to be flexible and keep things in perspective. Most importantly, we focus on having fun! After all we're working with our closest family and friends!
38% of mums (surveyed by Nominet) are also thinking about starting their own business to create a better work-life balance and to spend more quality time with their children. If that sounds like you and you're also thinking of teaming up with loved ones to make it happen, here's a few tips we've picked up along the way.
Work with people who 'get' you
This is one of the most important things when starting your own business. The desire to work with people who 'get' you, who you know will support you and respect you no matter what and who will understand when you have to go to that school assembly, sports day or need time off just to reconnect with husbands and family etc. is what drove us to start our business. Make sure you're likeminded in work ethic and clear on the work-life balance you are trying to create.
Always remember that you are friends/family first and enjoy having fun together. Whether it's enjoying a glass or two of vino and catching up on life's gossip, getting the kids together for playdates or just having a cuppa and a natter, make time to do things together socially. However hard it may be; don't talk about work. Otherwise, you could find your friendship dwindling and becoming all work focused!
Working with other people can be tricky and sometimes you won't all agree. It might be easier said than done, but try to leave work issues at work, after all you don't want a situation to get out of hand and impact friends and family life. We all take stresses and strains out on our nearest and dearest, try to leave work problems for the hours you are working, so that it doesn't feel like you're constantly focused on work 24/7. After all, that's not the reason you started your business!
Be honest with each other
When working with some of the people we love the most, it can be a careful balancing act to make sure you get your point across and not hurt their feelings. But, make a business pact to be honest with one another, so that neither of you feel like the business is being lead in a direction you are not happy with. As I said before; there will be disagreements, it's inevitable - you are different people, but by being truthful at all times, gives a great grounding to your business.
Know where each other's priorities lie
Where do your priorities lie? What hours are you available to work? Do you need certain hours away from the business to take the children to after-school activities? Do you and your partner have date nights where apart from emergencies with the kids; you're not to be contacted? Sit down with one another and chat through what is important to you. It's also a good idea to honestly rank your priorities in order, so you know where the business comes on that list. You need to be on a similar page for the business to work. There's no point one of you ranking making the business work, third, below your family and friends and another putting it much further down the page!