Last night Charlie Brooker's terrific second series of Black Mirror came to an end with 'The Waldo Moment', by far the least creepy or inventive episode of the trilogy that was nevertheless a compelling conclusion to the TV highlight of the year so far.
The story saw a crude cartoon bear called Waldo hi-jack a local by-election for a TV stunt. The public love Waldo, who speaks to their disdain for politicians - both the entitled, posh Tory kind and the careerist liberal variety - and he soon becomes an unlikely figurehead for an anti-politics movement.
Problems arise when Waldo's creator, a failed comedian called Jamie, grows embarrassed and ashamed as his joke gets out of control and he finds himself in a position of genuine influence. In a line straight from Brooker's heart he despairs: "I'm neither stupid or clever enough to be in politics". But like Victor Frankenstein, Jamie is too late: his creation is too powerful, and lives on without him.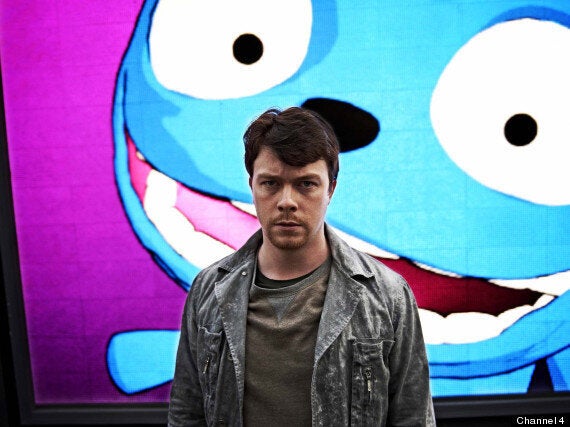 Daniel Rigby as Jamie. Yes, he is the guy from the BT adverts, too.
The reason 'The Waldo Moment' felt like the odd one out from this series is because it could happen tomorrow, and at its heart, wasn't really anxious about technology at all. The reason (as revealed in the closing credits) is that much of episode was dreamt up a long time ago, when Brooker was writing his lesser-known series Nathan Barley.
Nathan Barley (2005) was a brilliant parody of the rise of new media in which anyone, even the vacuous, talent-less moron of the show's title could build a personal cult around himself by using the internet. Those familiar with the show will instantly recognise Jamie as a version of Dan Ashcroft, Nathan's despairing colleague who tries to tell a nightclub full of media luvvies they are idiots, in much the same way Jamie turns (hopelessly) on Waldo's followers at the end.
Looking back at all six episodes of Black Mirror, 'The Waldo Moment' had far more in common with the very first episode 'The National Anthem' - in which the prime minister is blackmailed into having sex with a pig on live television - than any of the others. In both the political process is subverted by the general public's insatiable appetite for stupidity and scandal.
And yet there was also a pertinent warning for the political system in there. The reason a character as ugly as Waldo is allowed to prosper is because he offers honest (if crude) opinions, set against politicians who, in the way of the modern world, refuse to be honest about their motivations and speak only in media-friendly soundbites.
Brooker seems to think - as many commentators have argued over the past fifteen years - that a desire for a more honest form of politics exist in Britain, and that there is a danger in leaving that unmet. Since our last inspiring politician was sullied by the Iraq War, the expenses scandal and other unedifying moments in Westminster have left the general public with an antipathy towards the political class that can shame both sides.
Daniel Rigby (Jamie) and his co-star Chloe Pirrie, who played his love interest (and rival Labour candidate) Gwendolyn, gave 'The Waldo Moment' some tender scenes, but really, this was an episode that highlighted the flaws in Brooker's writing. The desire to make a broader point about society tends to lead him into painting his characters in broad strokes. The story is riddled with stereotypes, from the nasty Tory MP to the manipulative TV producer to the general public themselves, all of whom laugh heartily and unthinkingly at any dick joke thrown their way.
The moments when Black Mirror became truly brilliant was when, rather than trying to satirise everybody like it was one of his vitriolic Guardian columns, Brooker narrowed his target and focused on a small number of characters and their relationships with technology and each other.
The final episode of series one 'The Entire History Of You' (Black Mirror's finest hour) and the first of this round, 'Be Right Back', were both unsettling and perceptive looks as the role technology may come to play in our lives, but above all, they were fantastic dramas, touching and relatable. In creating such believable characters and dialogue, Brooker made his points so much more powerfully.
In any case, whether it was the smack-you-in-the-face stuff like last night, the horror/sci-fi episodes ('15 Million Merits', 'White Bear') or the more personal work, Black Mirror has been a thrilling ride throughout. Brooker has long been one of the most entertaining writers in the country, and now we know he can be among our finest dramatists, too. Let's hope series three is already formulating somewhere in that furrowed brow of his.