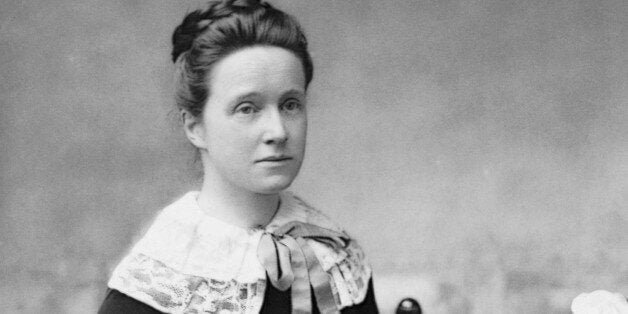 Put a statue of a Suffragette in Parliament Square. That is what Caroline Criado-Perez's petition demanded. It quickly gathered tens of thousands of signatures including high profile names such as JK Rowling and Emma Watson. My own organisation got behind it tweeting support. But I felt a pang of sadness that although the Suffragettes undoubtedly should be remembered and honoured, putting a Suffragette in Parliament Square would mean Millicent Fawcett was overlooked (again) as she was a Suffragist. So when Caroline called for the statue to be of Millicent, I was thrilled.
Millicent's approach was to use peaceful methods to campaign. She gathered petition signatures, wrote endless letters, spoke at hundreds of public meetings, brought the regional organisations together into what became the National Union for Women's Suffrage Societies and eventually led a movement of 100,000 people. She had been doing this since the age of 19 in 1866 when she collected signatures on a petition she was too young to sign herself. She had over 30 years of campaigning under her belt before Emmeline Pankhurst founded the Women's Social and Political Union (WSPU). At first Millicent welcomed the suffragettes. The movement needed as shot in the arm at the time as little progress was being made. It is the Pankhurst and the Suffragettes, with their more eye-catching militant style of campaigning, who have largely been credited with winning the vote for women. But as time went on Millicent felt their tactics were proving counter-productive, delaying rather than winning the vote.
For what it's worth my view is that both parts of the movement were needed. But whatever your reading of history, the reality is without Millicent's painstaking building of the movement, lobbying, persuading one man in Parliament after another (for they were all men), militant tactics alone would not have succeeded. The intervention of the war in 1914 brought an end to the suffragette movement and they didn't resume their activities. It provoked division amongst the suffragists too, but Millicent kept going. She was also someone the government could talk to. So it was she who led a delegation into Lloyd George's office in 1917 to win the first voting rights for women in 1918 (those aged over 30 with property) and it was Millicent who pursued the campaign through until equal voting rights were won in 1928. She was present in the gallery to witness the passing of the act and then died a year later.
I love the completeness of her story. The fact that she was there from beginning to end. That she did the vital quiet work, and didn't seek to be in the public eye (she hated making speeches apparently), but nevertheless, her achievements were monumental for women. I love that she also campaigned for women's pay and property rights, for women's access to higher education - she co-founded Newnham College Cambridge. For the suffrage movement was about more than the vote. It was about transforming the position of women in society. The vote was pivotal to achieving that as Millicent knew that without political power and participation, there would be no change. She also knew that without equal rights for women, our entire society is diminished. Her message to the men was we all gain with women as equal partners.
So here we are today, standing on her shoulders and the shoulders of so many women and men who have gone before us, campaigning still for equal representation, equal pay and an end to discrimination and violence against women and girls. Despite all the progress that she and others have achieved, the fight is far from won. So the Fawcett Society, established in her name, an organisation which emerged from the early suffrage societies 150 years ago, takes forward her campaigns. But of course, like Millicent, we are just part of a diverse, vibrant women's movement. More than honouring the past, I am interested in what happens next. We have to use the statue and the centenary celebrations next year to drive change and transform women's lives. And change can come from the simplest things. From who we see around us, who we choose to remember. That is why this statue matters. The message to younger generations has to be that women are leaders too, women in history have done amazing things, important things that must be remembered. You can do it too. Courage calls to courage everywhere.