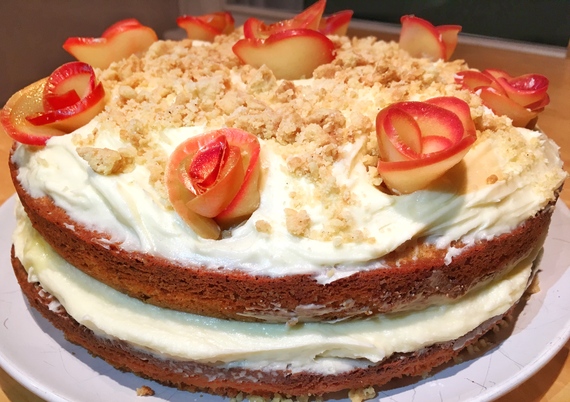 This combines two of my favourite things, apple crumble and ALL cake! The apple roses are an impressive touch and deceptively simple thing to make.
Apple Crumble Cake Recipe
Cake
1kg cooking apples
170g butter
340g soft brown sugar
4 large eggs
455g plain flour
4 tsp baking powder
1 tsp ground all spice
1 tsp ground cinnamon
4-6 tbsp milk
Grated rind of 1 lemon
Buttercream
250g butter
500g icing sugar 
Apple Roses
350g caster sugar
1 litre water
3 red apples 
Crumble
50g soft brown sugar
50g butter (cold)
100g plain flour 
1. Preheat oven to 180C/350F/Gas 4.
2. Grease and line two 8" round loose bottomed cake tins.
3. Peel, core and chop the cooking apples into small 1-2cm dices.
4. Beat the sugar and butter until soft and pale.
5. Add egg little at a time until all beaten in.
6. Sift flour, baking powder and spices into the mixture and fold with a large metal spoon until combined.
7. Gently fold in the lemon rind then add the apple and fold in gently.
8. Add the milk a little at a time until the mixture drops off the spoon.
9. Split the mixture between the two cake tins and bake for 1 hour or until it is tested with a skewer and it comes out clean. Leave to cool.
10. For the apple roses core and halve the apples and finely slice them (roughly 2-3mm) leaving the skin on.
11. In a large pan, heat the sugar and water until boiling and add the apple. Bring back to the boil and drain, leaving to cool fully.
12. For the crumble rub the cold butter together with the flour and sugar until it resembles breadcrumbs, then spread evenly on a baking sheet. Bake for 30 minutes or until golden brown at 180C/350F/Gas 4.
13. For the buttercream beat the icing sugar and butter together until smooth.
14. Take one of the cooled cakes and use a third of the buttercream to ice the top of it. Place the other cake on top and cover with the remaining buttercream and sprinkle with the crumble.
15. To make the roses take a slice of apple and roll it up in your fingers. Keeping it pinched together take another slice of apple and wrap around the first. Repeat with 2 or 3 more slices. Make a small incision in the top of your cake and push the base of your rose into it. 
16. Repeat this process to decorate the top of your cake.