The wedding planning has begun. We have booked a venue and I have asked four wonderful women to be my bridesmaids now the scary bit... bridesmaid dress buying!
There are so many things to think about, number one of which is I don't want to make four of the most important women in my life unhappy. When one of them is unhappy it's is bad enough, imagine four at once - I am having nightmares about it and getting my 'it actually looks really nice' phrasing ready.
Dilemma two is style of dress. Should you choose one dress that they all have to wear and broach the almost impossible task of finding one style to suit all shapes and sizes? Or should you go modern and have different dresses for each bridesmaid but one theme that ties them together? Or as I have four bridesmaids I could do two different styles of dress but what if they all prefer one style over the other? You can see these many dilemmas currently chasing each other around in my wedding filled brain.
What I do know is my colour scheme. We are having a winter wedding so I am going for a dark red and white also dark red looks good on me - yep selfish but this is the one day I am allowed surely. My first point of call was just to search for dark red dresses for inspiration in the hope that the answer to my dilemma would present itself via the internet. I find that the internet is generally good for answering dilemmas although don't go on forums - everything is scary on those. Oh by the way, Pinterest is a great resource for all things wedding and wedding inspiration.
Whilst I was looking for inspiration I obviously forgot what I was doing and went on an internet tangent: I started shopping for nice party dresses for myself. It was then, on my selfish tangent that I came across some brilliant bridesmaid options! If you search the internet for 'bridesmaid dresses' you will be faced with wedding shops and lots of dresses whose price tags have been doubled because there is a wedding involved. My advice is just to look through evening/party dresses at shops you like and you will find bridesmaid inspiration at half the cost!
I found Lindy Bop this way. Lindy Bop works for me as I love the 1950's style and I think it's very flattering for nearly all shapes. Luckily they have a wide selection of colours and lots of dark red dresses to choose from at incredibly reasonable prices. I spotted my favourite straight away and posted the pic to my bridesmaid Whatsapp group (yea we have a group it's actually really useful). They loved the look of it so I took a leap of faith and bought them - £30 each! Coming in under budget makes me so happy! That is more money for alcohol to convince everyone ours is the best wedding ever. Although I still haven't got petticoats, shoes and tartan sashes - can anyone help?
Here it is... the bridesmaid's dress ... and there are loads of colour options that might be right for your wedding too!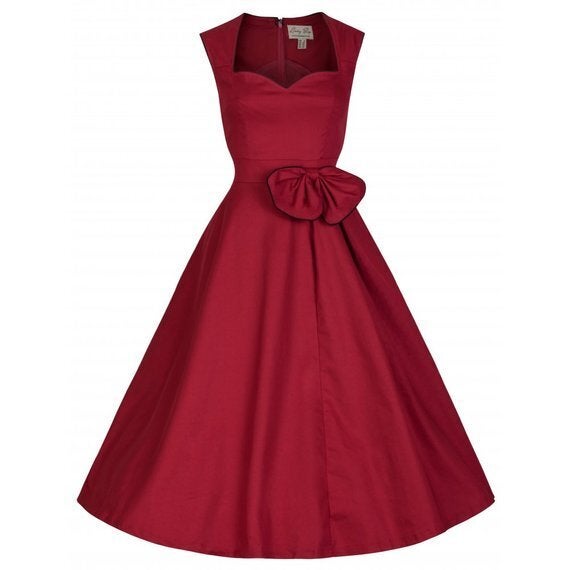 The only problem is my wedding isn't for at least a year! Have I been too rash? I did buy the dresses a size up for everyone and the plan is to get them fitted closer to the time for the perfect fit. I just didn't want to risk them discontinuing the dress. Rash or not it is one thing off my mind in a whirlwind of planning.
So that was my answer to the bridesmaid dilemma, maybe this has been your bridesmaid dress inspiration or just an internet tangent. Either way happy shopping!
Related