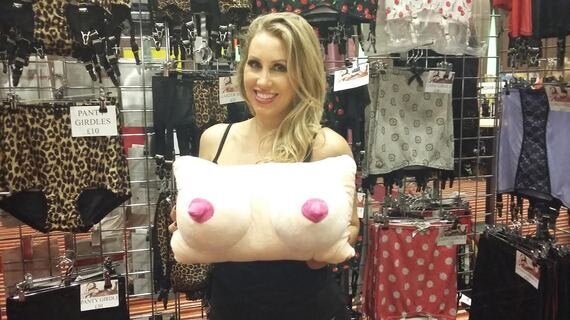 When it comes to sex, I'm very vanilla - I'm happiest in missionary. The closest I've come to apparatus, is when a boyfriend put ice-cubes in his mouth, for some x-rated Frozen fun. So when I arrive at London Fetish Weekend, I'm as out of place as Katie Hopkins at a body positivity workshop.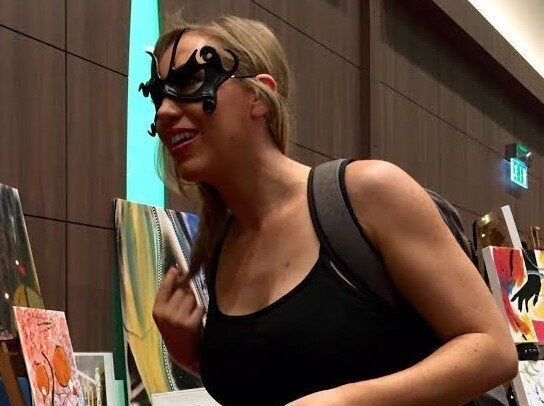 I've been invited to take part in the Fetish Weekend's fashion show, modelling latex, lingerie, and a Stormtrooper corset made for someone whose breasts are three times smaller than mine. As I line up for a practise walk-through on stage, I realise it's not just my sex life that's vanilla - compared to the other models, my hair is too. Most of them are immersed in the fetish scene, and there's a range of traffic light red, Babygro blue, and gothic black that's shaved up one side.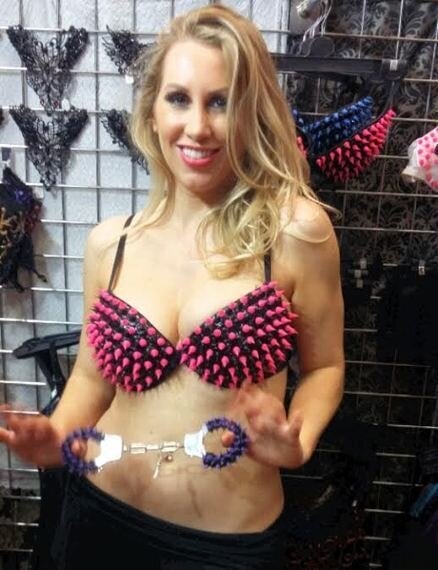 One of the models works as a dominatrix; another does web cam, and tells me she's been "18" for the last decade. One girl does phone sex, and another is a nude model. "My parents are really supportive," she says, "they asked if they could come and watch this. I said, 'no - not unless you want to see my tits!'"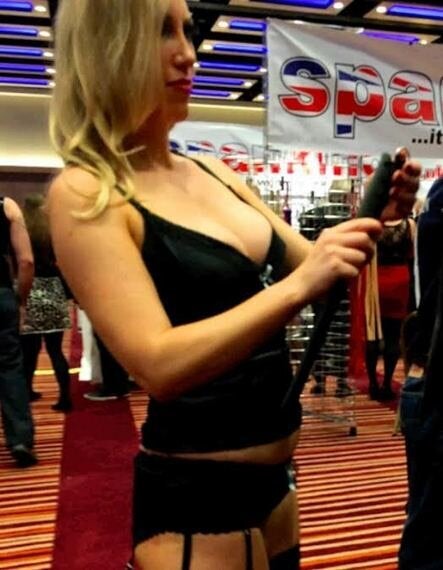 It gets to my go and I walk woodenly to the front of stage, as if I'm suffering from early onset arthritis. Then I pose awkwardly, as if I've just been hit by a stomach cramp. The organiser, who looks like a pink-haired Holly Willoughby, shows me how to twirl, to show off my outfit. I do this with the grace of Ed Balls on Strictly Come Dancing. Then I slope off, trying not to break my ankles, on my way down the steps. Later, I'll do this in stilettos, and a mini-skirt that only just covers my crotch.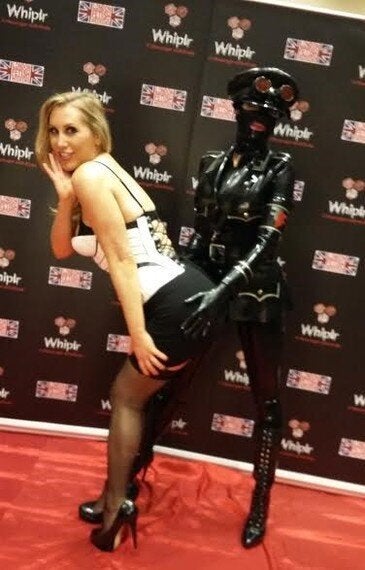 While I'm waiting to have my make-up done, I walk around the exhibition, where I find an array of gimp masks, butt plugs and paddles. But these paddles won't row your boat across a lake - some of them have holes in! I ask the stall holder what the holes are for, and he tells me they make it hurt more, when your bottom's being spanked. "But why would you want it to hurt more?" I ask. "Maybe you don't," he says, with a glint in his eye, "maybe the person spanking you wants it to hurt more!"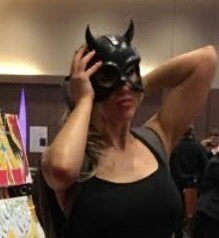 Over at a table of whips, I meet a woman in her 20s, wearing fishnet tights, a ringmaster jacket and very little else. We reach for a red whip at the same time. I tell her it's hers - it matches her outfit. She says she has a collection of red and black whips - she doesn't need any more, but she can't stop buying them. She's been on the fetish scene for the last four years, "before that, I was entirely vanilla, then I met my partner who's submissive. He kept asking me to do things to him - now I'm hooked!"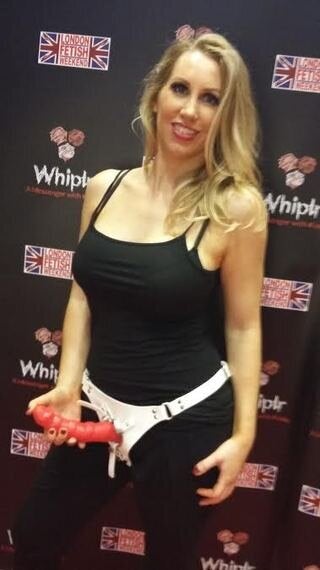 At the next table, there are strap-on dildos. I try on a red rubber erection, that makes me look as if I'm wearing a safety harness for sky-diving - but with a great big cock, protruding from my pelvis. I'm approached by a man in make-up, dressed as a Dalmatian. His outfit includes doggy ears, a doggy nose and a Dalmatian print dress, with heels. He tells me, in a French accent, that my penis is probably too large. Apparently, I should start small, then build up to strapping on bigger and bigger cocks. "But why?" I ask, "why would I do that?" He tells me it will slowly stretch the anus, to make anal sex more fun.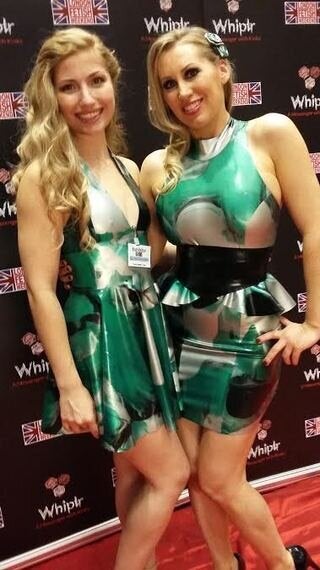 Backstage in the performers' green room, I'm fitted for my first outfit, a marble effect green latex mini-dress. I've never worn latex before, so the designer tells me not to be surprised if I sweat. "You'll feel it running down your legs," she says. But it's just sweat, yeah? "Oh yes - you'll know if you've pissed yourself!" She notices my VPL and reaches up my dress to yank my knickers off. Nothing must upset the line of the latex - not even my boobs, which are spilling out of the sides. The designer slips her hand inside my dress and "fetches" my breasts back in, before a strange man polishes me like a window, to make the latex shine.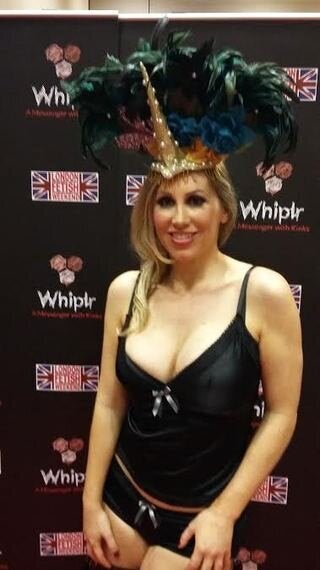 I take too long lacing my Stormtrooper basque and miss my slot on stage. I'm panic-stricken, but Pink Holly Willoughby reassures me it's OK - I can wear it for the grand finale. I rip it off and switch it for my next outfit change, a black satin cami-knicker combo, with suspenders. I team it with a headdress, which has a phallus-like unicorn horn as its centre piece.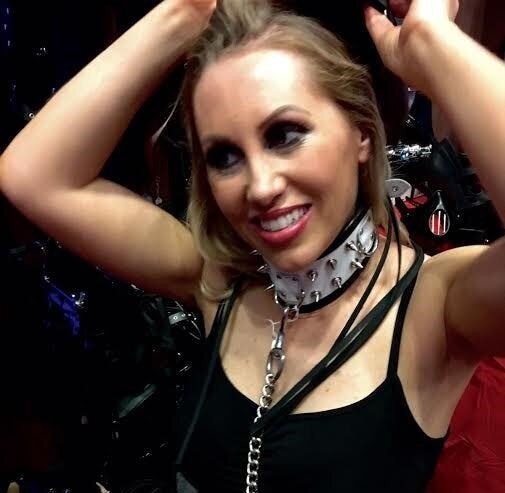 After the show, I'm met by my friend Patrick, who notices a lot of the girls have sores on their boobs. He says, "it must be all that dripping wax on each other!" We stop at a stall which has what looks like a wrestlers belt, but it seems too small. "Wear does it go?" I ask. "From the width of it, my cock!" says Patrick. In fact, it is a neck collar. The stall holder shows us her range of butt plugs, in order of size, like a set of Russian dolls. She says a fish-style butt plug once got lost up someone's bum. She tells us she rolled up her sleeves and said, "Let's find Nemo!"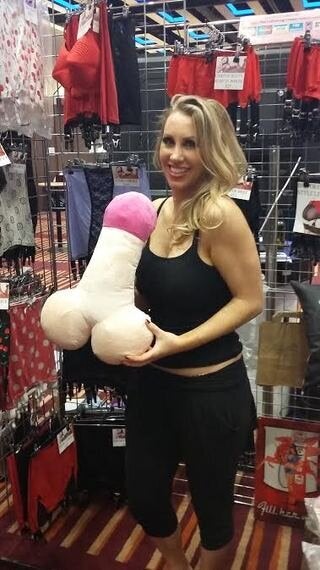 While my eyes have been opened to the range of sex aids on offer, my vagina has never clamped more firmly closed. I do not want SeaWorld up my anus, or sores on my boobs, and I definitely don't want my bottom bothered by paddles of any sort. The fetish crowd are among the friendliest people I've met, but they can keep their handcuffs - I'm happy to be vanilla.
Some photos thanks to Patrick K.