Speak to me of love .....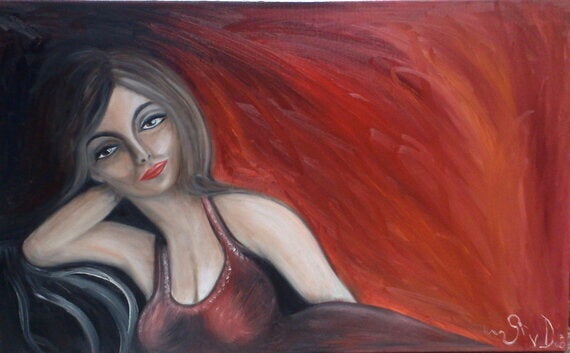 Photo and Painting, Belle, copyright S. van Dalen
What constitutes a great romance? Is it boy gets girl or is it more about the journey and discovering that they're actually falling for each other? I guess anyone's definition of love is simply that you choose him or her because of all the other people in your life, you'd rather be with that person and no one else. But to get to the point of wanting to be with that person is the journey that makes a film (and the quality of that journey is what gives us a FINE ROMANCE).
In early cinematic history, romance consisted of the passive, delicate female, all batting eyelids and sighing, waiting for her man to come to her. The female adjunct metamorphosed through the decades into a more in-control version and the supportive wallflower soon became empowered. As cinema and audiences developed a changing code of morals and ethics, so too did the newly confident heroine shed her inhibitions and become happy to strip off and take off literally, in the sexual realm. This modern take on portraying sex on screen probably killed off romance, which until then had been about subtlety and innuendo.
Romance used to be portrayed as that look, that smile, that square inch of bare neck barely visible under her polo neck sweater and that breast heaving under a taut silk blouse in ANTICIPATION of him.
Better yet, the great romantic films were elevated to legendary status by a sparkling script. Sadly these days, and like the fast food society we live in, we seem to now care less for the words and more for the gratuitous in your face action - as if recourse to a bit of IMAGINATION might actually kill. Similarly, characters nowadays seem to say very little to each other (or very little worth listening to) relegating the beauty of the English language to oblivion.
A script that shines, with effervescence and poignancy in equal measure, captures the human condition and the process of falling in love. There have to be BIG themes too - loss, sacrifice - running in tandem with rounded characters we can understand and empathise with.
Finally, without a great dose of chemistry between the leads, even a memorable script will just sound like someone reading a shopping list.
So here goes my choice of the TEN BEST ROMANCES - the real thing, the big cheeses in the love department. The films that were memorable enough to replay like a melody over and over again whenever our thoughts turned to LOVE:
10. BODY HEAT (1981, Lawrence Kasdan) (William Hurt, Kathleen Turner)
While some called this a tawdry remake of Double indemnity, this sultry, overheated film explores the scheming manipulator who uses sex to control her not-so-bright lover and ends up framing him for murder. Passion, sex and more passion and sex. Made in 1981 when audiences were just getting used to more risqué manoeuvres on screen, Kathleen Turner and William Hurt get top marks for CHEMISTRY. The film left us with the unforgettable scene where he breaks into her house as she watches because he is so hot he can't help himself. The line between love and lust completely erased here but at least we get to feel something. And it's all good.
9. THE WAY WE WERE (1973, Sydney Pollack) (Barbra Streisand, Robert Redford)
OK, OK, the chemistry between Barbara and Robert was not great BUT these two gorgeous people did a terrific job of pretending to enjoy themselves. Cast as mismatched lovers whose relationship is doomed, audiences loved it because just as in real life, not everyone wins all the time. POIGNANCY in bucket loads about two people wanting different things but still capable of loving each other and at the end when they meet again. ...WAAAAH! It could have been so different but it wasn't. What they do have is memories...
8. BRIDGES OF MADISON COUNTY (1995, Clint Eastwood) (Clint Eastwood, Meryl Streep)
Audiences took some convincing to see Clint play the sensitive type but boy, does he do a great job as actor and director in this colossal weepie. Playing a stranger in town, he soon has Meryl lapping it up and before you can say "Jack Rabbit", she's shed her inhibitions and forgot she's in deepest Iowa where there's an awful lot of corn and shattered dreams. Meryl and Clint have such amazing CHEMISTRY that gossip columnists were whispering of a real-life affair. We'll never know but golly, we wept when she wept and almost passed out with grief when they went their separate ways. Better to have loved and lost than never....
7. A MAN AND A WOMAN (1966, Claude Lelouch) (Jean-Louis Trintignant, Anouk Aimée)
Bland and atmospheric with lots of glances, interminable silences, incomprehensible flashbacks, singing (!!!), tragic, furtive, sad, emotional, lots of cigarettes and real kisses...definitely a French film except that luckily they DO NOT commit suicide or murder each other in the end. Some would say that the film is too plodding and slow but as a genre it hits all the right buttons and its sheer style is unique. We get regret, sadness, a beautiful actress whose face casts shadows and rainbows and a memorable theme song. But her inability to forget her dead husband and guilt at sleeping with another man is universal enough to have everyone reaching for the tissues. In the end we get to feel something, although we're not sure what because they're all speaking French. And since this is a grown up film, we are left guessing what will happen next. And that's exactly what happens in real life- no one really knows.
6. AS GOOD AS IT GETS (1997, James L. Brooks) (Jack Nicholson, Helen Hunt)
SPARKLING SCRIPT with irrepressible Jack in his naughty-but-nice element. Impossible to outperform, there is no actor who could get away with such devilish insouciance concealing a heart of soft, vulnerable sensitivity. Helen Hunt is magnificent as the feisty waitress who puts him in his place. Both are missing that certain someone in their lives, and both end up needing each other - this is the ultimate feel good love story with a silly sub plot. But don't let that detract from marvelling at how good an actor Jack really is. A romance for adults (preferably middle aged and looking for love).
5. NOW VOYAGER (1942, Irving Rapper) (Bette Davis, Paul Henreid)
Ugly duckling learns to relax, pluck her eyebrows and get over her horrid mother and in the process falls madly in love with married man (who naturally she can't have). Good old-fashioned morals with superb acting from Bette Davis who despite her unconventional beauty manages to carry off her role with elegance and aplomb. Another fine example of a PERFECT SCRIPT that is memorable and touches all the big themes: maternal love, self love, forbidden love and romantic love. They don't write scripts about women who forsake a-once-in-a-lifetime-love for the sake of a child anymore, yet despite its outdated theme it feels real and raw. And we are all delighted that Bette finds happiness of sorts that has eluded her for so long.
4. BREAKFAST AT TIFFANY'S (1961, Blake Edwards) (Audrey Hepburn, George Peppard)
It is probably no exaggeration that without Audrey Hepburn there would have been no point to his film. Besides playing a stir crazy prostitute, she brings pathos by the truckload to her wounded character with enough innocence to charm a cynic. The result is an irresistible, beautiful nymph to soften even the hardest heart. Hepburn possessed just the right balance of cheeky gamine and haughty detachment to carry it off. In the end, the film is a story about healing and redemption through love- all while standing in the rain with a sodden cat. If anything, the film started the trend of declarations of love under water. A touching piece that warms the heart.
Few would argue that Bogart and Bergman look good together and they are helped by probably the BEST SCRIPT ever written. There are so many lines from Casablanca that we even recite in our sleep and this more than sixty years later! The combination of war, danger, espionage, the Germans, marriage, infidelity, intrigue, a series of perfectly slotted sub plots which also serve to gel the whole story neatly together and a blast from the past who comes to wreck Rick's hard earned sanity, makes for the most seamless example of a script. It is impossible to imagine how the film or script could be improved. As a love story it deals with the HUGE themes of love lost and sacrifice (the biggest one being about sacrifice and that immortal line about a 'hill of beans').
2. DR. ZHIVAGO (1965, David Lean) (Omar Sharif, Julie Christie)
The Russian epic to out do all other epics, we get to ogle Omar Sharif and the absolute beauty of Julie Christie. David Lean gives us a fine example of the director creating expanse and atmosphere with snow and red paint and daffodils and falling leaves in the same season. No matter, we swallow the abridged version of Russian history with relish but the real story is about a man who believes in his country and is forced to choose between his saintly wife and his mistress who just happens to be married to a murderer. The CHEMISTRY between Sharif and Christie is electric - she, all stoic tight lips and he of the soulful eyes. The film is worth watching just to hear her say "Oh Yuri, Yuri, Yuri..." A classic that should be watched on rainy Sunday afternoons again and again....
1. BRIEF ENCOUNTER (1945, David Lean) (Celia Johnson, Trevor Howard)
Celia Johnson carries this film as the housewife who finds love in the railway tearoom (of all places - imagine this happening with today's surly commuters). Trevor Howard falls madly in love with her over milk and two sugars.. The simplicity of the setting and these two restrained, stiff upper lip characters, who have to try very very hard not to rip each other's clothes off, makes for a delightfully chaste, yet poignant love story. A great example of ANTICIPATION that motors through the film keeping us wanting more and for them to finally please, just do it! As the philosopher Nietzsche famously said, thinking it is worse than doing it! A lesson on how to make a film on a shoestring and with a script pared down to a minimum but nonetheless with something unforgettable to say... And we are left clutching the tissues because she can never have him. How sad is that!!!!
How To Get Away From It All
One of the signs of a calm and centered individual is the ability to sit perfectly still for long periods of time. Another sign is the ability to stand with both arms outstretched for several minutes and NOT feel the pain or simply ignore it altogether. Both of these 'tasks' require a balanced disposition. Sadly, all around me are fidgety people who I come across in all walks of life. It seems they are everywhere.
I remember a book that was given to me many years ago by a French friend who had a real affinity for India (ironically he gave me the book as a gift and two decades later came to visit, borrowed the book and I never saw it again. Like so many friendships, ours has disappeared into the mists of time). In the book there were stories of yogis sitting on the steps along the Ganges and as the water rose, they were oblivious to it. I'm not recommending drowning yourself but why not try sitting so still that you can hear your heart beating?
Alternatively in order to escape those who can't, see the photo below.

Photo copyright S. van Dalen