I used to be unhappy until I understood how to live in the present moment. Now don't get me wrong, I'm not talking about being spontaneous to the point of not thinking about the effects of my actions, I'm describing a more philosophical approach to living in the now.
What is the now? Perhaps I should begin by explaining that our perception of reality is in fact the culmination of the past and an anticipation of the future. For example, we have opinions or behave in a certain manner based on our upbringing or past experiences. We regard the future as a phase in our lives when we hope to able to enjoy retirement because we would have saved enough to do so, etc... In the middle between past and future lies the present which is very much affected by both. If we consider that everything we do or say will have some bearing on our future, we would view the present as the only time in our lives which matters. So for example, if we were faced with an opportunity to be happy, we should take it because a) that opportunity may not come again and b) it will shape our future.
I recently went on a journey which was intended to reminisce and rediscover the past. I could not have been more surprised to discover how much the past is a foreign country. Everywhere I searched for the cosy warmth of nostalgia, I discovered that nothing had remained the same. The only constant was how I felt about a past lover. It was a profound time for me. Not to reminisce but to discover the present moment, a feeling of overwhelming happiness that can't be bought or sought.
I've written before about one's disposition and the fact that despite travelling the world or metamorphosing several times over in our lives into different professions etc..., what never changes is who we are. I learned on my journey that I was the same person I had always been and after years of bad luck and sadness, I had lost none of the gentle softness which I had been forced to suffocate with an overdose of courage. I was moved to learn that in spite of everything which had occurred I was still the same.
What a relief to finally be able to empty my heart, overflowing for years with tears of sadness! What joy to be able to flee from the ghouls of dysfunction! Discovering the present moment as all there is, has been the beacon of light which brought me back from being lost in a desolate sea. I know that I am not alone and many will identify with the sense of living half a life, not necessarily full of regret but devoid of fulfilment and real happiness. Yes, there is fulfilment in accomplishing the mundane but we all think at some stage in our lives and as we look back, how things could have been so different. I would bet that those who never question anything in their lives are ruthless egoists who have no desire to understand the human psyche.
The human condition, in my view, is a riddle of what could have been, what should have been and what is. How once we thought we would learn to soar but instead ended up flapping about in a deep blue sea and resigned ourselves to mediocrity and disappointment. Perhaps for this reason the aestheticians revered beauty which I would argue, is the symbolic antithesis of failure. In our appreciation of beauty we escape pain, which in turn banishes sadness or fear, albeit temporarily. So too is unhappiness a type of failure because we think we will never find our way to be happy. Ironically, in our search for happiness we forget how to be happy and worse yet, how to be happy RIGHT NOW.
One could of course argue that as age accelerates, it is better to grab hold of the present because that could be all there is. Yes and no. Today is today and tomorrow will still be tomorrow. Understanding human complexity and accepting that in all our actions the self is in charge, hence Steve Jobs' famous line about not living someone else's life. The self however does not have to be about ego. To love selflessly for example, is the purest, most rewarding and most virtuous type of love.
Living in the present demands more reflection and self-control (oh, the irony) than one would assume. It's not about grabbing what you can or wildly plunging into the unknown. The present is the balancing act while standing on the precipice. As the strong wind approaches to blow us off, we are able to fend it off by seeing the truth of who we are. And in that moment, we experience a blissful euphoria, otherwise known as happiness.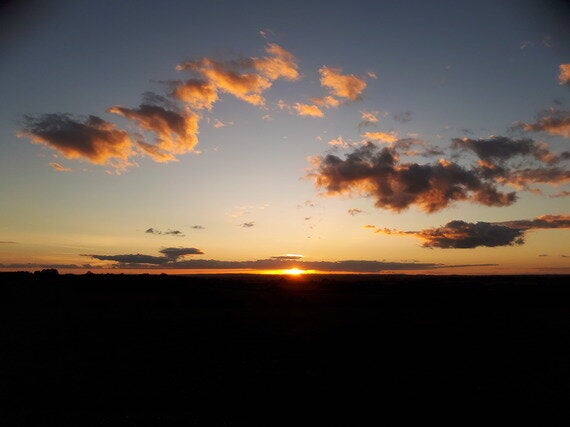 Photo copyright S.van Dalen