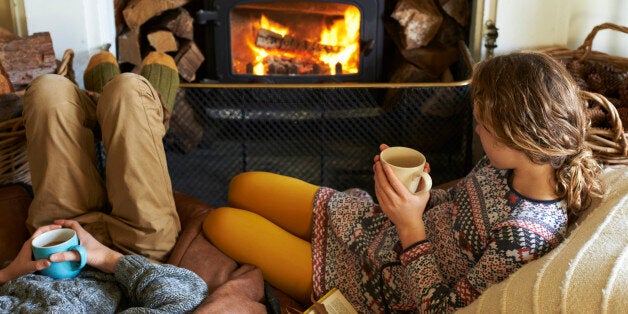 You know when you discover something new, something you've never seen/heard of/noticed before, or something you've recently decided you now love....and then suddenly it's everywhere? It seems like every time you walk down the street, you see one of whatever-it-is: a particular car that your mate's just bought...or a breed of dog that you love?
Well that's how I'm feeling about Hygge (pronounced hoo-gah) right now. For 40 long years, I'd never heard the word uttered by another human's lips. I'd never seen it written in a single book or magazine. Then, early this summer, my partner and I were sitting outside our local country pub, squinting in the sunshine and shooting the breeze over a chilled Sauvignon (or three), when he mentioned that his boss's wife had recently written a book about hoo-gah.
"Who what?" I enquired. "Never heard of it."
Fast forward to now, and it's everywhere. Every time I open a magazine there's an article about it; there's an explosion of new books on the topic, out in time for Christmas.
So what's all this hoo-ha about hoo-gah? I hear you cry.
There's no direct translation, since us Brits aren't renowned for our 'cosiness,' our ability to 'revel in the beauty of the moment,' but I understand it's something along those lines. We (ok, I) tend to be more of a stiff-upper-lip stoic, the ingrained nature of generations of Blakes (my maiden name) going against these hippyish displays of peace and lurve. We're not known for our public outpourings of affection and gratitude; I come out in hives at the thought of hugging strangers (maybe after midnight on a crowded dancefloor, at a push).
But the Danes, now they really know how to hygge. So it means cosy. Sort of. Cosy contentment. It's all about creating a pleasurable ambience and being in the moment (man). Not crashing through the front door to a chilly house of an evening and scoffing a dubious-looking microwave lasagne straight from the plastic dish having collapsed, exhausted, in front of Eastenders. No, no. That just won't do. There's nothing hoo-gah about that sorry scene, which plays out regularly on weeknights up and down the UK, from Woolwich to Wigan.
Hygge, my friend, is all about dim lights, warmth, flickering candles and knitted throws. Think simple Scandi style. It's about being snug-as-a-bug-in-a-rug, sipping mulled wine and nibbling warm mince pies nestled in the comforting bosom of your family; it's curling up in your onesie after a long bubble bath with a good book.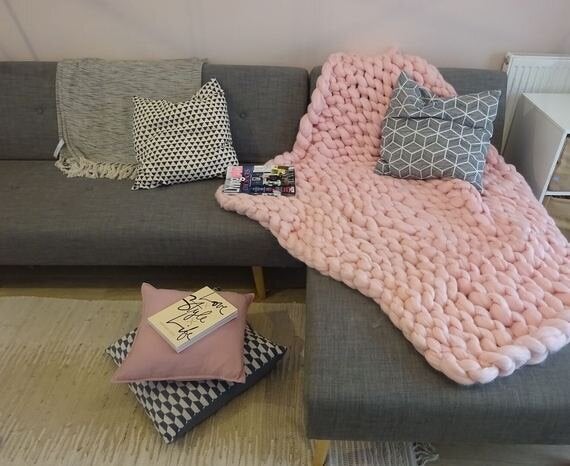 My idea of hygge heaven would be snuggling down on our squishy sofa with my fella, cinnamon candle flickering on the windowsill, sipping a mug of hot chocolate, a heart-warming episode or two of First Dates playing on the telly, the rain lashing at the window on a lazy Sunday late-afternoon. Chuck in a giant bag of Kettle Chips and nestle a pile of snuffling sausage dog pups on my lap and you got me. Now you're talking.
Perhaps the Danes' obsession with hygge goes part-way to explaining why they are often cited as the happiest people in the world. Us Brits, on the other hand, have a half-arsed attempt at 'cosiness' by buying a pair of knock-off Uggs and wrapping ourselves in a fleece blanky in front of a four-bar electric fire with X-Factor blaring, which we only half-watch as we're simultaneously scrolling mindlessly through Facebook and bickering over the remote.
We love the whole concept of effortlessly chic White Company-esque perfection, all co-ordinated grey-and-blush fabrics and tactile textures, a wholesome family scene; the sounds of tinkling laughter echoing around an elegant high-ceilinged drawing room. In reality, though, it's just not us, is it? The working classes, I mean.
When my family get together there's a sticky-fingered toddler jabbing an overweight bulldog in the eye and running toy cars along an Irish setter's back - the mutt peering up through bloodshot eyes in weary acceptance. The men are attempting to watch the footy over the din, nudging up the volume to drown out the sounds of us weary womenfolk yabbering on in the background. It's all just too...hectic to be hygge.
Perhaps I'll have a go at hoo-gah'ing things up a little. Enjoy the simple things. Apply some Scandi style to our lives. It'd certainly make for a cheaper Christmas, that's for sure. Little Hayden can play with a wooden train set (away from my parents' dogs), we'll string popcorn for decorations and turn off the telly in favour of the art of conversation. We'll light some candles, slip on fleecy loungewear and actually talk to one another. Maybe. For about 10 minutes....before we quit the farce and Dad silently flips on the Top Gear Christmas Special.
Of course, hygge's for life, not just Christmas: it's in a Dane's DNA. The ability to savour the moment, enjoy the simplicity of just being - as long as the setting is conducive to relaxation - is something the super-cool Scandinavians embrace year-round. It could be a picnic in the park, a family barbeque...or just a coffee with a friend. Of course, we do all these things in the UK too....they're just likely to be doused liberally in alcohol and end in a headache and a bacon sarnie. There's nothing hygge about hangovers.
So I've decided to hurl myself into hoo-gah: think tea lights, cosy knitwear and saccharin displays of contentment. Press your nose against my window of a frosty winter's eve and you may catch a glimpse of me and a blissed-out boyf stringing fairy lights all over the house, shaking faux-fur throws over furnishings and sprinkling cinnamon onto frothy mugs of hot chocolate, as we batten down the hatches and welcome friends over for 'supper' (well I've never used that word before, so I must be getting into the zone).
There's nothing that says nesting about this old bird. 'Soft' and 'cuddly' are words that will never feature in the same sentence as my name. I don't do emotion; I cringe at PDAs. I've never thrown a dinner party in my life, and my idea of cooking a hearty meal is pressing 'play' on the microwave. I'm more likely to be buying a clubbing outfit on ASOS than scrolling through Pinterest on the iPad for cosy interiors ideas.
I tell you what - I'll use the Ikea catalogue as a makeshift tray whilst I eat my frozen lasagne in front of the telly.
Realistically, that's as close to hygge as I'm likely to get....
Fancy reading my back-story before you go any further? You can find my other blogs at: