My formative memories of banking as a child were formed by Mary Poppins. The fictitious elderly trio of rickety Dick Van Dykes who persuaded the children to deposit their tuppence on the basis that "if you invest...wisely in the bank, safe and sound, soon that tuppence...will compound."
But it turned out that putting your trust in the bank wasn't wise, and the money wasn't necessarily safe and sound. Indeed, my years as a business journalist have been more focused on the damage done to society by banking than on the benefits.
On World Savings Day, I am reminded of the disenfranchised 2.5bn people who have no access to formal financial services. I do have to wonder if they're missing much. Perhaps they're the privileged ones?
Not so says the IMF and World Bank. Financial enfranchisement and saving is the most effective way to reduce the number living in poverty. For those living on less than $2 a day, which is less than my daily coffee, there are now grass roots programmes in place to create a savings culture.
I recently travelled to Zambia with Plan UK to see one of these initiatives in action.
Although Zambia has recorded steady economic growth in recent years, 73% of young people live in poverty. It's a massive hurdle to leap over.
But in rural areas, something is happening. Small savings groups are springing up within communities. I went to one of these meetings, held under a mango tree to keep shelter from the blazing sun.
Zambians call these groups OSAWE, which stands for Own Savings for Assets and Wealth creation. In local lingo it means "don't fall" or "stand firm". At these regular meetings, the ten or so members are each expected to make regular contributions. These are collected into a multiple padlocked metal tin. From these funds, loans can be granted to anyone in the group, usually to help fund some kind of small enterprise.
It really works much like a typical co-operative. The group votes to grant the loan, it decides collectively on an interest rate, and all the decisions and flows of money are carefully minuted and signed off. Because communities are tight, this results in virtually no theft and less than 1% of the loans default.
For me watching the Kwacha (Zambian currency) being locked away in the tin, it was a potent reminder of the social utility that banking used to provide. Hearing the stories of those who are in the OSAWE groups illustrated this most clearly.
Kelvin, a warm and gentle young man thinks that one day he could be President of Zambia. An orphan, he is paying his way through university with the proceeds of a very basic computer café he was able to start after joining his local group.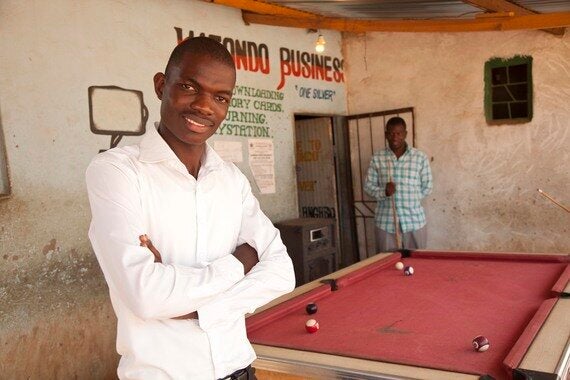 "It is because of group cooperation and the profit realising at the end of six months that has really helped me to grow. And it has given me a way to sponsor my sister's education."
A similar tale was told to me by Cleopatra, 24, with two children.
'My life was so hard because I did not have money, I had nowhere to go and borrow the money, you go to your family and they say we are poor we don't have money, so when I started in OSWEA. I could borrow the money. I know how to budget, I know how to use the money and I can borrow and make a profit.'
She proudly showed me around the symbol of her success - the poultry house, which now houses 100 chickens. Next month, she will use the proceeds to expand her business. Her profits and prospects are compounded.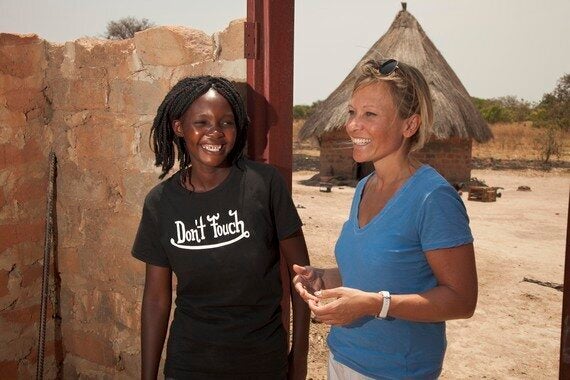 So there it is plainly, a big tick in lots of boxes: A young woman being able to lift herself and her family out of poverty. But seeing it with my own eyes made it so much more than a worthy aspiration of international development.
There are nearly 19,000 people like Cleopatra and Kelvin who now save in these groups throughout Zambia, thanks to a programme called Banking on Change. A partnership with two NGO's; Plan UK and CARE International and Barclays, aims to reach 170,000 young people by setting up 10,000 savings groups in Egypt, Ghana, India, Kenya, Uganda and Zambia.
This programme sets up and provides groups with business training. But, the involvement of a big bank like Barclays did raise some scepticism in my mind. The business world knows that the great untapped market of financial products is in Africa. I put this concern to the Barclays Zambia representative at one of the training sessions I attended.
"I think some people will be cynical and they'll think maybe we are out in the community so that we can make more customers... but I think as a responsible bank, I think it is the right thing to do. Not everybody we interact with will become our customer, most of them won't ...but it feels fulfilling for us and it's the right thing to do" Masautso Nyangu.
It's estimated that if all of the 2.5bn unbanked were to save in this way, it would pump $145bn a year into the global economy, which of course, would flow back into countries like Zambia. There's clearly a lot still to be done, but the simple vignettes of empowerment I saw are testament to the fact a little goes a long way.
Related